Adrian Beltre Signs Autograph Deal with Topps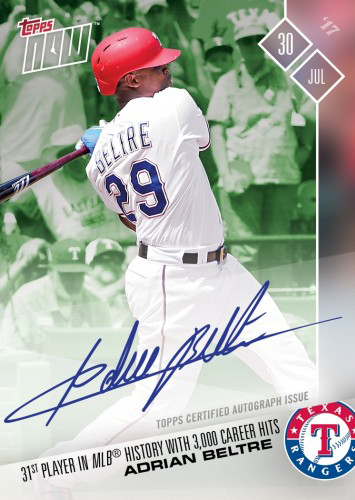 If you pulled an Adrian Beltre autograph card from a pack of MLB-licensed cards, he'll be pictured in either a Dodgers or Mariners uniform. Seeing as how it has been a long time since he suited up for either team, it's pretty obvious to see that he hasn't signed a lot of cards in recent years. But that's likely to change now that Beltre has signed an autograph deal with Topps.
And his first autographed Rangers cards have already arrived courtesy of 2017 Topps Now. He also has a redemption card for a rare autographed relic book card in the recently released 2017 Topps Allen & Ginter Baseball.
The Topps Now Adrian Beltre autograph cards under the deal commemorate his 3,000th career hit. Released through the Topps website, all 383 copies (including parallels) sold out quickly. Prices started $69.99 for the most common, which is numbered to 199, and went up from there. The one-of-one version sold for $1,499.99.
More Adrian Beltre autograph cards are on tap from Topps in the future because of the deal. Prior to 2017, Beltre had just nine different autographed cards from manufacturer, the last of which was released in 2002.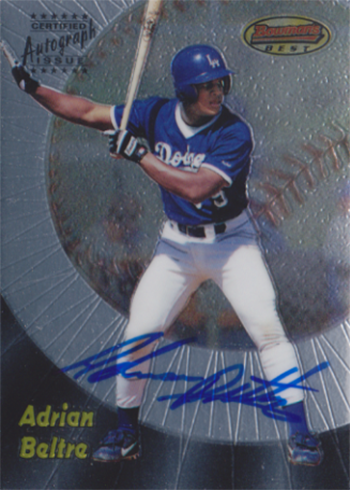 Topps first confirmed their deal with Beltre during the Q&A at the 2017 National Sports Collectors Convention.
But that doesn't mean there's a massive shortage of Beltre autographs on the market. He has more than 450 different signed cards combined. Panini has had him in several of their MLBPA sets in recent years.