Adrian Beltre Rookie Card Rankings
Between the Internet, readily available advanced statistics and social media, it's hard for a player to be overlooked in the hobby today. But they do exist. Take a look at Adrian Beltre Rookie Cards and you'll find one such player.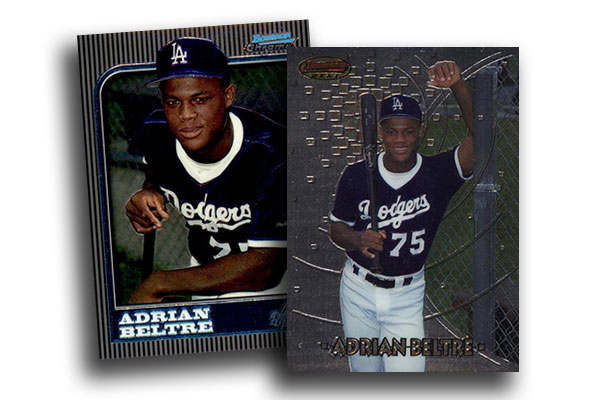 As he approaches some major career milestones, the window on Beltre is closing fast. Even if he's not the most decorated player of his era or the one with the biggest numbers, his body of work is worthy of serious Hall of Fame consideration.
And yet, collectors haven't seemed to show a lot of attention in his cards since the early part of his career with the Dodgers.
Adrian Beltre Rookie Cards were released in 1997. Tracking them all down is easy because there's only three to choose. There were more manufacturers at the time. But Bowman products were the only place to find them. And when it comes to Bowman, 1997 was a big year. The base brand and Bowman's Best kept rolling along offering plenty of Rookie Cards. But the biggest development came with the introduction of Bowman Chrome.
Over the past couple of years, as more people have caught on to what appears to be inevitable, Adrian Beltre Rookie Cards have seen growth. But compare it to what some unproven prospects command and even some of Beltre's veteran peers and it's not hard to see the possibility for growth.
Here's a deeper look at Adrian Beltre's Rookie Cards and what makes each of them tick.
Most Valuable Adrian Beltre Rookie Cards Ranked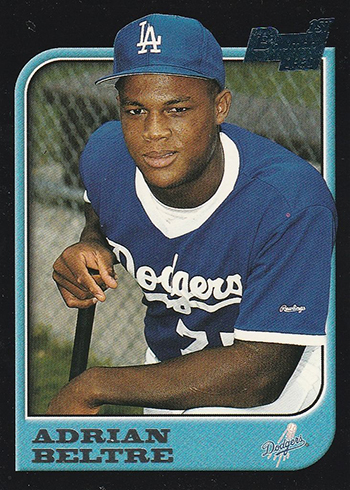 3. 1997 Bowman Adrian Beltre RC #194
As is usually the case with modern sets for the brand, the 1997 Bowman Adrian Beltre is his cheapest Rookie Card. And it's not even close. The card stock is plain, albeit with a glossy finish. The use of black borders were intentional on Topps' part knowing that the dark color magnifies even the smallest of dings. The idea was that Bowman Rookie Cards had to be cherished and extra care would be required to keep them safe. Seeing as how that's what most collectors were doing by this point anyway, it didn't make much of a difference.
Parallels: International
Buy on: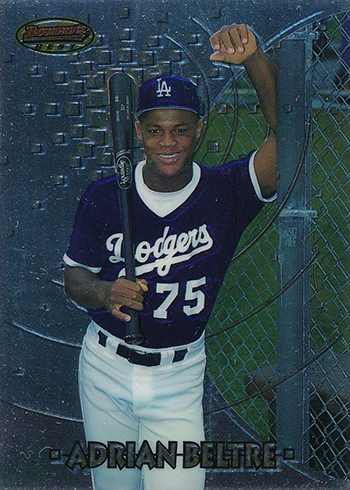 2. 1997 Bowman's Best Adrian Beltre RC #117
From 1994 to 1996, Bowman's Best was the set for Rookie Cards. More premium than base Bowman, it also used a then-newer technology known as chromium. But then Chrome was born and Bowman's Best became the often overlooked middle child in the Bowman family. Featuring a busy design and a casual photo, it's a fun card that fits right in with '90s loudness.
In addition to his base Rookie Card, Adrian Beltre appears on a couple of different 1997 Bowman's Best Mirror Image inserts. These compare him to a couple of then-veteran National League third base sluggers, Matt Williams and Chipper Jones.
Parallels: Atomic Refractors, Refractors
Buy on: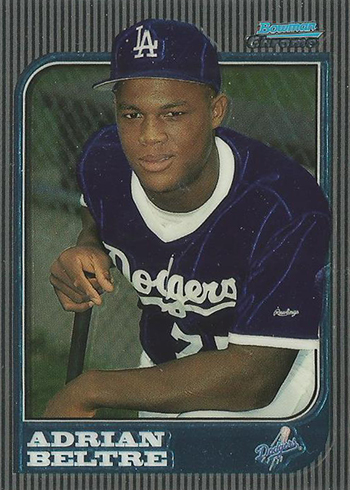 1. 1997 Bowman Chrome Adrian Beltre RC #182
As dominant as Bowman Chrome is today, it all goes back to 1997. And while the product was an immediate hit, it has taken a long time for the 1997 Bowman Chrome Adrian Beltre Rookie Card to gain hobby recognition. It was hot early in his career but tapered off significantly. In the years since, Beltre has used more of a slow and steady approach to hit major milestones, something that's easy to overlook when other younger players around him are putting up explosive stats.
1997 Bowman Chrome didn't have autographs. It's parallel rainbow was also limited to a basic Refractor, an International card with the Dominican flag in the background, and an International Refractor, which is the rarest and most valuable of them all.
Parallels: International, International Refractors, Refractors
Buy on: