Adam Greenberg gets one more shot in the majors — and so do his baseball cards
[youtube]http://www.youtube.com/watch?v=ZhuDaSPk9lI[/youtube]
Update: Greenberg struck out on three pitches against 20-game winner R.A. Dickey during the sixth inning.
By Chris Olds | Beckett Baseball Editor
Seven summers ago, Adam Greenberg stepped into the batters box on a Saturday afternoon in Miami.
His life would never be the same again.
The Chicago Cubs rookie was making his major league debut in the ninth inning, pinch-hitting at the end of an 8-2 win over the Marlins, a game where many of the 22,863 fans in attendance had left.
The first and only pitch he faced in the major leagues, a 92-mph fastball from reliever Valerio de los Santos, hit him in the head. He never played in the majors again, toiling in the minors and struggling with medical issues. The last four years, he's played independent ball, capping a decade-long odyssey that has a .263 average and 43 career homers to show for it in the minor leagues and plenty of zeroes in the MLB ledger other than one game played and one plate appearance — but not an official at-bat.
But all that changes on Tuesday night in Miami.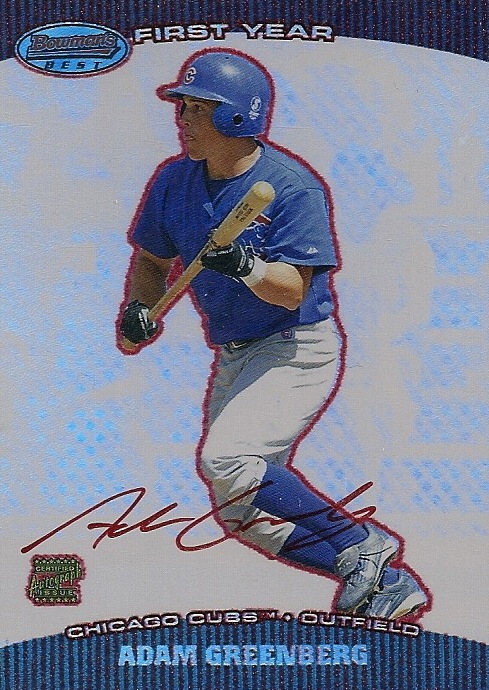 Greenberg's tale was championed by documentarian Matt Liston, with an online campaign at OneAtBat.com, supporting the former Cub drawing the attention of the last-place Marlins' front office. Greenberg was brought in for workouts and the campaign culminated in an appearance on the TODAY show (above) where the former center fielder learned the news of a one-day contract that comes this week. He'll get his one at-bat, maybe more, on Tuesday.
With anticipation of Greenberg's story culminating — or perhaps beginning a new chapter — Tuesday night, there has been modest interest in his baseball cards.
You see, while he had only one brief appearance on a big-league field, he's actually got a total of 32 baseball cards valued at more than $240, according to the Beckett.com database and Online Price Guide. (Click here for a Greenberg checklist.)
Four of those cards are classified as Rookie Cards and seven of them are certified autographs. The most-valuable RC is his 2004 Bowman's Best, a signed card that has sold for as much as $25. His other three RCs, which are unsigned, can be found for $5 or less. Those include his 2004 Bowman Chrome ($5), 2004 Bowman ($1.50) and 2004 Topps Total ($1.50) cards.
(Click here to see Greenberg cards on eBay. Click here to see those on Beckett Marketplace.)
The most-expensive Greenberg card priced by Beckett Media, one that reflects the recent surge in interest, is his 2004 Bowman's Best Green card, which is signed and limited to just 50 copies. It has sold for as much as $50. His rarest autograph card is his Red version of his Bowman's Best card, which is limited to just 10 copies and too rare to price, though one eBay seller is asking $100 for a copy of the card right now.
Greenberg's earliest card is his 2002 Upper Deck Prospect Premieres XRC, which typically sells for $3 or less, while  he has a handful of minor league issues and other releases for collectors to chase.
Chris Olds is the editor of Beckett Baseball magazine. Have a comment, question or idea? Send an email to him at colds@beckett.com. Follow him on Twitter by clicking here.