Actor autographs announced for Marvel – Captain America 2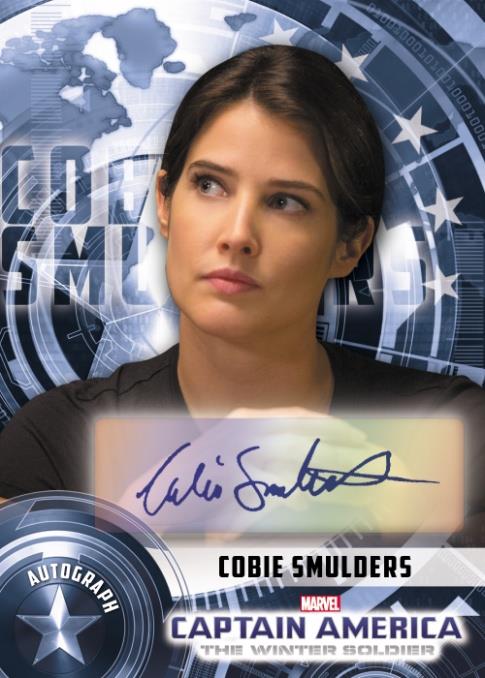 By Susan Lulgjuraj | Beckett Sports Card Monthly Editor
Upper Deck announced the autograph singers for Marvel – Captain America 2. The signers include actors and artists.
Actor Autograph cards will be tough pulls falling at a rate of one in every 480 packs. One of the biggest names from the autograph checklist includes Cobie Smulders, who became famous from How I Met Your Mother. She plays Maria Hill in the Avengers franchise movies.
Smulders had an autograph in 2012 Avengers Assemble that has a high book value of $300. That set also included autographs of Chris Hemsworth and Jeremy Renner.
Other actors who are signing for Marvel – Captain America 2 include Hayley Atwell, Dominic Cooper, Georges St. Pierre, Sebastian Stan, Stan Lee and more.
This set will come out in conjunction with the Captain America: The Winter Soldier movie, which comes out April 4.
There will be one hit per box of an actor autograph, sketch card, comic book artist or writer on-card autograph, or printing plate. There are also two costume or prop cards in every box. Collectors could also find Badges Manufactured Patches featuring embroidered patches of the different military patches from the movie.
Each hobby box will come with 20 packs per box with six cards in each pack.
The base set will consist of 72 cards with Silver, Blue and Red foil parallels.
Upper Deck's Marvel – Captain America 2 comes out March 25.
Susan Lulgjuraj is an editor at Beckett Media. You can email her here with questions, comments or ideas. Follow her on Twitter here. Follow Beckett Media on Facebook and Twitter.