Action Packed: A company that tried — and failed — to make hockey cards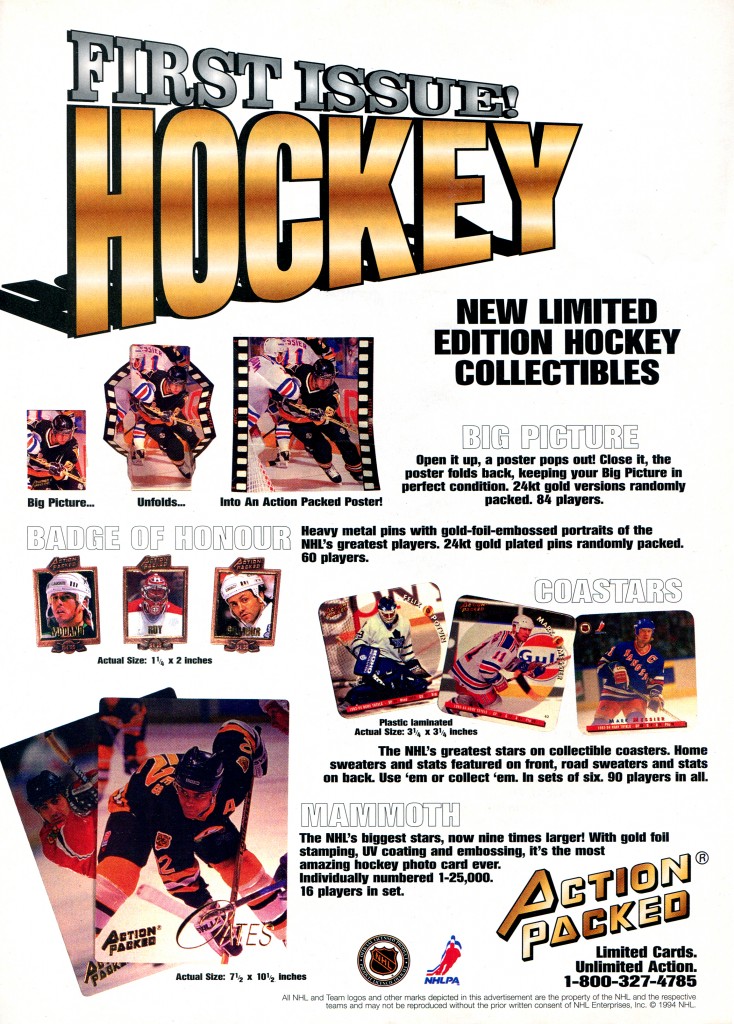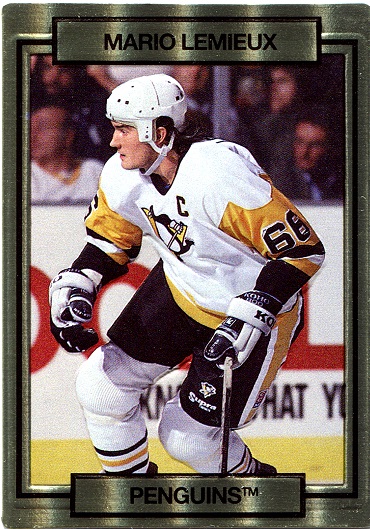 By Sal J. Barry | Contributing Writer
Nearly every trading card company tried to secure an NHL license in the early 1990s – but not all of them succeeded.
After Wayne Gretzky was traded to the Los Angeles Kings in 1988, interest in hockey and hockey memorabilia grew in the United States, and card companies took notice.
Upper Deck, Pro Set and Score expanded into the hockey card market in 1990, with companies such as Leaf, Fleer and Pacific joining later that decade.
But one company just couldn't make the cut – Action Packed.
Action Packed was best known for its embossed – or "puffy" – football cards, which raised the player, ball and other elements off the surface of the card like a miniature bas-relief. Card backs were in full-color and described the action specific to the photo on the front.
These were novel concepts in the late 1980s and early 1990s when many trading cards were still printed on flimsy, grayish stock and were susceptible to wax stains. Despite their premium quality, Action Packed couldn't break into the hockey market. It certainly tried, though.
Here is a look at the company's numerous attempts to get in the rink.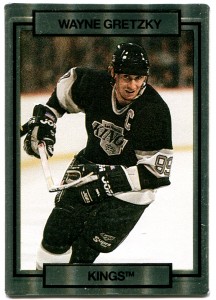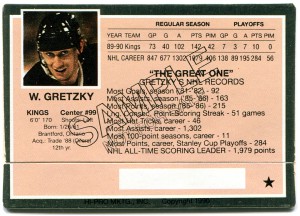 "Gold Bordered" Prototype Cards (1990)
During the hockey card boom in 1990-91, Action Packed issued prototypes of Wayne Gretzky, Mario Lemieux and Steve Yzerman. These were not to promote a set of forthcoming cards. Rather, these were a proof of concept; to show the NHL, NHLPA and presumably distributors and card shops what Action Packed hockey cards could look like. The design of these cards was nearly identical to its 1990 NFL football set, with the same gold foil frame surrounding an embossed action shot.
Action Fact: Reportedly, 1,000 copies each of the Gretzky and Lemieux cards were produced, but only 300 copies of the Yzerman card were made.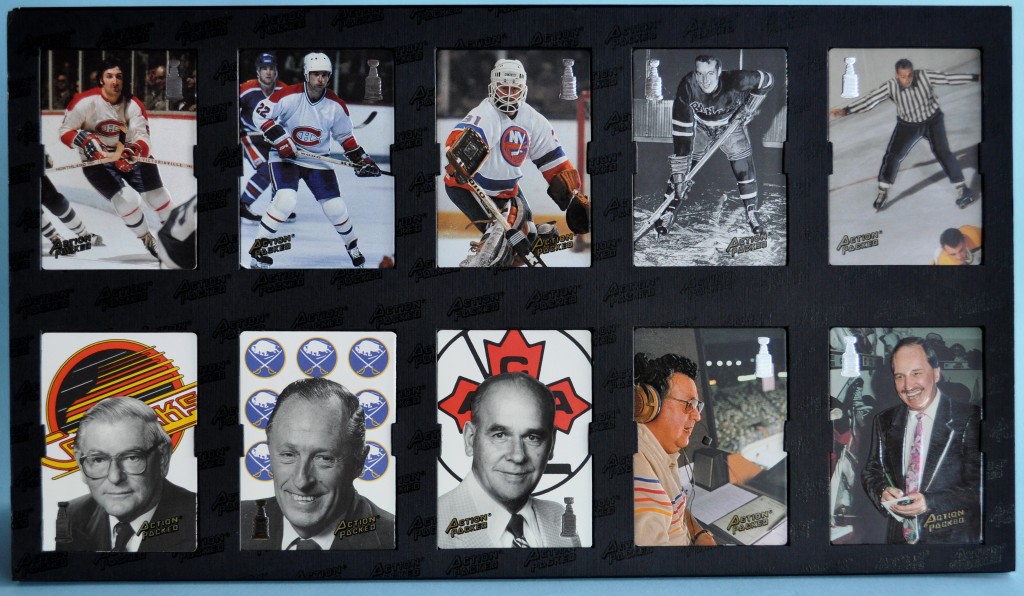 Hall of Fame Induction Set (1993)
Action Packed produced a small set of the ten 1993 Hockey Hall of Fame inductees. The most notable cards in the set are of Billy Smith, Guy Lapointe and Steve Shutt. The sets were given to attendees of the induction ceremony on Nov. 16, 1993, and sold at the Hockey Hall of Fame in Toronto. The cards came in a black cardboard frame, which was put inside a black cardboard slipcase with the Hall of Fame logo embossed on the front. This was the only set they made that was sold to consumers.
Action Fact: 5,000 sets were produced. Each set is serial-numbered on the back of the slipcase.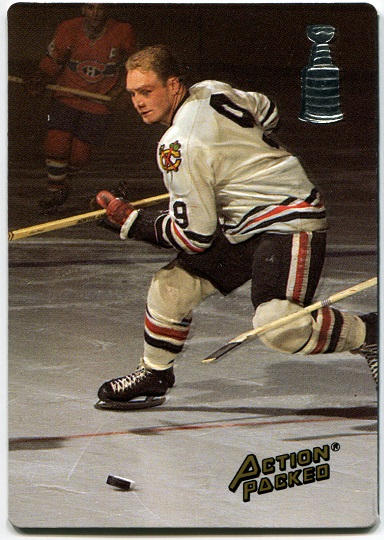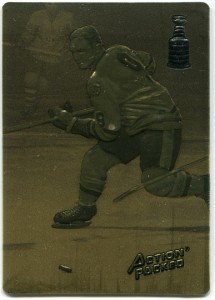 HED: Hockey Hall of Fame Series One (1993-94)
Action Packed was slated to produce multiple series of Hockey Hall of Fame trading cards that would have been issued in packs and sold in stores. The first series was intended for a February 1994 release. But according to the March 1994 issue of Beckett Hockey, Action Packed had trouble finding suitable photos for the cards, which postponed the set's release date to the 1994-95 season. That, in turn, was delayed by a labor dispute between the players and owners. Although the exact reason why this set did not come out is unknown, it is probable that the lockout – which lessened the interest in hockey cards at the time – led to the set's demise.
Action Fact: Two promotional cards of Bobby Hull were released in 1993. One of the cards is in full-color, while the other is gold-colored. If the Hall of Fame set was released, it is likely that the gold-colored cards would have been a parallel set like Topps Gold or Parkhurst Emerald Ice.
***
With numerous companies already making hockey cards in the mid-1990s — and a glut of early 1990s hockey cards still cluttering the market – the NHL was wary of issuing more licenses to make trading cards. Thus, Action Packed had to get inventive and created several "card-like" collectibles that were not the standard 2 ½-inch by 3 ½-inch trading card size. These four unusual sets – Mammoth, Big Picture, Badge of Honor and CoaStars – were advertised but never released. Like the Hall of Fame set, these were cancelled probably due to the 1994 NHL lockout, which decreased interest in hockey products among retailers. A few promotional items of each do exist, though.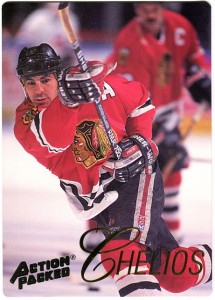 Mammoth (1994-95)
One odd set that never materialized was Mammoth, which was not like traditional trading cards. As the name implies, Mammoth cards were huge, measuring 7 1/3-inches by 10 1/2-inches – or nine times the size of a standard card. Sixteen serial-numbered cards (limited to 25,000 copies each) were planned, but only promotional cards of Chris Chelios, Brett Hull, Pavel Bure and Adam Oates were made.
Action Fact: Had Mammoth cards been sold in stores, they would have been individually wrapped in a clear plastic polybag so collectors would know which card they were buying.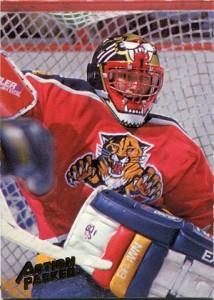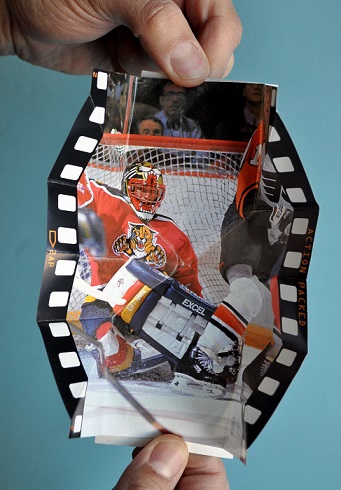 Big Picture (1994-95)
Another unreleased collectible was a set of 84 posters called Big Picture, which measured the standard trading card size but unfolded to reveal a 5 3/4-inch by 6 1/2-inch. mini poster. The front of each Big Picture featured an embossed action photo, while the back had a headshot of the player and a description of the action shown on the poster. The posters themselves are a bit awkward, since they don't unfold completely flat, and can only be viewed when you pull them open. Four promos are known to exist: John Vanbiesbrouck, Steve Yzerman, Jaromir Jagr and Jeremy Roenick.
Action Fact: Big Picture packs would each have contained four random posters. Sixteen different "24-karat gold" versions – which would have been found one in every 96 packs – would have swapped out the standard gold foil on the front and back of the cards for 24-karat gold leaf.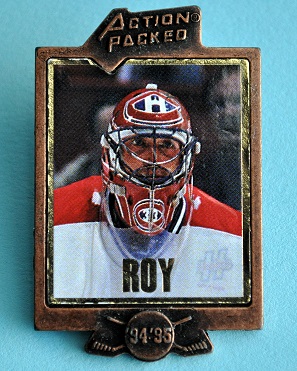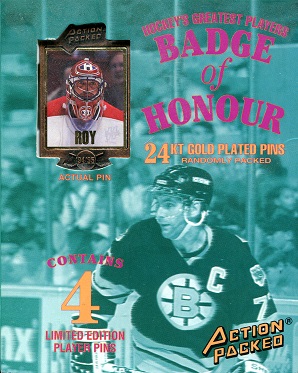 Badge of Honor (1994-95)
Unlike the other aborted Action Packed collectibles, Badge of Honor were made of metal instead of cardboard. Each lapel pin measured 1 1/4-inch by 2-inches, and used an embossed headshot – with certain details such as helmets, hair and noses slightly raised – surrounded by a bronze-colored frame. Sixty pins were planned but only four promos were made: Patrick Roy, Mike Modano, Doug Gilmour and Sergei Fedorov.
Action Fact: Like Big Picture, Badge of Honor would have come four to a pack – one pin visible through a packaging window and the other three hidden. A 24-karat gold plated pin would have been seeded in every 24th pack.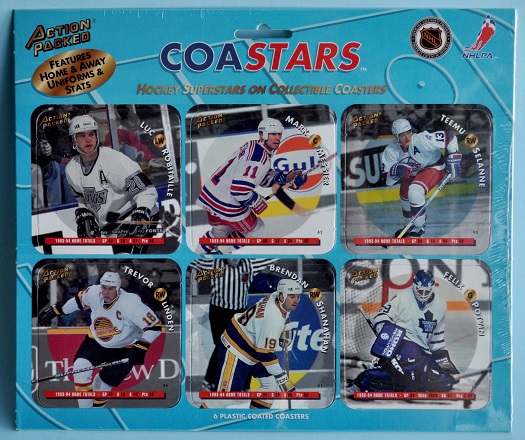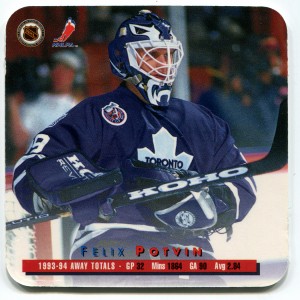 CoaStars (1994-95)
No doubt, the silliest thing Action Packed intended to sell was a set of collectible drink coasters featuring a star player – hence the name CoaStars. They measure 3 ¼-inches by 3 ¼-inches. Since these were meant to have drinks placed on them, the photos are not embossed, making CoaStars the only Action Packed hockey item to have completely flat surfaces. One side of the coaster showed a player in his home uniform and his stats from home games from the 1993-94 season, while the other side showed the same player in his road uniform and stats for away games. A perforated sheet of six CoaStars was issued for promotional purposes.
Action Fact: There are conflicting reports as to how many CoaStars were supposed to be released. The promotional sheet with six CoaStars lists a 110-player checklist. But an advertisement later that fall stated that there were 90 CoaStars sold in sets of six. Since 90 is evenly divisible by six – but 110 is not – it seems more likely that the set would have had 90 coasters.
***
Action Packed never found their way into the hockey card market, which was constantly getting more crowded and competitive in the 1990s. Their various "sets that never were" would have used every gimmick in the book – and even some that weren't, like 24-karat gold plating. Looking back at Action Packed's promo items show us just how far one company was willing to push the envelope to get an NHL license.
Sal J. Barry is the webmaster of the hockey card website PuckJunk.com. He also writes for The Hockey News, Chicago Side Sports and The Hockey Noob (ChicagoNow.com/Hockey-Noob). Contact him at sjb@puckjunk.com or on Twitter @puckjunk.