About That 2016 Topps Transcendent Party — Kris Bryant's Going to Be There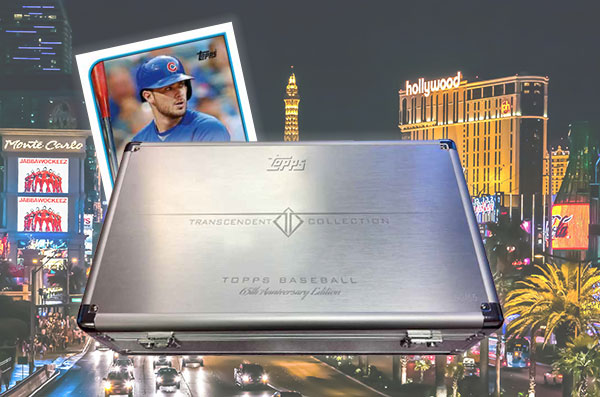 By Ryan Cracknell | Hobby Editor
$25,000 — that's the price tag for a box of 2016 Topps Transcendent Baseball. But it's not just cards that are included. In addition to the ample autographs that come with the product, there's an invite to a special Topps 65th Anniversary party.
It turns out that it features an appearance by Kris Bryant. And it's in Las Vegas, Bryant's home town.
The Topps 65th Anniversary party is scheduled for January 18, 2017. Although it doesn't include transportation to Las Vegas, hotel is part of the package. Attendees also get dinner, cocktails as well as some special gifts.
"Whoever gets to go to the event will meet Kris Bryant in an intimate setting and talk to one of the best young players in today's game. It's going to be amazing," said David Leiner, Topps' Vice President and General Manager of the North American Sports and Entertainment Division.
Releasing December 9, just 65 boxes of 2016 Topps Transcendent are being produced. Each has more than 50 autographs including a one-of-a-kind Kris Bryant autograph using one of each of the designs from the company's 65 years making baseball cards. Ken Griffey Jr, Mike Trout, Hank Aaron, Derek Jeter and Sandy Koufax are some of the other names on the checklist.
Comments? Questions? Contact Ryan Cracknell on Twitter @tradercracks.