Ultimate Aaron Judge Autograph Cards Gallery and Reference Guide, 2013-2017
A fire was lit in the hobby in 2017. One could point to several reasons, but it shouldn't take long for the conversation to go to Aaron Judge autographs and Rookie Cards.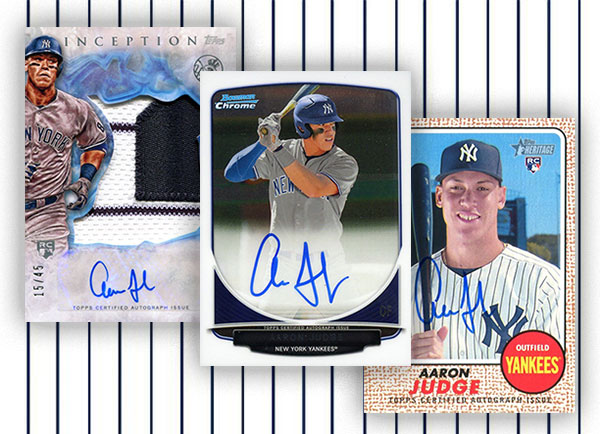 With each home run he hit and record he broke, it just added to the mania. There's more to it than just Judge's home run total. It's the amount of power he's demonstrated. It was about his ability to hit for average. It was about his patience and poise at the plate. It was about how he made a case to not only be the Rookie of the Year, but the American League MVP. It was about a Yankees superstar being born before our eyes — arguably the first in the instant-access digital age.
Aaron Judge autograph cards weren't a new thing in 2017. His first signed cards date back to 2013. Within weeks of being drafted by New York, Judge had cards. Many of those earliest ones are signed.
Related: Aaron Judge Rookie Cards Guide
That has continued in the years since, as his MLB debut drew closer. Judge has easily been the hottest player in 2017. That fact has been helped by the fact that his signature has been readily available in products on an ever-increasing number of cards.
How many? Look below and you'll see exactly what's out there as far as Aaron Judge autographs go from his first in 2013 through to the growing amount of 2017 issues.
Aaron Judge Autographs Gallery
Here's a detailed gallery and breakdown of Aaron Judge autograph cards released between 2013 and 2017. We've included an image of the base version of as many cards as possible. Parallels are also listed. Late-2017 issues will be added until it's complete.
To help keep things organized, click on the tabs to go directly to cards from a specific year.
2013
2014
2015
2016
2017
Comments? Questions? Contact Ryan Cracknell on Twitter @tradercracks.