Aaron *Bleeping* Boone – Beckett Pricing Insider
This edition of the Beckett Pricing Insider is sponsored by MVP Sports Collectibles.
Fifteen years ago today, with one swing of the bat, Aaron Boone instantly became one of the most popular people in New York. And one of the most hated in Boston.
During Game 7 of the 2003 American League Championship Series, the Yankees and Red Sox went into extra innings and, in the bottom of the 11th, Boone hit a walk-off home run. The Yankees would win and the Curse of the Bambino would be extended a little longer.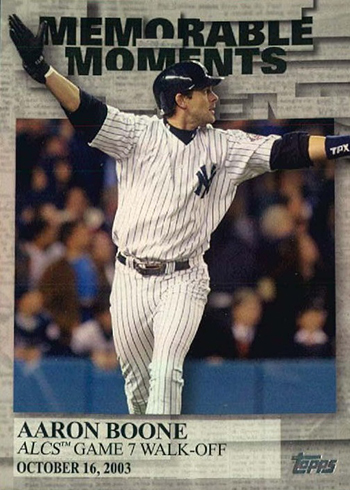 A third-generation major leaguer, Boone comes from a family with deep baseball roots. His dad, Bob Boone and his grandfather Ray Boone were both great players who would earn All-Star appearances. There's also his brother, Bret, who was a three-time All-Star and four-time Gold Glove winner.
Drafted by the Cincinnati Reds in the 3rd round of the 1994 draft, Aaron Boone would make his debut for the Reds in July 1997. He was traded to the Yankees at the trade deadline in July 2003. Unfortunately, he tore his ACL during a pick-up basketball game during the 2004 offseason. Because this was a violation of his contract, he was released by the Yankees and would miss the 2004 season.
Boone eventually signed a two-year deal with the Indians for 2005 and 2006 and then finish off his career with the Marlins, Nationals and Astros for the 2007, 2008 and 2009 seasons, respectively. He would then get into broadcasting and started to work for ESPN. He did this until the end of 2017 when he returned to the Yankees as a manager.
Boone has around 750 cards out there, a few of which spotlight this historic moment. 2009 Topps Allen and Ginter Highlight Sketches #AGHS1 and 2017 Topps Memorable Moments #MM10 are low-priced common inserts available for just $1 or $2.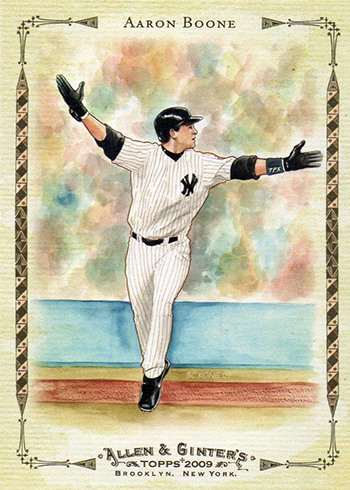 He also has a card in a special Topps online only release, 2008 eTopps Allen and Ginter Yankee Tribute. These cards were sold as a set and are all numbered out of 1499. Because of the lack of availability, there are not a lot of recent sales on this card.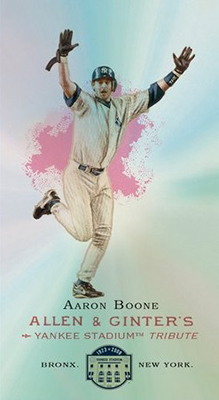 If you want something with an autograph, 2017 Topps Tribute has the aptly named Walk-Off Autographs insert with a Boone autograph dedicated to this event. These cards are signed on-card and are serial numbered out of 50. There are parallels of this card, including an Orange #'d/25, a Red #'d/10 and a Black 1/1. The last sales for this card was just under $30.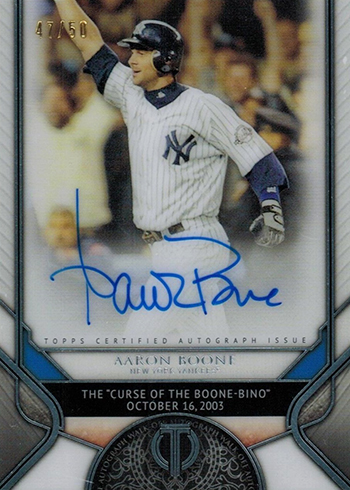 Today, Red Sox fans may have soften up a little for Aaron Boone. After losing to the Yankees in 2003, the Red Sox would go on and finally break the curse the next year when they would win the 2004 World Series. That along with two more championships in both 2007 and 2013, the Red Sox are trying to add another one this year after defeating the Yankees in the Divisional Series with Boone's questionable decision making.
Granted if I'm Aaron Boone, unless the Yankees are in Boston, I'd still stay as far away from New England as I can.