A visit to the Dick Perez art exhibit in New York City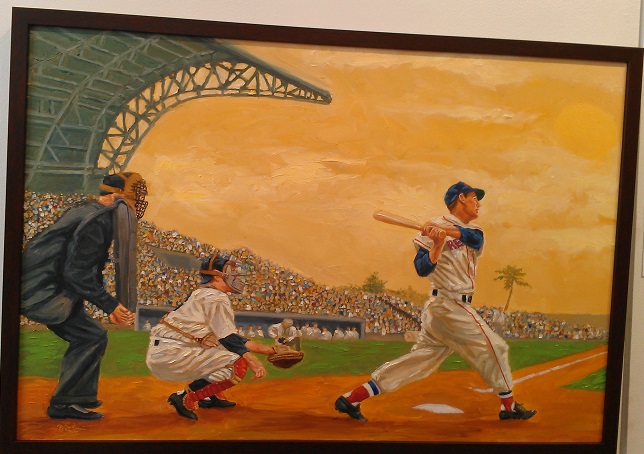 By Susan Lulgjuraj | Beckett Sports Card Monthly Editor
Dick Perez is an artist well known with collectors from his many renditions in trading card sets including Donruss' Diamond Kings.
Perez doesn't just paint for little 3-inch by 5-inch pieces of cardboard, but puts to canvas the scenes of some of baseball's iconic figures. Perez uses several photographs to get the exact portrait he wants, even using a bit of imagination.
Perez's artwork was on display recently at the Agora Gallery in New York City where he put on an exhibit. The artwork included items from the last several years with a number of Jackie Robinson paintings that were bought by the Jackie Robinson Foundation to eventually be put in a museum.
I went on the last day of the exhibit, wanting to make sure to see the paintings in person. Besides the paintings, there was an extra surprise. Dick Perez was there.
We spent about 20 minutes talking about his artwork and sports, in general. He asked about the popularity of football and basketball, and mentioned how he wanted to take a little break after he spent hours upon hours getting the work done for the exhibit.
But, of course, Perez says he will be back.
Check out the photos from the art exhibit.
Susan Lulgjuraj is an editor of Beckett Sports Card Monthly. You can email her here with questions, comments or ideas. Follow her on Twitter here. Follow Beckett Media on Facebook and Twitter.