A Trip to the Billy Ireland Cartoon Library and Museum
While visiting family in Columbus, OH, I had the opportunity to visit the Billy Ireland Cartoon Library and Museum. It is the world's largest collection of materials related to cartoons and comics. The museum is located in Sullivant Hall at Ohio State University and houses a reading room, galleries, seminar room, lecture hall, and archive. It is quite impressive.
The museum was established in 1977 and has quite a rich history. It began with the gift of Ohio State alumni Milton Caniff's (Terry and the Pirates, Steve Canyon) collection of papers and original art. Over the years, the museum was gifted collections large and small by many luminaries in the field. Among others, the museum is home to the Will Eisner Collection and the Jay Kennedy Collection of over 9,500 underground comic books.
In its 40-plus years of existence, the museum has had six different names and as its collections expanded, multiple locations. The current space in Sullivant Hall houses over 3 million pieces including 350,000 pieces of original art. The archive is temperature-controlled and uses non-UV lighting to protect its contents. And while it may not be Superman's fortress, police are automatically called if the archives door is open for more than 60 seconds.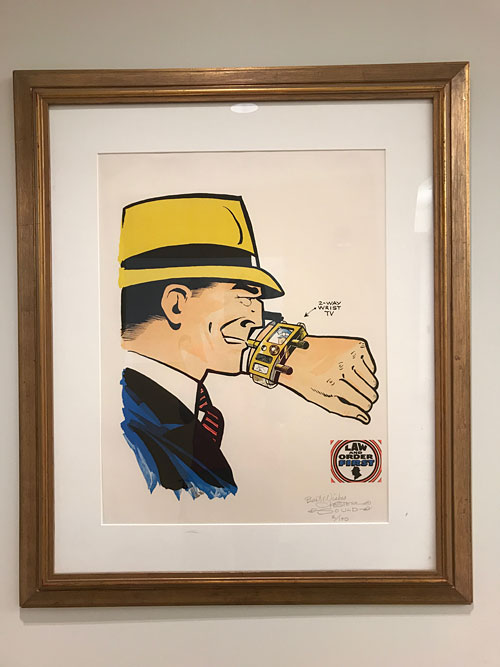 In 2009, Jean Schultz, the widow of peanuts creator Charles Schultz, gave $1 million and pledged to match any additional donations up to $2.5 million. This generosity greatly helped efforts to renovate the museum's space in Sullivant Hall, increasing it from about 7,000 square feet to over 40,000 square feet.
In addition to comic strips (and lots of them — daily strips, Sunday strips, editorial cartoons, sports cartoons, and more), the museum covers comic books, and graphic novels. As mentioned above, there are vast amounts of underground comic books stored here as well including the recent addition of The Jay Lynch Collection. This collection was a main draw for our visit to the museum.
The Toser family was a close friend of Lynch (who passed away in 2017). Lynch not only painted Non-Sport Update's early magazine covers and was a guest at the Philly Non-Sports Card Show many times but became a great friend. In addition to his work in underground comics in the 60s, Lynch worked on many Topps releases. He is perhaps best known for Wacky Packages and Garbage Pail Kids but worked on a host of other Topps series as well as releases for other companies. When acquiring the collection, Jay's collection of correspondence was of special interest to the library. Lynch kept everything and possessed correspondence to and from Lenny Bruce, Art Spiegelman, Robert Crumb, Woody Allen, and many others. The collection also contained Jay's extensive and varied research as well as informational files for everyone from Pee Wee Herman to Hugh Hefner and Lorne Michaels to Roxanne Toser! A preliminary guide to the collection is now online.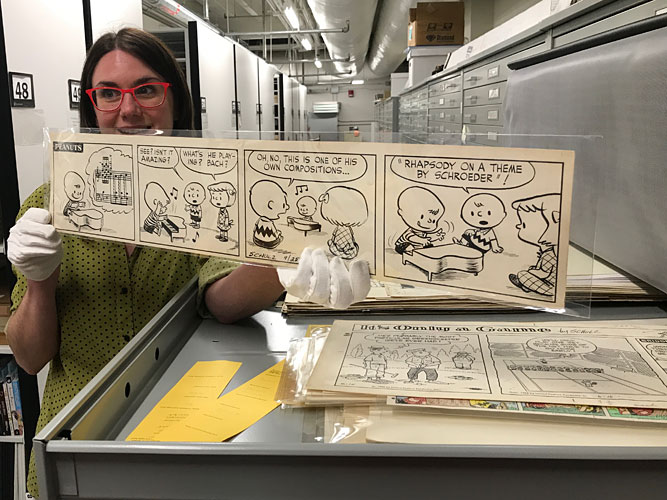 Back to the museum itself. It's really an impressive place. We were treated to a tour by Associate Curator/Assistant Professor Caitlin McGurk. McGurk has been with the museum for the past seven years and was instrumental in acquiring the Jay Lynch Collection.
Visiting the museum is a treat! It is free to visit and open to the public. On the its second floor, you'll find galleries and special exhibits. When we visited, the museum had two such exhibits: Drawing Blood: Comics and Medicine and Front Line: Editorial Cartoons and the First Amendment in addition to the permanent Treasures from the collections of the Billy Ireland Cartoon Library & Museum. The second floor also houses a lecture hall, named in honor of Jean and Charlies Schultz and a seminar room named in honor of Will Eisner.
Most of the collection, however, is tucked away in the archives on the museum's first floor (which also is home to a reading room). This area is closed to the public but can be viewed by appointment. McGurk gave us a behind-the-scenes tour where we saw a Charles Schultz original, a letter from John Steinbeck, and much more. Even the museum storage system is interesting to look at with it's rows and rows of stored treasures. Enjoy the photo gallery below with some of the sites we saw on our visit.
To learn more about the Billy Ireland Cartoon Library and Museum, visit's its page at: cartoons.osu.edu