A look at the Chicago Blackhawks on cards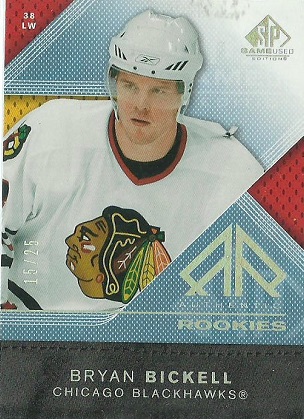 By Susan Lulgjuraj | Beckett Hockey Editor
The NHL Stanley Cup Finals between the Chicago Blackhawks and Boston Bruins start tonight.
This puts together two of the best teams this year, especially the Blackhawks, who had a thrilling run to start the shortened season. Chicago had just seven losses in regulation during the 48-game season.
The Bruins have been one of the hottest teams in the playoffs with scoring depth, a stingy defense and a dynamic goalie. But there is more to this series than the numbers on the ice.
In this arena, we look at cardboard statistics too. We'll start with the Chicago Blackhawks with the Boston Bruins coming later today.
Bryan Bickell (click to see full checklist) – The Blackhawks left winger might have a personal reason for chasing a Stanley Cup Championship. In 2010, when Chicago won the title, Bickell dressed in four playoff games. He received a championship ring, but he did not get his name on the Stanley Cup. If the Blackhawks win this year that will definitely change. Bickell has eight goals and five assists in 17 playoff games this season.
Card stats
Total cards: 87
Rookie Cards: 8
Autographs: 3
Memorabilia: 0
Top cards
2004-05 ITG Heroes and Prospects Autographs
2007-08 SP Game Used #171 RC /999
2011-12 Score Black #117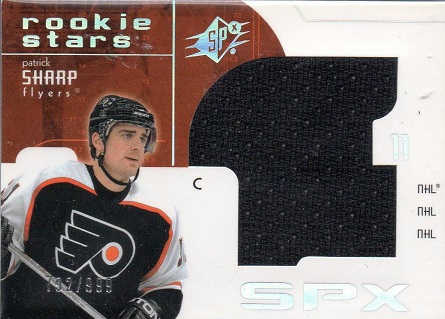 Patrick Sharp (checklist) – Ever since the Blackhawks won the 2010 Stanley Cup Championship against his former team, things have been looking up for Sharp. He won an All-Star Game MVP, got a contract extension and he even had a child. Sharp would love to see what could happen after a second championship. He has eight goals and six assists in 17 playoff games.
Top cards
Total cards: 573
Rookie Cards: 28
Autographs: 29
Memorabilia: 186
Top cards
2010-11 Certified Champions Autographs #5 /60
2002-03 Private Stock Reserve #176 RC /99
2002-03 SPx #173 JSY RC /999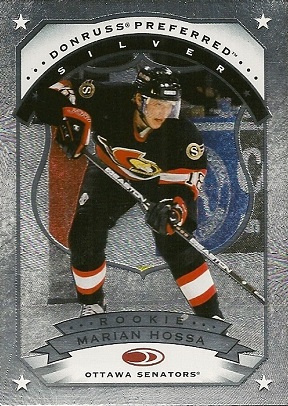 Marian Hossa (checklist) – Hossa owes his only Stanley Cup title to the Blackhawks. The winger got there in three straight years with three different teams, but finally achieved earned a title in 2010. Hossa has been effective in this year's playoff run with seven goals and seven assists in 17 games.
Card stats
Total cards: 2,381
Rookie Cards: 6
Autographs: 304
Memorabilia: 752
Top cards
1997-98 Donruss Preferred Cut to the Chase #162
2012-13 O-Pee-Chee Signatures
1997-98 Donruss Preferred #162 RC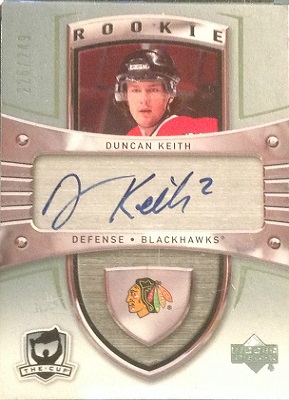 Duncan Keith (checklist) – Keith grew up a Boston Bruins fan. Keith has pointed to Ray Borque and Cam Neely – both Boston fan favorites – as his favorite players growing up. Keith will have to put nostalgia aside for this Finals run to get his second title. Despite playing defense, Keith is fifth on Chicago with 11 points (two goals, nine assists).
Card stats
Total cards: 619
Rookie Cards: 14
Autographs: 65
Memorabilia: 219
Top cards
2005-06 SP Authentic Limited #147 Patch /100
2005-06 The Cup #186 AU /249
2006-07 Be A Player Signatures Duals w/ Brent Seabrook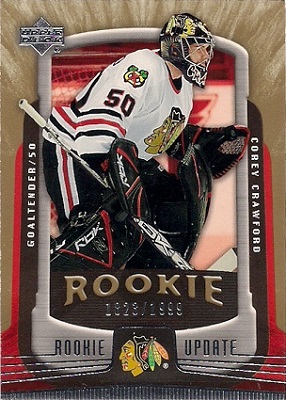 Corey Crawford (checklist)– Crawford has a tremendous season for the Blackhawks, one he needed as he struggled the last couple of seasons. He had a .926 save percentage and a 1.94 goals against average with a 19-5-5 record in the regular season. In the playoffs, he's been better with a .935 save percentage and a 1.74 GAA.
Card stats
Total cards: 354
Rookie Cards: 11
Autographs: 24
Memorabilia: 122
Top cards
2005-06 Upper Deck Rookie Update #120 RC /1999
2011-12 Between the Pipes Autographs #ACC2
2005-06 Ultimate Collection #185 RC /599
Susan Lulgjuraj is an editor of Beckett Hockey. You can email her here with questions, comments or ideas. Follow her on Twitter here. Follow Beckett Media on Facebook and Twitter.