A look at the Boston Bruins on cards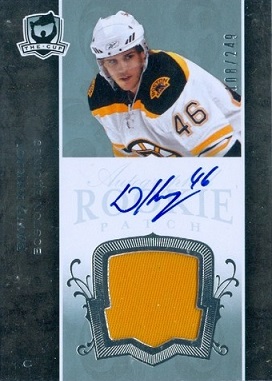 By Susan Lulgjuraj | Beckett Hockey Editor
The Boston Bruins had the fifth-best record (28-14-6) in the NHL this season. They surprised the Maple Leafs in a thrilling Game 7 in the first round of the playoffs, beat the New York Rangers without much of a sweat and blew past the Pittsburgh Penguins.
Now, they take on the Chicago Blackhawks for the Stanley Cup championship starting tonight.
Here are a few players that got them there.
David Krejci (click to see a complete checklist) – Krejci is a long way from 2009 when he suffered from the swine flu. In 2010, he dislocated his wrist during the playoffs. But all the pain and fevers seemed OK when he won the Stanley up in 2011 with Boston. The Bruins center leads all players this postseason with nine goals. He has 12 assists for 21 points.
Card stats
Total cards: 390
Rookie Cards: 18
Autographs: 51
Memorabilia: 121
Top cards
2011-12 Upper Deck Day with the Cup #DC3
2007-08 The Cup #143 JSY AU RC /249
2011-12 Score Black #53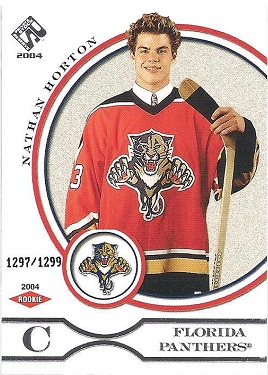 Nathan Horton (checklist) – Horton missed most of the 2011 Stanley Cup Finals with a severe concussion. He missed nearly half of last year with concussion issues as well. But Horton is healthy and back on the ice. He's second on the Bruins in points with seven goals and 10 assists.
Card stats
Total cards: 972
Rookie Cards: 37
Autographs: 194
Memorabilia: 401
Top cards
2003-04 UD Premier Collection #113 PATCH AU RC /99
2003-04 Pacific Luxury Suite #88 JSY AU RC /299
2011-12 Panini Contenders Patch Autographs #103 /100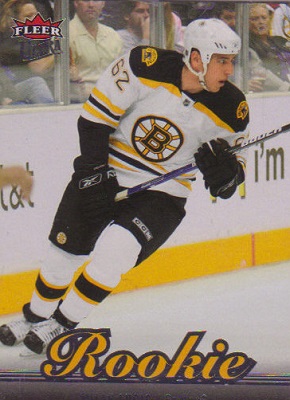 Milan Lucic (checklist) – One week into his NHL career, Lucic recorded a Gordie Howe hat trick: scoring a goal, recording an assist and getting into a fight. Lucic is an imposing physical presence on the ice. In the playoffs, he has three goals and 10 assists in 16 games.
Card stats
Total cards: 682
Rookie Cards: 18
Autographs: 82
Memorabilia: 299
Top cards
2007-08 SP Authentic Limited #199 AU PATCH /100
2007-08 The Cup #159 JSY AU RC /249
2010-11 Dominion Peerless Patches #14 /25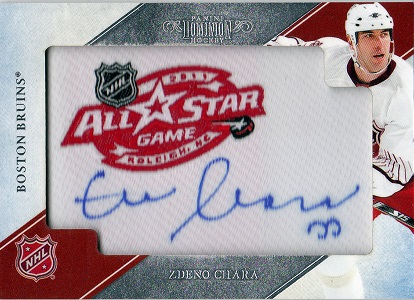 Zdeno Chara (checklist) – Chara is tallest player to ever play in the NHL. He's 6-foot-9. He also owns the NHL for the hardest slapshot, recording a 108.8 MPH mark at the 2012 All-Star Game Skills Competition. The defenseman has two goals and nine assists in the playoffs.
Card stats
Total cards: 1,175
Rookie Cards: 1
Autographs: 115
Memorabilia: 430
Top cards
1997-98 SP Authentic #186 RC
2011-12 Upper Deck Day with the Cup #DC4
2005-06 The Cup Signature Patches #SPZC /75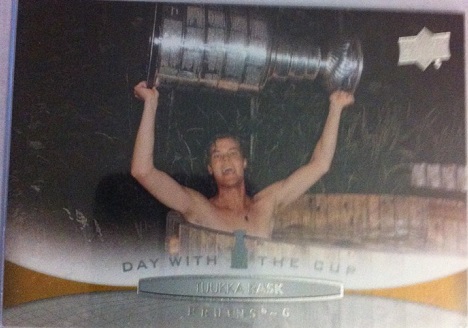 Tuukka Rask (checklist) – Rask split time with Tim Thomas over the last couple of years in Boston, but this year Rask knew he was the starter when Thomas was traded away. He has a .943 save percentage and a 1.75 goals against average in the playoffs.
Cards stats
Total cards: 656
Rookie Cards: 12
Autographs: 143
Memorabilia: 355
Top cards
2007-08 The Cup #172 JSY AU RC /249
2007-08 SP Authentic #201 AU RC /999
2007-08 Upper Deck Ice #197 /499
Susan Lulgjuraj is an editor of Beckett Hockey. You can email her here with questions, comments or ideas. Follow her on Twitter here. Follow Beckett Media on Facebook and Twitter.