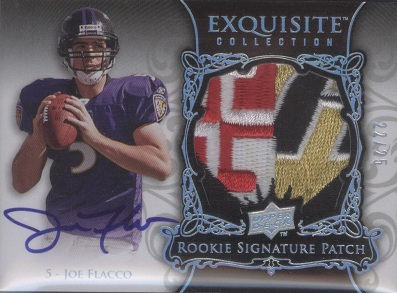 By Susan Lulgjuraj | Beckett Football Editor
The Baltimore Ravens tasted Super Bowl glory in 2000 – the only year the franchise in its current form won the big game.
The Ravens haven't been around very long, they moved from Cleveland in 1995. However, Baltimore is enjoying its success with a core group of young stars and leadership of its tantalizing veterans.
Here's a look at Baltimore Ravens on cards as they head to the Super Bowl.
Joe Flacco
The Ravens quarterback faced questions early this season as some wondered if Baltimore could win it all with him. The Ravens closed out the regular season with a 1-4 record. But during the playoffs, Flacco has been great.
He completed 3,817 yards had 22 touchdowns and 10 interceptions during the regular season. In the playoffs, he has thrown eight interceptions and no picks.
Key Joe Flacco Rookie Cards
2008 Exquisite Collection #170 JSY AU /99

2008 Playoff National Treasures #112 JSY AU /99

2008 Playoff Contenders #151 AU /220

2008 SP Authentic #295 /999

2008 Leaf Rookies and Stars #230 /99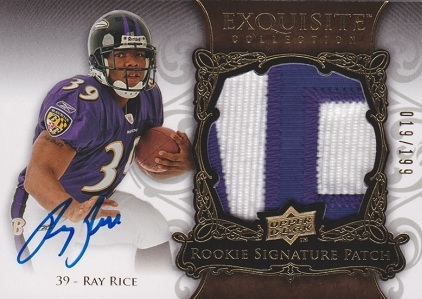 Ray Rice
The Rutgers graduate is Baltimore's top running back. He had 1,143 yards and nine touchdowns during the regular season. In the playoffs, he's added 247 yard and two TDs in two games.
Key Ray Rice Rookie Cards
2008 Exquisite Collection #162 JSY AU /199

2008 Exquisite Collection #162 JSY AU /199

2008 SP Authentic #285 JSY AU /999

2008 Donruss Threads #263 AU /100

2008 SP Rookie Threads #RR8 AU /252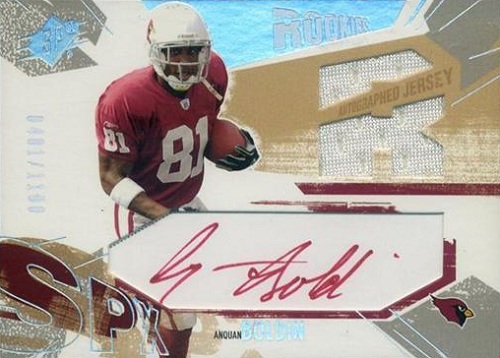 Anquan Boldin
The longtime veteran has been a good presence in the receiving corps for Baltimore. He led the Ravens with 921 receiving yards and added four touchdowns in the regular season. In two postseason games, Boldin has 276 yards and three touchdowns.
Key Anquan Boldin Rookie Cards
2003 Leaf Limited #147 AU

2003 Playoff Contenders #146 AU /524

2003 SPx #191 JSY AU /1100

2003 SkyBox LE #118 /99

2003 Ultimate Collection #81 /250

Ray Lewis
The unequivocal leader of the Ravens missed a good portion of the regular season with a triceps tears and was unsure if he would come back. Not only is Lewis back for the final playoff run of his career, but he leads Baltimore with 44 tackles on defense in the postseason.
Key Ray Lewis Rookie Cards
1996 Bowman's Best #164

1996 Stadium Club #351

1996 Pro Line Memorabilia #59

1996 Fleer #165

1996 Score Board Lasers #99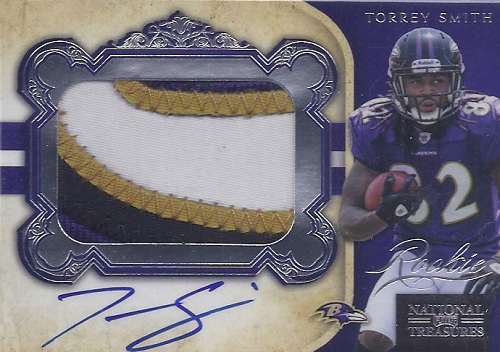 Torrey Smith
Smith was an emotional leader this year who had a memorable game after his brother died in an accident. During the regular season, he had 855 receiving yards and eight touchdowns. In the playoffs, he has 198 receiving yards and two scores.
Key Torrey Smith Rookie Cards
2011 Playoff National Treasures #313 JSY AU /99

2011 Topps Five Star #175 JSY AU /75

2011 Panini Playbook #134 /399

2011 Crown Royale #211 /299

2011 Panini Gold Standard #268 JSY AU /525

Ed Reed
Reed provides a veteran presence on defense. The Miami product was Baltimore first-round draft pick in 2002. During the regular season, he had four interceptions.
Key Ed Reed Rookie Cards
2002 Playoff Contenders #129 AU /550

2002 Bowman Chrome #230 AU

2002 Bowman's Best #133 AU

2002 SP Authentic #195 AU /1150

2002 Donruss Elite #197 /400
Susan Lulgjuraj is an editor of Beckett Football. You can email her here with questions, comments or ideas. Follow her on Twitter here. Follow Beckett Media on Facebook.