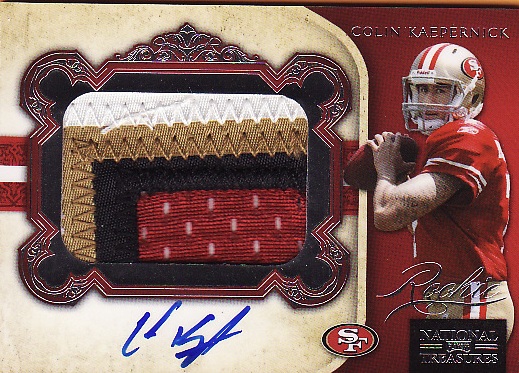 By Susan Lulgjuraj | Beckett Football Editor
The matchup for the Super Bowl was decided on Sunday – the Baltimore Ravens against the San Francisco 49ers.
Heading to the Super Bowl can do a lot for a player's card value. Rookie and second –year players see the most gain, but even veterans that tend to get lost in the mix can grab attention if only for a few hours.
The San Francisco 49ers last won the Super Bowl in 1994, following a decade of dominance where San Francisco won four Super Bowls in the 1980s.
So who got them here this time?
Let's look at top 49ers on cardboard (We'll get to the Ravens later today):
Colin Kaepernick
Kaepernick didn't start the season as San Francisco's quarterback. In fact, he wasn't even the starter midway through the season. Kaepernick took over the starting job in Week 11 and never let go. During the regular season, he threw for 1,814 yards and ran for 415 yards.
While he garnered attention during the regular season, his card prices exploded after a 45-31 win over the Green Bay Packers in a divisional playoff game. Kaepernick threw for 263 yards and ran for 181 yards for four touchdowns on the day.
Key Colin Kaepernick Rookie Cards
2011 Playoff National Treasures #327 JSY AU /99

2011 Topps Five Star #181 JSY AU /65

2011 Panini Playbook #110 JSY AU /399

2011 Playoff Contenders #227a AU

2011 Absolute Memorabilia #232 AU /299

Frank Gore
Gore led the 49ers in rushing during the regular season with 1,214 yards and eight touchdowns. In two playoff games, he has 209 yards and three touchdowns. Gore has been a great complement to Kaepernick who can also run the ball, creating option plays for San Francisco.
Key Frank Gore Rookie Cards
2005 Exquisite Collection #93 JSY AU /199

2005 SP Authentic #224 JSY /899

2005 Zenith #162 AU /99

2005 Ultimate Collection #216 /225

2005 Playoff Contenders #139 AU

Michael Crabtree
Crabtree was the best receiver for the Niners during the regular season. He had 1,105 receiving yards – more than double the next receiver – and nine touchdowns. Come playoff time, Crabtree is only doing more of the same. In two postseason games, he has 176 receiving yards and two TDs.
Key Michael Crabtree Rookie Cards
2009 Exquisite Collection #185 JSY AU /99

2009 SP Signature #212 AU

2009 Playoff National Treasures #122 JSY AU /99

2009 SP Threads #242 AU /120

2009 Limited #202 JSY AU /149

Vernon Davis
A fan favorite in San Francisco, but the tight end saw little production during the regular season. He only caught for 548 receiving yards. However, Davis has been a favorite target of Kaepernick's during the playoffs. In Sunday's win over Atlanta, Davis finished with 106 receiving yards and a touchdown on five catches.
Key Vernon Davis Rookie Cards
2006 Exquisite Collection #133 JSY AU /225

2006 SP Authentic #257 JSY AU /699

2006 Playoff National Treasures #137 JSY AU /99

2006 Donruss Threads #228 AU /100

2006 Ultimate Collection #208 AU /99

Aldon Smith
Smith was one of the best linebackers in the NFL this season. The second-year player had 19 ½ sacks for a loss of 145 yards and 66 tackles this season. Smith is a keystone to an impressive defense by San Francisco. He has yet to record a sack in the playoffs, but don't think offenses aren't watching out for him.
Key Aldon Smith Rookie Cards
2011 Playoff Contenders #106 AU /102

2011 Panini Plates and Patches #106 /49

2011 Prime Signatures #179 AU /199

2011 Playoff National Treasures #205 /99

2011 Rookies and Stars #287 /299
Susan Lulgjuraj is an editor of Beckett Football. You can email her here with questions, comments or ideas. Follow her on Twitter here. Follow Beckett Media on Facebook.