A look at 2012 Topps Valor football cards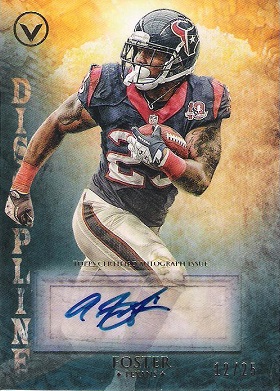 By Susan Lulgjuraj | Beckett Football Editor
Topps' 2012 Valor football has been out for nearly a week. The rookie product has been talked about through the week with many collectors immediately noticing the unique packaging – a tin box that resembles more of a prop from the movie '300.'
Does this high-end product have staying power? Will it be something we see again next year?
Valor uses strong symbolism throughout putting together inserts such as 'Courage' and 'Glory.' While Topps doesn't use many words, the focus of Valor is clear.
Here's a look at a sample of cards from 2012 Valor, and then hit the comments and tell us what you think.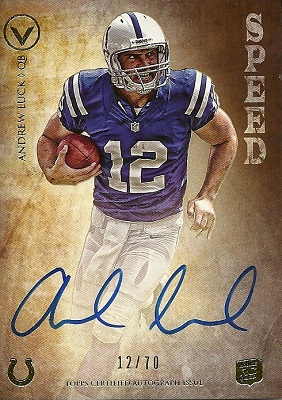 Autographs
Topps made a push for on-card autographs in Valor, although there are some sticker autos in the product. You can see in the Andrew Luck autograph just how well the signature is incorporated into the design.
Take note of the picture as well. That's not a nice-looking quarterback. Luck looks intense and looks ready to steamroll anyone in his way, staying true to the concept of the Valor product.
The good news for collectors is that Topps has included veterans autographs in Valor – at least one in every box. While rookies still rule, at least there is a chance at something different.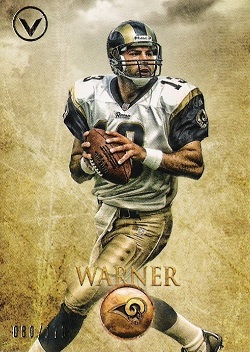 Base cards
The artwork on the base set almost seems as though the players have been immortalized. They seem as if they are more than football players with the way the design makes them rather heavenly with the sky peeking overhead.
The base checklist of 100 cards (click here for a full checklist) has a mix of rookies, veterans and retired players.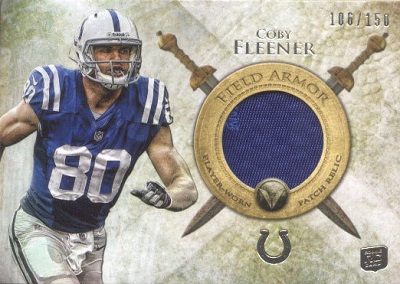 Relic cards
Topps named a subset of relics cards Field Armor, but really it just means uniform. The relic card design resembles a coat of arms. Many of these cards feature patches, but there are also plenty of relic cards the feature a single-color swatch.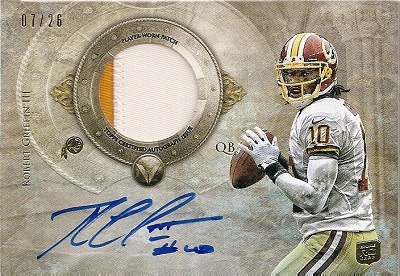 Big rookies
Like most of the products this year, the top rookies are selling well on the secondary market. Players such as Robert Griffin III (click to see RG3 eBay auctions
), Andrew Luck (eBay
), and Russell Wilson (eBay
) are selling for several hundred dollars. But there seems to be a significant drop off that with the second- and third-tier level of rookies.
Susan Lulgjuraj is an editor of Beckett Football. You can email her here with questions, comments or ideas. Follow her on Twitter here. Follow Beckett Media on Facebook and Twitter.