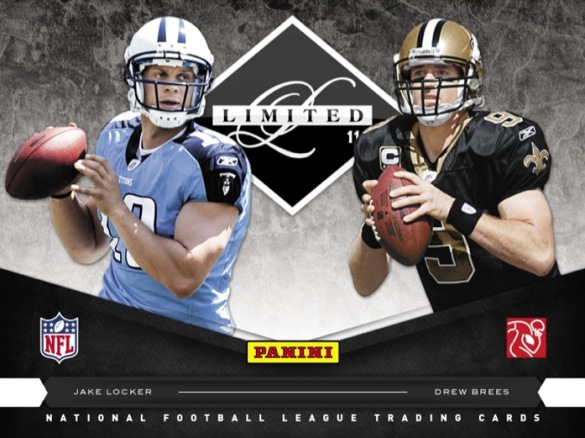 By Andrew Tolentino | Football Editor
In today's "Panini Peek," the Texas-based card company offered a limited look at 2011 Limited Football — a product that proudly boasts a checklist of cards numbered to 499 or less.
Confirming a late-November release, Panini detailed the seven-card-per-pack  product with high hit counts, subsets and brand enhancements. Among those improvements, Material Phenoms Rookie Cards and other freshmen-focused features take center stage.
Material Phenoms offers what the company explains as its "most extensive and star-studded lineup of Draft-Day-worn hats and jerseys ever." According to the manufacturer, these  wanted rookies are made even more desirable with on-card autographs, prime memorabilia and a limited print run. To seal the deal, each one will be numbered to 299 or less.
Draft Day Lids & Jerseys is an aptly named insert set, headlined by hats and jerseys actually worn by players on their respective draft dates.  This set spans 13 top NFL Draft picks and each card here will be numbered to 199 or less. And, in even even rarer territory, limited-to-10-or-less Rookie Lettermen inserts will resurface with letter patches inked by the biggest names in the 2011 draft class.
Now of course, Limited isn't limited to newcomer cardboard.
Playing with its words, Panini's Limitless inserts are said to include "scarce autographs from the NFL's most dynamic players." These cards are numbered to 199 or less and feature the likes of Michael Vick, Adrian Peterson, Sam Bradford and other gridiron dominators.
Check out the visuals and see what each pack is packing after the jump.
As mentioned, 2011 Limited comes seven cards to a pack and includes the following:
One autographed card (numbered to 299 or less)
One memorabilia card (numbered to 199 or less)
One additional autograph or memorabilia card (numbered to 299 or less)
Two base cards
One Legends subset card
One Rookie Card (numbered to 499 or less)
Stay tuned to Beckett.com for more information becomes … less limited … on the forthcoming brand.