A helping hand: Collectors come to the aid of one of their own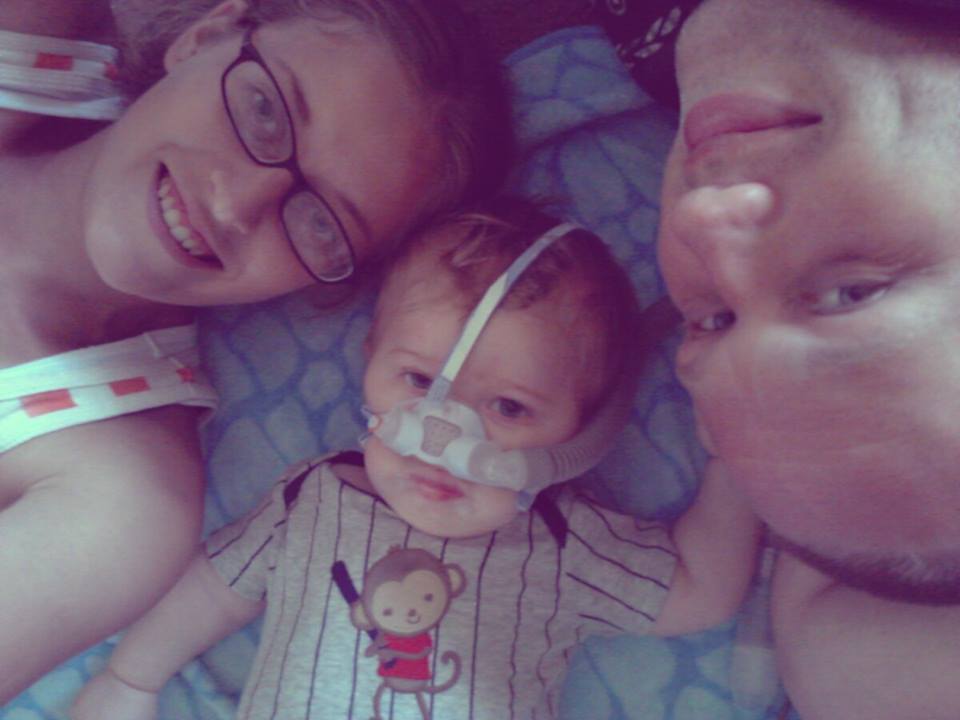 By Susan Lulgjuraj | Beckett Sports Card Monthly Editor
Dustin Smith goes to the Blowout Cards forum for relief from his everyday problems. He chats with friends about cards and shows off his collection.
But collecting cards has been put on pause because Dustin has bigger problems. He and his wife Kristen have a son, Connor, suffers from spinal muscular atrophy (SMA) type 1, an aggressive, terminal disease.
"It's a disease that gets worse and worse," Smith said. "We've seen it take a massive toll. He's lost the ability to swallow, the ability to eat. Without a ventilator, he probably wouldn't make it 24 hours."
Dustin turned to the Blowout Cards message boards. He needed a place to vent his frustrations, a place where he could finally get all his feelings and thoughts down. He didn't expect much of a response, but there was an overwhelming amount of support for the Michigan-based couple.
"It was just for mental support in the beginning," Dustin said. "I've read some cool stories on there and have dealt with awesome people. They are incredibly generous. I wanted to share my story on there."
Dustin and his family received every type of support they could have imagined from the Blowout community: mental, emotional, financial and even sentimental.
Board members sold cards from their collections to send money to the Smith family. They opened their ears to become listening posts. A few community members even got together to do what they do best – they created two trading cards of Connor for the family to keep.
Dan Shakespeare took hold of the card project on Blowout.
"I asked him if it was OK to send me one of Connor's onesies," Shakespeare, an Iowa resident, said. "Other than Blowout, he doesn't know who I am."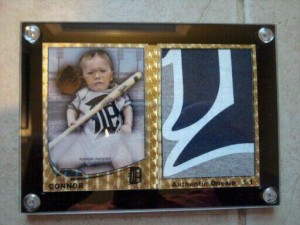 Shakespeare got three other members from Blowout to donate their time and efforts to create hese cards from designing to manufacturing. Initially, the plan was to sell a card at auction to make money for the family, but Shakespeare decided to send it to the family instead.
"I thought maybe they would bring $200-$300, but these are worth way more," Shakespeare said. "I thought they should just keep them. I would in their position."
SMA is a heartbreaking disease. The Smiths didn't know what was initially wrong with Connor, who was born Sept. 17. At about 6 weeks old, Connor stopped moving his legs. He has never been able to lift his head. He had trouble breathing in January when they took him to the hospital.
He had a collapsed lung at 17 weeks old and even then it took 10 days of agony to learn the awful news – their son had a debilitating and deadly disease.
It felt like forever for the doctors to finally diagnose their son.
This was their first child together, although they have children from previous relationships.
"He has good days and bad days," Dustin said. "But when I say good day, I mean a horrible day for most people. When he's on the ventilator, he is fine and smiling. But when he's off, he turns as blue as a Smurf. There is no real treatment or cure for this disease. It's ridiculous."
Through it all, the card community has been inspiring. The owner of Scott's Sports Cards and Jewelry in Kalamazoo, Mich., visited Connor in the hospital when many of Dustin's friends didn't.
Another member from Blowout stopped by Dustin's home to give him collectibles to sell to make money for the family while Dustin takes time off from work.
Even the Detroit Tigers reached out to the family with a letter from former Tiger Willie Horton that included Detroit collectibles.
"The Tigers wish they could offer you a miracle, but that belongs in the hands of God and the expertise of your doctors; we can only hope you find the strength through the support of your family and friends, including all of us at Comerica Park," Horton wrote in the letter.
It all helps, but will never take away the pain he and Kristen are experiencing.
"I get 10 private messages and 20 comments every day," Dustin said. "It makes it easier, but it's not easy. Nothing will make it easy. It feels like when we wake up, we've been hit by a freight train. It's hard to believe it's real."
***
Dustin's wife Kristen regularly updates a Facebook page 'Prayers for Connor,' where thousands of people keep track of his progress. Follow them on Facebook here for more information.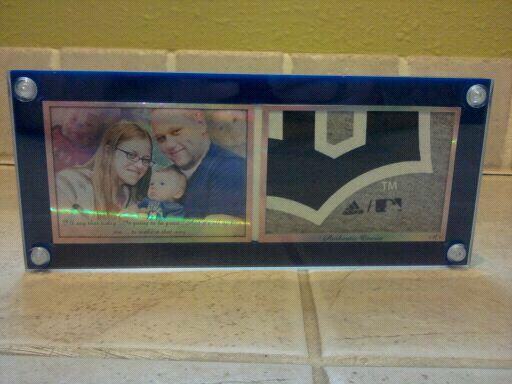 Susan Lulgjuraj is an editor of Beckett Sports Card Monthly. You can email her here with questions, comments or ideas. Follow her on Twitter here. Follow Beckett Media on Facebook and Twitter.