A football card that exudes confidence … and more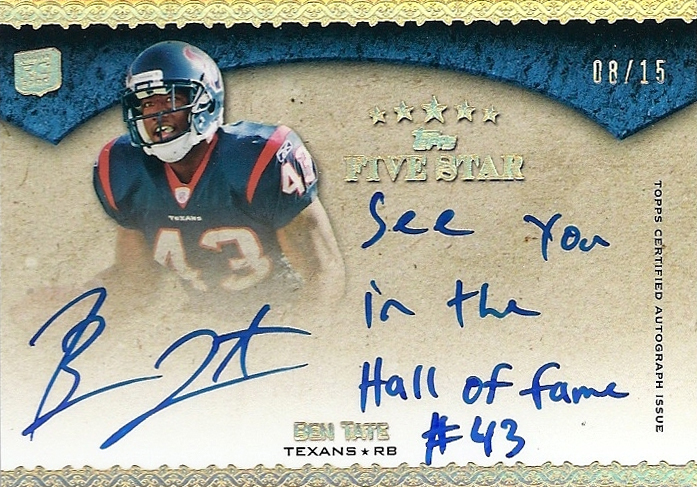 By Chris Olds | Editor | Commentary
Topps' highest-end product ever made — 2011 Topps Five Star Football — is a five-card per pack, $500-per-pack product that's packing some cards with special touches inside.
There are autograph cards, there are booklet cards, there are patch cards inside each and every box.
But not all of them include an inscription quite as special — quite as confident — as this one from Houston Texans running back Ben Tate, a second-round draft pick who ran for 1,362 yards and 10 touchdowns as a college senior in 2009.

You know, it's the same Tate who was medically cleared on Tuesday as recovered from a broken right fibula and torn ankle ligaments. The same Tate who hasn't played a down in the NFL yet. The same Tate who, if healthy, will be fighting for playing time against the NFL's leading rusher last season, Arian Foster.
In case you can't read his printed inscription on the card — which could be yours on eBay for considerably less than Hall of Fame money — it reads: "See You in the Hall of Fame #43."
Now, at first, I thought he was perhaps offering a shout-out to a current Hall of Famer. But according to this list there aren't any No. 43's in Canton.
Then, I thought maybe it's a shout-out to Troy Polamalu — a No. 43 — and his Hall of Fame hair. He'll be in Canton someday, right?
Then, of course, it dawned on me … Tate went to Auburn.
Just kidding! (But he still went to Auburn.)
Chris Olds is the editor of Beckett Baseball — and went to the University of Alabama. Have a comment, question or idea? Send an e-mail to him at colds@beckett.com. Follow him on Twitter by clicking here.