A collector first, Oakland A's pitcher Pat Neshek still hunts his own baseball cards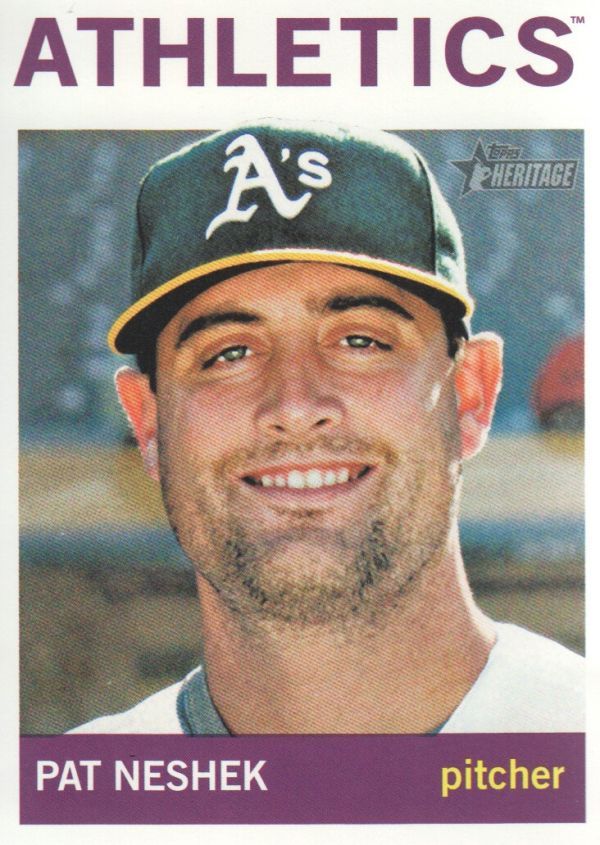 By Chris Olds | Beckett Baseball Editor
Long before Pat Neshek was a big-leaguer, he was a collector and like many 1980s kids he collected heavily in his younger years before the distractions of life and the lack of funds during the college years curtailed his collecting habits.
Then, one weekend he volunteered to help his Butler University roommate hound for some autographs when a big-time college team came to town and his collecting interests were renewed.
"My roommate was a huge eBay autograph seller and one weekend he needed an extra hand because Ohio State basketball was coming into town," said Neshek, who is in his seventh season in MLB pitching with the Oakland A's this year. "I was pumped just to leave my dorm for the weekend, and I didn't know what was in store. We ended up getting four team-signed basketballs, pictures with the guys on the team and we were able to get into the game with scalped tickets for $5. After that moment, I was hooked. I didn't know player access was that easy."
He hasn't looked back since as a collector and during his path to MLB. He often documents his collection and his collecting habits via Twitter — he's currently working on a signed 1985 Topps baseball set, for example — and his website, On the Road With Pat Neshek. There, he tells collectors how they can get his autograph — on their own card or via a trade — while also showing off some of his collection and his projects.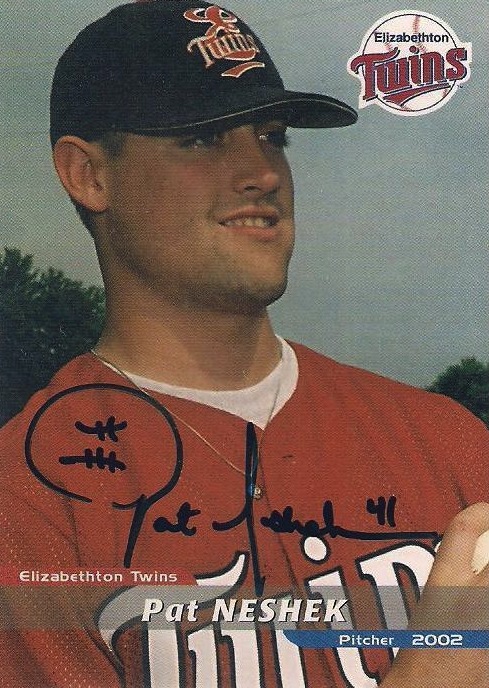 Beckett Media caught up with Neshek (click here for his checklist and an OPG) to talk about his collection for a profile in the upcoming SuperCollector Issue of Beckett Sports Card Monthly and there (we're not spoiling it all here), he discussed seeing his baseball cards for the first time.
For a collector, even that first minor league card was a pretty big deal.
"To me getting a baseball card meant that you made it," he said. "I remember when I signed my contract I didn't know how far I would get in the minors let alone make the majors. All I wanted was a card to prove to my friends that I did something cool with myself. In 2002, I got my first card it was a team card for the Elizabethton Twins. I went out and bought 50 sets and got my teammates to sign all 50 cards of themselves as well.  Each year after [that], the minor league team I was on produced a card, and I thought it was so cool."
Just like making the majors, making major-league cardboard wasn't a given. He had to wait a few more years to see himself in a Topps set — and when the card did arrive even then it was a challenge. It's actually one that continues for him to this day.
"Topps or Upper Deck never made a card of me until after my first season with the Minnesota Twins," Neshek said. "Of course my first Topps card was an insane card to find since they put it in as a box-topper. I had no base card as my first card — my first was a Chrome /599 and /25 Refractor box-topper, meaning the only way you could get it was to open up a box for $65 and hope that it was sitting on top and wasn't one of the other 49 box-toppers in the set.
"I actually did buy three cases of 2006 Topps Update that year — 36 boxes — and did get one of my /599 cards. Thank goodness for eBay."
Neshek he's always on the hunt for his rarer Topps Refractor, noting that he owns eight of the 25 made … but that he wants more. You can read more about what else he and a couple of other pros collect along with profiles of 10 everyday collectors in the upcoming issue.
Chris Olds is the editor of Beckett Baseball and Beckett Sports Card Monthly magazines. Have a comment, question or idea? Send an email to him at colds@beckett.com. Follow him on Twitter by clicking here.