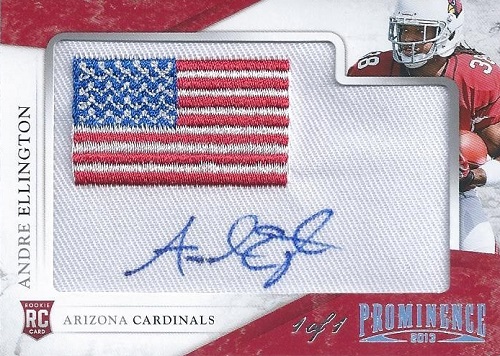 By Susan Lulgjuraj | Beckett Football Editor
Panini Prominence Football hit the hobby shelves this week.
The 2013 version features autographs on different materials with a focus on this year's rookies.
Each hobby box comes with three packs with five cards, including an autograph, in each. To see a complete preview, click here.
Prominence is live today, so let's look at some of the top cards coming out of the product.
One of the first cards I noticed was the 2013 Prominence Rookie USA Flag Patch
of Andre Ellington. I didn't see many of these on eBay, and rightfully so because they are 1-of-1s. With a good signature, these can be beautiful cards from any player.
Click here to see more 2013 Prominence flag patches on eBay.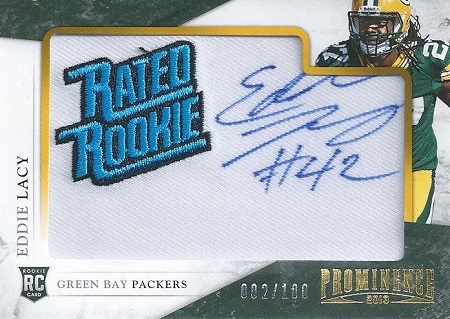 Then there are the Rated Rookie patches. These came out looking good except for the few players that signed near the corner and cutting off part of the signature.
Click here to view more Rated Rookie patches.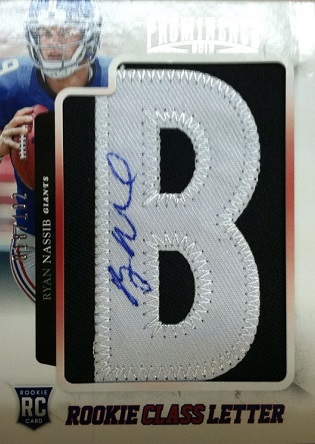 Players signed more material with the Rookie Class Letter cards. These are Letterman cards just by another name. Are there any players whose names you are going to be chasing?
Click here to view more Rookie Class Letter cards.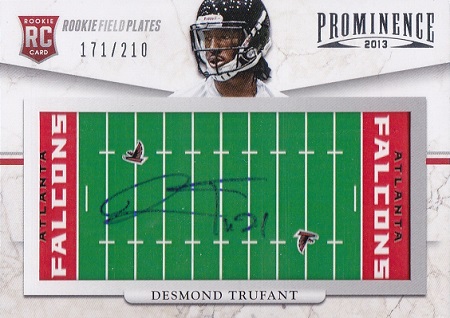 The Field Plate Autographs are different. They were in last year's product. They feature a different type of autograph on top of a miniature football field.
Click here to view more Field Plate Autographs.
The interesting thing about many of these autographs is that none of them are stickers. By putting autographs on non-descript materials like a flag or Rated Rookie patch, Panini could put them around any type of border. There doesn't need to be a team associated with the player yet to make these work.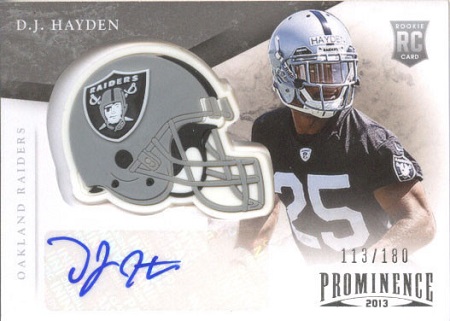 But not all the cards are like that. There are Team Logo Patches. And the Rookie Helmet cards are affixed with sticker autographs.
Click here to view more Rookie Helmet Autographs.
For good measure, here's a look at one of the base cards from 2013 Prominence.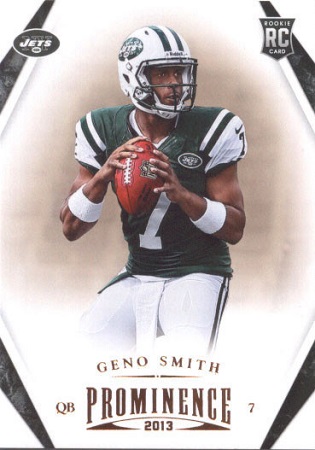 What do you think of the product so far?
Susan Lulgjuraj is an editor at Beckett Media. You can email her here with questions, comments or ideas. Follow her on Twitter here. Follow Beckett Media on Facebook and Twitter.