A baseball card with a story to tell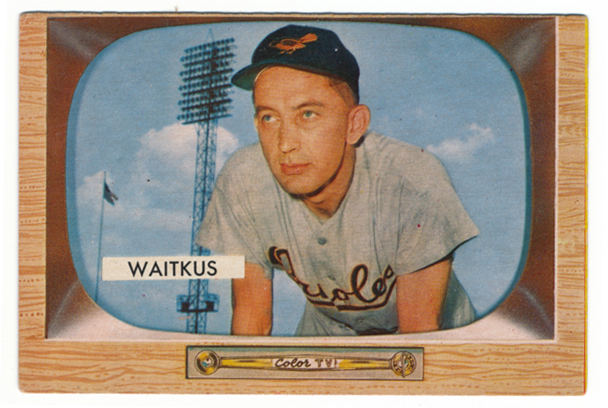 By Chris Olds | Beckett Baseball Editor | Commentary
In my dozen years writing about the hobby here at Beckett Media and for newspapers owned by The New York Times, Hearst and the Tribune Company, there's been one common statement that has held true each and every year.
Every card has a story.
Sometimes they are simply statistical tales — not all that often compelling accounts of multiple home runs or other achievements in a game or career. At other times, they are stories from the field of competition that raise interest in something bigger. Other times, it's your own tale that can be told with finding a card in a box — where you were, when it happened, what you've been through with it through the years.
But the story on Eddie Waitkus' 1955 Bowman card? That's something completely different — and it's one that would likely never happen today.
Card No. 4 in the set sells for $15 or less according to the Beckett.com OPG and, on the front, it looks like any other in the sometimes-beloved, sometimes-loathed tribute to color television and 1962 Topps precursor.
The back, though? It's unlike anything I had ever seen in my 25 years of collecting — a card that I didn't knew existed until recently when I saw a scan of it on Beckett.com's baseball message board. After that, I immediately picked one up from one of my favorite websites (mailday video here) to bring this tale to my collection and to you.
The back of the card notes Waitkus' "biggest thrill in baseball" and, ironically, it's really not about baseball at all. It reads:
"In 1949, I was shot by a deranged girl. After I was released from the hospital, I was sent to Florida by the Phillies to see if I might recover enough to resume baseball. The schedule laid out for me was a nightmare. I was in a bad nervous condition, and I grew more depressed each day. Then I met a girl who knew a lot about human nature — who had faith in me. I went on to a good season, and the newspapers commended me for for the 'Comeback of the Year.' (The girl who helped so much is now my wife.)"
Does the story sound familiar? It should if you know baseball movies. Waitkus' tale was the basis for an early 1950s book which then became the Academy Award-nominated Robert Redford film The Natural.
While I have seen the film (long ago), I hadn't checked out the DVD, which apparently has a segment about Waitkus' place in inspiring cinema lore. Instead, it was a random baseball card find that told the story for me, one that informed me of something more in existence and once again drew my interest in the hobby from another direction.
It's not often that a card of a semi-journeyman from the 1950s — a guy who hit 24 homers and .285 in 11 seasons decades before I was born — sparks a serious interest from me. But once I saw it, I knew I had to own it — and it was a card that possessed some apparent charm among a few long-time collectors and dealers when I showed it off during a recent card shop visit.
Rather than explain the story, I simply presented the card and said "Read it."
It got the reaction I had anticipated. Interestingly, neither dealer (both with decades in the hobby) had heard the tale of Waitkus or his 1955 Bowman card — and they had at least one copy of it  in their shop for some time just waiting to be discovered. (It's part of a 1955 Bowman set on display daily.)
Their reactions to a simple piece of cardboard affirmed my own — that it was a classic, must-own card. And it also, once again, reinforced my ongoing notion that might define one aspect of the hobby more than most dollar signs or the most deluxe of cardboard creations. It's one inherent feature that can define greatness without a lot of demand or without a dollop of ink or a swatch of fabric.
Every card has a story.
Chris Olds is the editor of Beckett Baseball magazine. Have a comment, question or idea? Send an email to him at colds@beckett.com. Follow him on Twitter by clicking here.