8D Network readies first sports memorabilia auction
[youtube]http://www.youtube.com/watch?v=BVNMyjmmwdI[/youtube]
Watch an interview with the 8D Network's Ed Manguiat above.
—
By Chris Olds | Beckett Baseball Editor
Back in August, we brought you news of the 8D Network's soft launch at the National Sports Collectors Convention.
Now, the launch is official as the first auction will launch next month and end in early December. Meanwhile, several athlete's causes' websites have been showcased under the 8D umbrella.
For those who don't know, the 8D Network is a way for athletes to have their causes be found and a portal to help bring the casual fans into the sports memorabilia world while bringing the memorabilia collectors in as well all in once place. If needed, it also offers support for those groups to have websites built.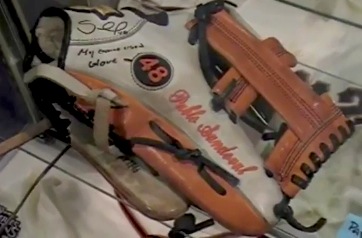 The inaugural auction includes the jersey worn by Chris Chambliss in the 1976 ALCS, Vida Blue's 1971 AL MVP award and Hall of Famer Willie McCovey's 1971 San Francisco Giants jersey among the headlining items. The auction will close on Dec. 9, while a second auction is planned to coincide with the Super Bowl.
Operated by those behind Game Used Universe, each auction will donate 10 percent of its earnings to causes in the  Network. Already part of the group is the Panda Kids Foundation, the charity of San Francisco Giants' Pablo Sandoval, and the Gigante Project supported by fellow Giants Andres Torres with a focus on attention-deficit hyperactivity disorder, or ADHD.
"Any athlete with a cause can contact us and become part of our network," said 8D CEO Chris Cavalier, the founder of GUU. "Many athletes are limited in their ability to raise additional funding and gain greater awareness. Our 8D Network will give them a home in which everyone benefits.
"Our end goal is to try to help as many people as possible, using America's love for sports collectibles as a vehicle to raise money and bring attention to the fine athletes who do want to get involved in charities that matter."
Other athletes presently under the 8D umbrella — or with sites coming soon — include Pro Football Hall of Famer Fred Biletnikoff, Olympic volleyball star Kerri Walsh, former NBA player Clint Richardson, as well as current and former NFL players LeGarrette Blount, Jack Tatum, Anthony Simmons, Gerald McRath, Rashied Davis, Chris Brown and Eric Frampton.
Chris Olds is the editor of Beckett Baseball magazine. Have a comment, question or idea? Send an email to him at colds@beckett.com. Follow him on Twitter by clicking here.