Signing habits said plenty about Dean Smith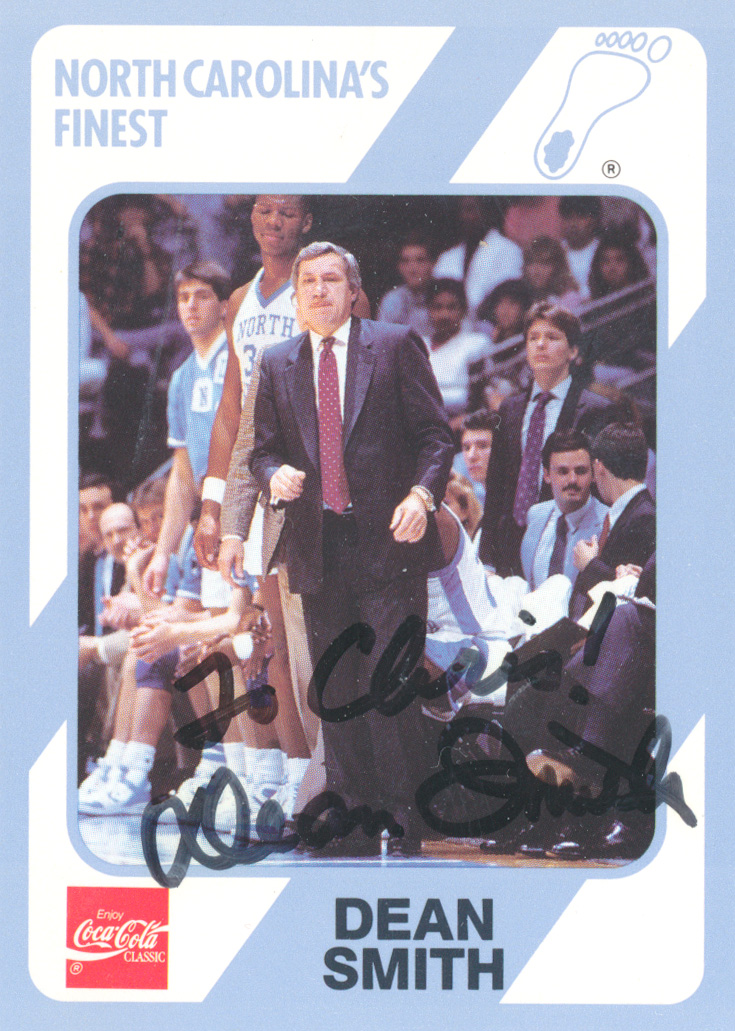 By Chris Olds | Beckett Sports Card Monthly Editor | Commentary
When the basketball ranks lost one of its biggest legends on Saturday night, I immediately thought of one card in my collection.
It wasn't because of potential dollar signs — it was because I hadn't taken a moment to look at it in years.
The legend was former North Carolina coach Dean Smith, a teacher and an icon who won two national championships and 879 games in 36 seasons. His first NCAA title came in 1982 when his team topped Georgetown 63-62 with a last-second basket drawn up for his team's third-leading scorer that season, a freshman named Michael Jordan. That, of course, is a moment that helped shape the career of one basketball legend — if not the game itself — as we know it today.
More than 20 years ago, my hobby of collecting autographs through the mail, or TTM, was prompted by a relatively new creation that helped make the hobby easier — the Internet. With a search, one could find countless address lists, reports of successes and failures, and other basic pieces of information that could help a collection grow.
Admittedly, basketball — especially the college ranks — wasn't that high on my radar at the time. Baseball and football got my immediate attention (and probably still do as a collector more than basketball) but I knew the magnitude of Smith's place in the game. I knew he was more than just Jordan's coach, something that probably resonated too much among us kids back then. (Back in those days, I was probably wearing some Air Jordans — to be as cool as the others.) I knew Smith was big — but probably not much else — and not that many years later he retired with more victories than any other Division I coach in history.
Back then, the collecting options for college greats were not plentiful but I managed to find a couple of 1989-90 North Carolina Collegiate Collection cards and sent them off to the UNC campus. Some time later, I received both cards back — one signed, the other signed and inscribed. My cost? Two stamps and the time it took to write a brie, but polite, letter.
Smith was one of a few legendary successes that included Jerry West, Bob Cousy, John Wooden and Lenny Wilkens. My successes with then-active basketball players weren't that good — in fact, I didn't get any responses at all. (I've decided my NBA Hoops Dominique Wilkins cards aren't coming back any time soon.) My TTM hobby was much bigger then than it is now, but today there are many more options for collectors as seemingly everyone has a certified autograph somewhere.
Back then, Smith had just two autos in obscure products I never saw where I lived — 1992 Courtside and 1995 Action Packed Hall of Fame. Since then, Smith has appeared on 30 other certified cards but none in any real volume since 2007. In all, Smith appears on 108 different cards in the Beckett database that typically sold for just over $2,100 total, excluding rarities, before the news.
Clearly I wasn't the only one taking a look at — or looking for a Dean Smith autograph in recent days as more than 20 different certified autos have sold on eBay for $100 or more. The priciest one was a 2006-07 Chronology Contemporaries card from Upper Deck that has Smith's signature alongside Jordan's. That card, limited to only 25, graded a BGS 9 went for $1,523.88. Another, a 2001 Fleer Greats of the Game, went for $400, while another from Chronology sold for $353.50. Not bad.
My card, though? The one where he took a few seconds to write my name before his? It's like many others out there — Smith was a prolific signer before his health declined — but to me, it's priceless. I finally tracked it down in one of my autograph boxes where it had been all this time and I found it in a simple, un-sleeved top-loader. I pulled it out to scan and took a glance at the card back, which recounted his basketball legacy as it stood in 1988.
"Ten of Smith's former players or assistant coaches have gone on to become head coaches on the college level or in the NBA. Numerous others have become high school coaches or college assistants. However, perhaps his proudest accomplishment is the fact that 168 of his 172 lettermen have their degrees."
Smith wasn't just about basketball — that's clear in his legacy, which is all those statistics and much more today. The fact that a guy who was that busy and that successful took the time to sign autographs on a regular basis — even for kids who lived hundreds of miles away and probably didn't know that much based on the depth of their letter — says plenty.
In fact, I think this card says it all.
Chris Olds is the editor of Beckett Baseball and Beckett Sports Card Monthly magazines. Have a comment, question or idea? Send an email to him at colds@beckett.com. Follow him on Twitter by clicking here.