7 Greatest Football Card Autograph Sets of All-Time
Autographs are a cornerstone of the hobby today. Since they were introduced, there have been thousands of different sets and inserts dedicated to signed football cards. Obviously, some are better than others. A select few stand out as some of the best ever produced.
Best Football Autograph Sets Ever Produced
1997 Upper Deck Legends Autographs
In 1997, Upper Deck issued the greatest autographed football card set of all time. And it will never be matched.
The 1997 Upper Deck Legends Autographs insert features more than 160 players and on-card autographs of NFL all-time greats. This includes several deceased legends such as Walter Payton, Johnny Unitas, Bart Starr, Gale Sayers and Len Dawson.
The autographs featured the same photos and design as the base cards. The stellar photography is a terrific backdrop for the signatures. Autographed cards have an "AL" card number prefix and a congratulatory letter of authenticity on the back. They fell roughly one in five packs (about four per hobby box). There are 18 short-printed cards including Payton, Starr, Unitas, Jim Brown, Joe Namath, Tony Dorsett and Dick Butkus. Hunting down all the short prints is a tough task, as they came roughly one per case. The most valuable cards typically sell for $1,000 to $2,000 and can be incredibly difficult to find. The top cards are #AL4 Walter Payton SP ($2,200), #AL9 Johnny Unitas SP ($2,000), #AL2 Jim Brown SP ($1,200), #AL3 Joe Namath SP ($1,000) and #AL17 Dick Butkus SP ($1,000).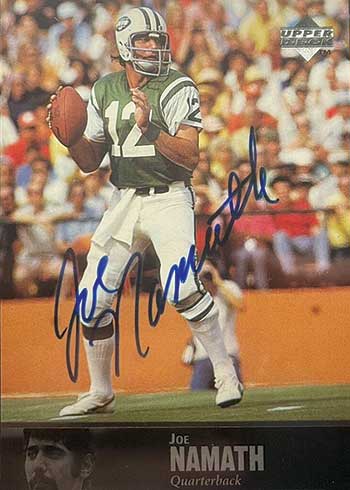 Five cards were issued as redemptions: #AL47 Sid Luckman, #AL71 Willie Wood, #AL97 Fred Dean, #AL122 Billy Johnson, #AL175 Bob Trumpy. Collectors are even willing to pay for redemption cards that were never redeemed.
Completing the entire set is nearly impossible today, and many collectors don't agree on what constitutes a complete set since some of the redemption cards were never issued. Even though the top cards reach $1,000 or more, there are some good bargains in the set. For less than $60 to $80 you can find Otto Graham, Gale Sayers, Paul Hornung, Dan Fouts, Fred Biletnikoff, Deacon Jones, Bob Lilly, Raymond Berry and many other Hall of Famers.
In 2008, Upper Deck built on the numbering of the set adding 14 cards numbered 179 to 195. Four are short prints. These released in 2008 Ultimate Collection, and even though the cards have the same design as the 1997 set, most collectors do not consider these cards to be part of the original set. Top players include #180 Emmitt Smith SP, #181 Barry Sanders, #182 Brett Favre SP, #184 Jerry Rice SP and #193 Bo Jackson. The 1997 design was brought back again in 2011 Upper Deck College Legends with college photos and on-card autographs.
Buy on: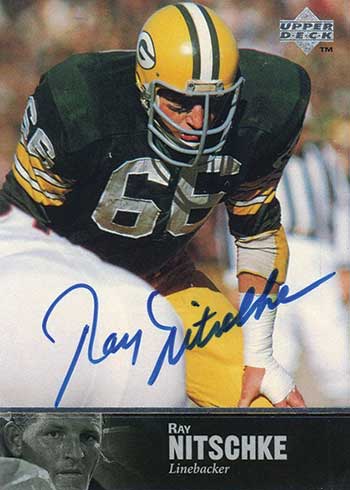 1991 Pro Line Portraits Autographs
Before autographed cards were a regular thing, Pro Line was ahead of its time launching the first certified autographed cards of stars, legends and coaches. The product was fully licensed by the NFL, but delivered unconventional photography that sets the cards apart from common cards of the era. Players are pictured mostly in street or workout clothes, but typically in NFL team licensed gear—a great way to market merchandise.
The entire card front is a full-bleed photo, which you would think is a terrific backdrop for a signature, but Pro Line had players sign the card backs for this autograph insert.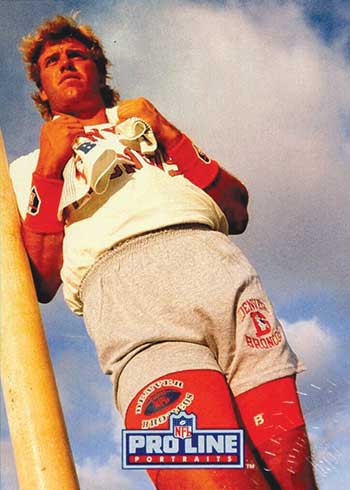 The backs have a small player headshot in the middle with bio text around that. Authentic cards are embossed with a seal in the lower corner. The set delivers more than 300 signed cards. The incredible size alone makes it historically significant.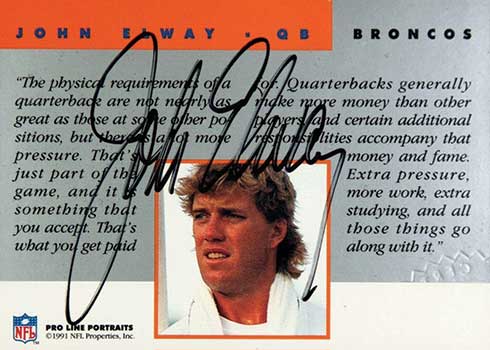 There are plenty of big names among the autographs including Walter Payton, Jerry Rice, Jim Kelly, Emmitt Smith, Troy Aikman, John Elway and Dan Marino. There's also Muhammad Ali! Because the product was produced in such high quantities, most of the autographed cards can be picked up for less than $200.
Buy on:
1999 Donruss Elite Passing the Torch Autographs
You might not think an 18-card insert set would be considered one of the greatest sets of all time, but the debut Passing the Torch Autographs delivered an amazing checklist with a terrific design and compelling theme. The program has been issued nearly every year since 1999, but none compare to the inaugural list.
The theme is simple: pairing an all-time great with a current star. The regular Passing the Torch insert is numbered to 1,500 on the back, but only the first 100 sequentially numbered cards are signed. The design features subtle torch flames in the background. Each player in the checklist has an individual autographed card, plus there are six dual autographed cards. Combos include Johnny Unitas/Peyton Manning, Walter Payton/Barry Sanders, Emmitt Smith/Fred Taylor, Earl Campbell/Ricky Williams, Jim Brown/Terrell Davis and Cris Carter/Randy Moss.
These dual autographs have one player on the front and one on the back. The Payton/Sanders is the most valuable at around $2,500, followed by the Unitas/Manning at around $1,500. The set released the same year Payton died and just three years before Unitas passed. A Payton/Sanders graded PSA 10 sold for more than $21,000 in late August, 2022.
Buy on: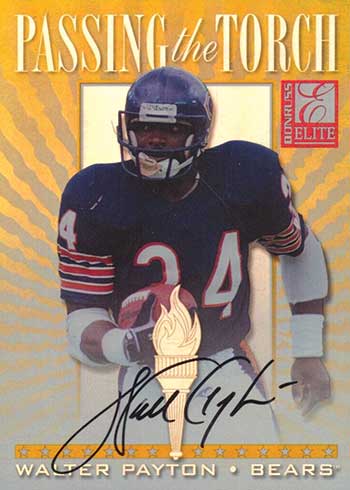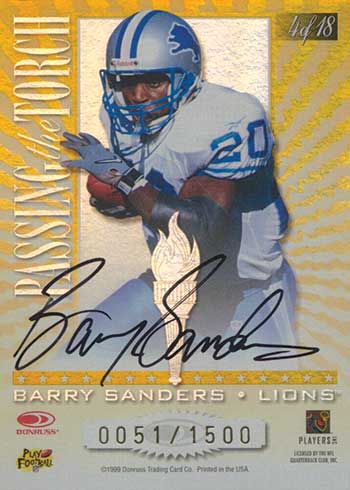 2000 Donruss Preferred Pen Pals
In 2000, Donruss dropped an ambitious insert of nearly 100 on-card autographs featuring past and current stars. The big draws to the set are the dual, triple and quadruple autographs. The cards are pretty rare, with the most plentiful numbered to just 50. These cards fell 1:43 packs, and roughly 10 percent of them were graded by BGS when the product released.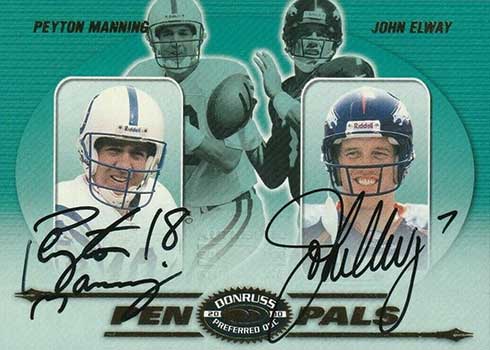 Single cards feature a headshot in the foreground in front of an action shot in the background. Dual autographs are numbered to 40, triples to 20 and quads to 10. Pairings typically focus on players of the same position. The most valuable cards typically sell for around $400 to $500. Top combos are Steve Young/Jerry Rice, Marino/Elway/Favre, Barry Sanders/Jerry Rice and Marino/Elway/Favre/Manning.
Buy on: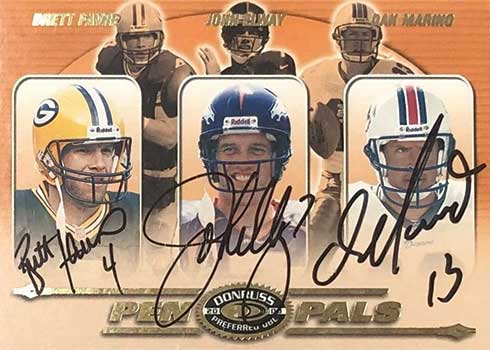 2001 Topps Archives Rookie Reprint Autographs
The Rookie Card reprint theme had been done before this set released, but none had a larger checklist of key Topps RCs throughout the previous five decades. The 2001 Topps Archives Rookie Reprint Autographs delivered 45 cards with on-card autographs featuring designs of some of the best RCs ever made. The cards feature a gold authentication stamp on the front.
Topps was able to leverage its deep history of products to make this one of the most unique inserts of all time. The top cards sell for around $300 to $400. Key players include Joe Montana, Johnny Unitas, Joe Namath, Barry Sanders, Roger Staubach, Lawrence Taylor and Deacon Jones. Walter Payton is a major player missing from the list since he passed away two years before this set released, but he does have a rookie reprint autograph from 1998. There is a 2001 Topps Archives Reserves product that has a chromium version of most of these cards. These have roughly the same value as the regular rookie reprints.
Buy on: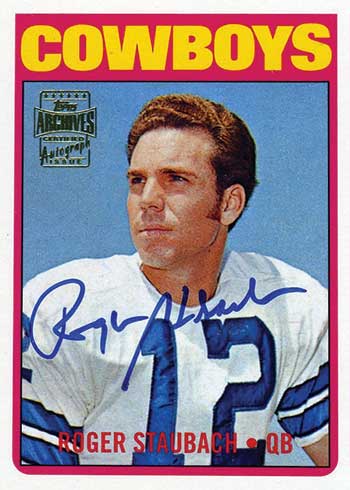 2002 Topps Ring of Honor Autographs
Topps created the Ring of Honor Autographs insert for 2002 Topps Football featuring on-card autographs of every Super Bowl MVP. It goes all the way back to Bart Starr in Super Bowl I, but does not include Super Bowl X MVP Lynn Swann, who rarely signed for any card company, nor deceased Super Bowl XII Co-MVP Harvey Martin. The insert included 35 cards.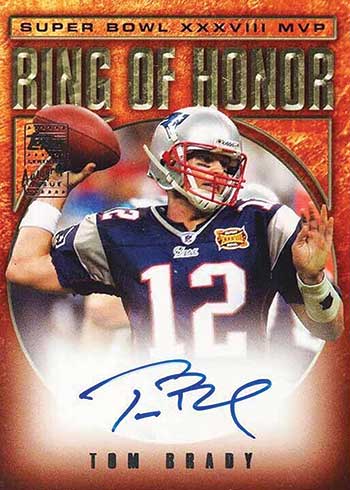 Players such as Joe Montana and Tom Brady who won multiple MVPs have a card for each MVP award. Topps included photos from actual Super Bowls for many cards. There's plenty of room for the signature at the bottom of the cards. For a few years following the 2002 debut, Topps added to the set with each new Super Bowl MVP. Some of the newer cards had sticker autographs. The Tom Brady Super Bowl XXXVI is the most valuable at more than $2,000. The Jake Scott and Desmond Howard are noted short prints and can bring more than $500 the rare times they come up for sale. Most other key cards sell for $300 to $400.
Buy on:
2015 Topps 60th Anniversary Autographs
Topps released its first mainstream football card set with the 1955 Topps All-American product. So, to celebrate the 60th Anniversary, it launched a 51-card autograph set including all-time legends, current players and some rookies. These cards had sticker autographs, and many cards are limited to print runs of 15, 25 and 35. The cards feature each player's Topps Rookie Card or their first Topps base card.
There is a gold 60th Anniversary stamp on one of the upper corners. Some of the rarest cards limited to 15 are John Elway, Andrew Luck, Dan Marino, Emmitt Smith and Jerry Rice. Other key players are Terry Bradshaw, Steve Young, Deion Sanders, Barry Sanders, Earl Campbell and Brett Favre. There is a Topps Chrome insert including most of the same players with cards numbered to just 10.
Buy on: