Super Freaks: 7 Giant Giannis Antetokounmpo Insert Cards
When you click on links to various merchants on this site, like eBay, and make a purchase, this can result in this site earning a commission.
When it comes to collecting Giannis Antetokounmpo cards, collectors have a lot of options. He has almost 20 different standard Rookie Cards to go along with hundreds of rookie inserts, parallels and other releases. Autographs are out there, too, albeit in smaller numbers in recent years. For collectors looking beyond rookies, Giannis Antetokounmpo insert cards are another option.
Panini has been giving chase cards more attention in recent years, experimenting with designs, themes and insertion rates. The result has been several cards that command premium prices on the secondary market. Even more important, lots of these inserts simply look cool and bring a lot of personality.
Here are seven such Giannis Antetokounmpo inserts that look great and are strong on the secondary market.
2016-17 Panini Excalibur Kaboom Giannis Antetokounmpo #12
Giannis Antetokounmpo has a few Kaboom inserts, but the first goes back to the insert's early days. Although exact odds are unknown, the cards are tough pulls from 2016-17 Excalibur Basketball packs. As a result, few are available on the secondary market at any given time.
Customary for Kaboom, there's a powerful quality to the design thanks to the illustration, banner and exploding foil background.
Buy on: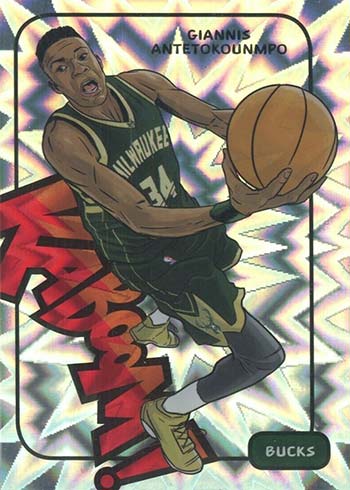 ---
2017-18 Panini Cornerstones Downtown Giannis Antetokounmpo #DT6
How many Giannis Antetokounmpo cards are you going to find that feature deer, motorcycles and cheese all at the same time? Similar to Kaboom, Downtown has become a trademark insert for Panini. Part of that is rarity, part is the distinct flavor of the photo-cityscape illustration combination.
Buy on: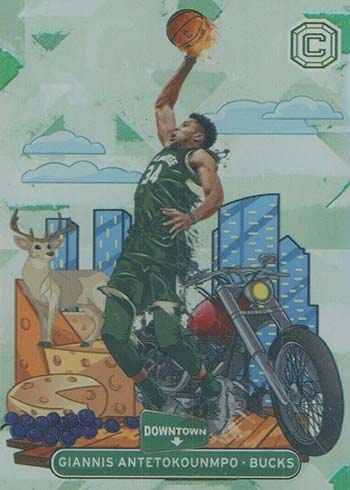 ---
2019-20 Donruss Net Marvels Giannis Antetokounmpo #11
Basketball stars as super heroes? That's the look of Donruss' Net Marvels. Not only is it apparent in the illustrated look and intense photo but the layout, which is done to resemble a comic cover.
Antetokounmpo is also in the follow-up 2020-21 set, but the intensity of his snarling look on this one adds another layer of vibrancy.
This isn't this rarest or most expensive insert, but it does move at solid prices.
Buy on: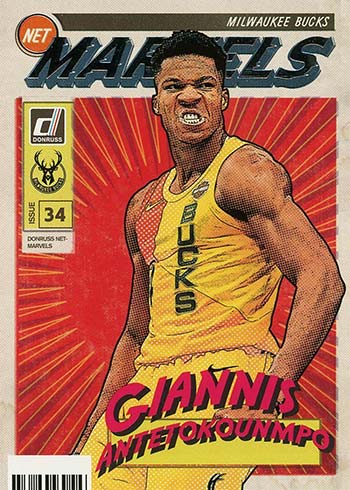 ---
2019-20 Panini Court Kings Blank Slate Giannis Antetokounmpo #37
Insert sets can stand out with over-the-top designs. In the case of Blank Slate, it goes in the opposite direction where less works just as well.
Using only white canvas stock, a photo and small text additions, there's beauty in this card's simplicity.
It's also one of the tougher inserts to find in 2019-20 Court Kings, so there's that as well.
Buy on: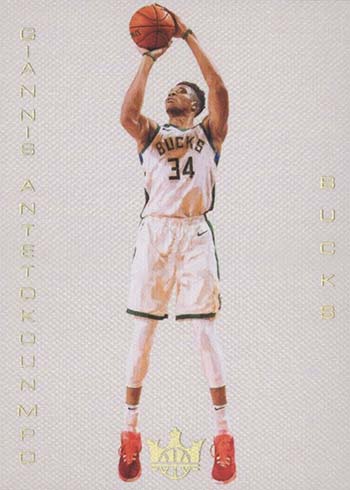 ---
2019-20 Panini Mosaic Stained Glass Giannis Antetokounmpo #7
As a concept, stained glass as a design element isn't new. In fact, it goes back to the 1990s. The colorful look has been done a few ways over the years, including different types of card stock. Mosaic's trademark background certainly pops with colored windows.
Buy on: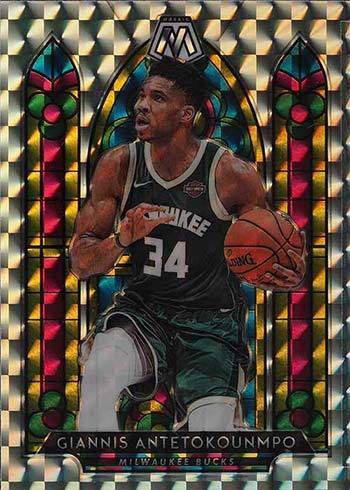 ---
2019-20 Panini Spectra Color Blast Giannis Antetokounmpo #4
If premium inserts are in the midst of a renaissance, an argument could be made that Color Blast is one of the sets leading the way. It has become a Panini cornerstone throughout several sports now. No matter the release, two things come into play — the exploding pop of the background and extremely long odds. For the 2019-20 Panini Spectra Color Blast Giannis Antetokounmpo, it means a rare card that runs thousands.
Not bad for something that isn't serial numbered and doesn't have an autograph.
Buy on: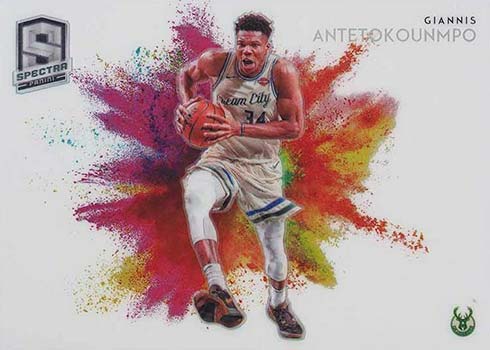 ---
2019-20 Select Artistic Selections Giannis Antetokounmpo #AS-GAN
For starters, that's a stellar shot of Antetokounmpo. Artistic Selection is another standout insert set that is more subtle with its design. But combine the darkened background and chromium stock and it's unlike most other designs using the metallic stock.
Buy on: