7 Big Trends Shaping Football Cards (and Other Sports Cards) Today
The trading card industry has seen unprecedented activity and growth over the last year.
Record sales, soaring values, major national media attention, and as you will see below, eBay reported a jump in card sales of nearly two and a half times for 2020 compared to the previous year. We'll take a look at seven of the fastest-rising trends that could define the hobby and change the way you collect throughout the year.
1. Second-Year Base Cards
The rise in popularity of key vintage Rookie Cards attracted ancillary attention to second-year cards of legends and current superstars. Think of it as buying silver when most people focus on gold. These are still key cards that may have a lot of room to grow compared to the RC value increases we have seen over the last year. Condition still plays a big factor with vintage cards. Collectors who can't afford a 1957 Topps Johnny Unitas Rookie Card in a Near Mint grade may be thrilled with a 1958 Unitas in the same grade or better.
Second-year cards of current stars have also attracted attention. Patrick Mahomes base cards from 2018 Panini Prizm and Donruss Optic sold for around $10 to $20 this season, with Mint and Gem Mint grades brining up to $300. Second-year Topps Chrome cards of NFL MVP Aaron Rodgers topped $25 with Refractor parallels nearing $200.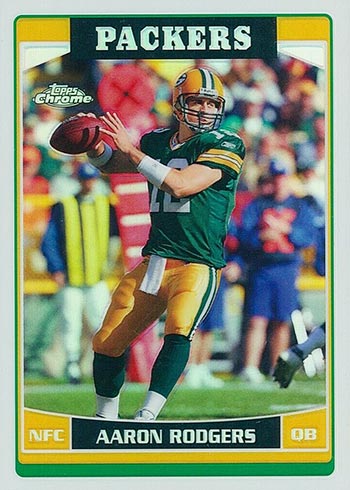 2. Mid-Grade Vintage Cards
Values for some higher-grade key vintage cards have increased up to three to four times over the last year. Near Mint 7 grades and higher are now out of reach for many collectors, so mid-grade vintage cards ranging from Very Good 4 to Excellent-Mint 6 are gaining more steam. These grades typically have higher quantities available which means more circulation and more opportunity for collectors to snag them. Even if they are not the higher-quality condition, many in this range still have terrific eye appeal and give collectors the confidence of authenticity.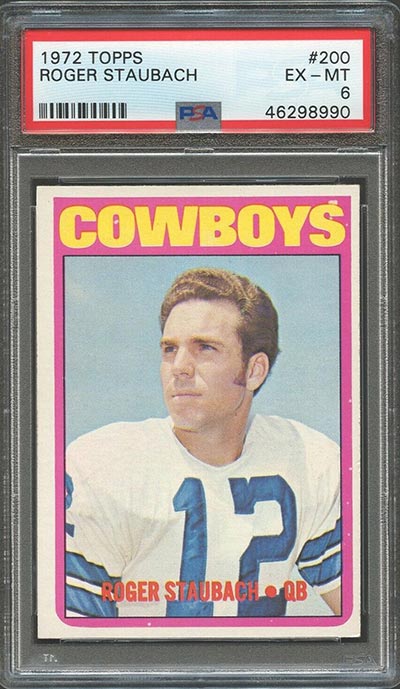 Take the 1957 Topps #119 Bart Starr as an example. A little more than 1,600 entries appear in the PSA Pop Report (not including qualifiers), and grades 4 through 6 account for 1,023 of those, or roughly 63 percent. The 1971 Topps #156 Terry Bradshaw RC in a PSA 6 grade is attainable at around $500. Two 1955 Topps All American #37 Jim Thorpe cards graded BVG 4.5 recently sold for around $250 each. Excellent-Mint 6 grades can sell for more than $700.
3. Resurgence of Local Card Shows
The 2019 National Sports Collectors Convention (the 40th edition of the annual event) reportedly attracted the largest crowd in nearly 30 years. It certainly signaled the undeniable growth in the hobby. Then, the COVID pandemic forced the cancelation of The National in 2020 along with countless smaller shows across the country. However, as some counties and states began to peel back regulations on gatherings, local shows popped up with impressive attendance. Perhaps the largest over the past year was the Dallas Sports Card Show, which attracted venders from all over the country. It even earned the nickname "The Mini-National." It hosted more than 450 vender tables at its January show and has featured autographed signers such as Bob Lilly, Drew Pearson, Ricky Williams and Billy Simms.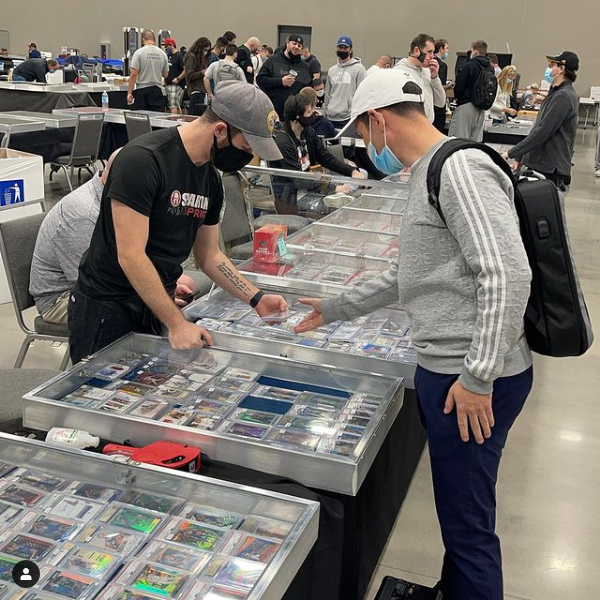 As more communities loosen COVID restrictions on gatherings throughout 2021, expect to see shows popping up all over the country. In an era dominated by online activity, card shows still bring a ton of value that collectors are rediscovering. Here are just a few:
Meet and network with other collectors and dealers to help each other build collections.
Inspect cards in person for condition, which is particularly valuable for raw vintage cards.
Avoid online auction fees. This helps buyers and sellers, so bring cards to sell and trade even if your primary goal is to buy.
Find great deals. Most show venders want to get rid of their inventory, and since they don't have to pay online auction fees, most are willing to negotiate.
See some amazing cards. Larger shows attract big-time collectors and dealers who bring some rare and incredibly valuable cards.
4. eBay's New Standard Envelope Shipping Option
In eBay's first State of Trading Cards report, the company reported a 142 percent increase in domestic sales, with more than 4 million more trading cards sold on the platform in 2020 than the previous year. While eBay boasted single card sales of up to $555,000, it also announced a new shipping option to help buyers save on costs for lower-end cards.
One of the big negatives of buying lower-end cards on eBay is paying $3 to $4 for USPS shipping with tracking. It's tough to buy a $4 card and add $4 shipping. Of course, some sellers offer free or $1 shipping in a plain envelope with no tracking. Ebay's new Standard Envelope shipping option through USPS offers shipping in a regular envelope with tracking for less than $1. Three options include 51 cents for 1 ounce, 71 cents for 2 ounces and 91 cents for 3 ounces. Maximum envelope size is 11.5 by 6.125 inches and up to .25-inch thick. is allows for up to 15 standard-sized raw cards or up to three cards in traditional top loaders.
The "Standard Envelope for Trading Cards up to $20" option is available in the "Shipping service" section when listing cards for sale. Sellers can print a label directly from their My eBay account.
5. Autographs of Deceased Legends
Over the past year, countless people engaged in the hobby for the first time or reengaging after years of absence. The flood of activity has certainly increased values. Among the key modern options are autographs of deceased legends, and as time passes, the desire for these likely will only increase. Of course, the only way to make more is to use cut-autographs, and those have incredibly low quantities.
Autographed cards of Walter Payton, Johnny Unitas, Bart Starr and Gale Sayers are among the most popular, especially on-card signatures in key sets such as 1997 Upper Deck Legends, 1999 Donruss Elite Passing the Torch, Topps Real One Autographs and Topps Heritage Rookie Reprint Autographs. So many of these cards are swallowed up in collections, further reducing their availability.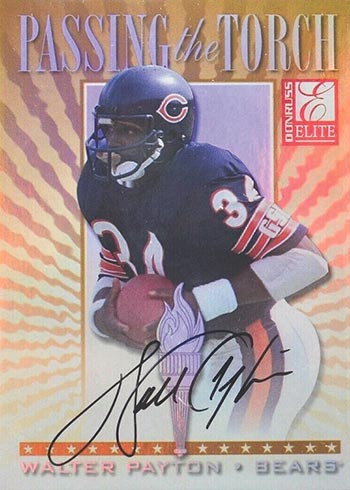 Payton, who passed away in 1999, has a little more than 200 total autographed cards included parallels and cut-signatures. His on-card autographs produced in the late 1990s are particularly attractive to collectors. Similarly, Unitas passed in 2002 and has just 160 total autographed cards, with around 50 being on-card.
6. Fractional Ownership
Some people love this innovative idea, and others mock it. Similar to owning shares of stock, a few services now off er collectors the ability to be part owners of high-dollar cards, high-grade sets or rare memorabilia. Think of it as group ownership.
Collectable.com, once an aggregator for sports auction information, now touts itself as "The #1 Fractional Investing Platform for Sports." The service even attracted NFL all-time leading rusher Emmitt Smith as Collectable's first athlete ambassador. Critics point to the fact that you never physically own the items outright.

"Collectable is modernizing and democratizing the sports card and memorabilia industry," says the company's LinkedIn profile. "Through its fractional ownership offerings, Collectable provides investment and owner-ship opportunities to sports fans, collectors, and investors of all income brackets—anywhere in the United States!"
Collectable says that every offering is fully qualified by the Securities & Exchange Commission and conducted via a broker-dealer partner. The mobile app allows you to buy and sell shares of the items. For a football example, a recent offering includes two 2000 Playoff Contenders Tom Brady Rookie Cards, both graded BGS Mint 9, requiring $90,000 in total investment with the consigner retaining $20,625 in equity (22.92 percent).
7. Retailers Limiting Box and Pack Purchases
The next time you stop by your local Target or Walmart for some retail packs, you might be limited to just two or three. Why? The resurgence of the hobby also flooded national retail chains, especially Target and Walmart, with collectors cleaning shelves of retail card packs and boxes. The most popular football products on retail shelves have been Panini Prizm, Donruss, Donruss Optic and Panini Contenders. Some stores have seen people lining up for product to be replenished. The opportunity has attracted flippers who scoop up every pack and box they can find with plans to resell them at a profit.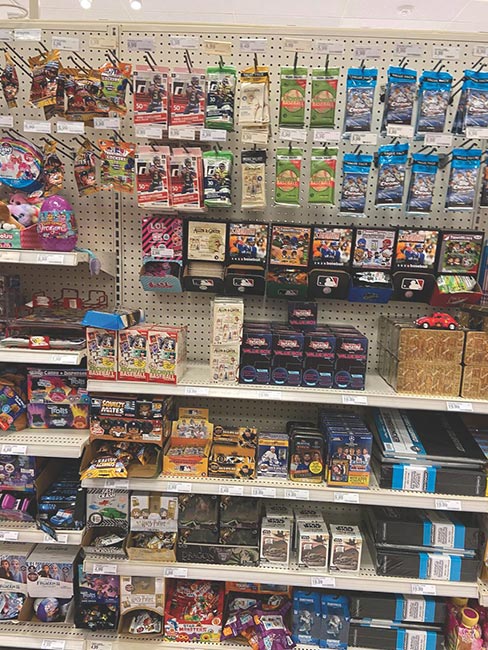 To help curb the mad rush on retail product, many Target and Walmart locations are now limiting the number of units customers can buy. This is a hot topic in collecting groups on Facebook and in online message boards. Some collectors love the idea, but others worry it will drastically limit secondary market circulation. So, the next time you find some packs, you might see a sign posted notifying customers of the new purchase limit.