1968-69 Post Marbles – Beckett Pricing Insider
This edition of the Beckett Pricing Insider is sponsored by Grizzly Sports Cards.

I was recently searching the secondary market for completed items on some "oddball" hockey sets that some customers wanted to know about when something caught my eye. It was a 1968-69 Post Cereal Marbles game board with an asking price of $139.99. It was odd to me because I guess I just wasn't computing the popularity of marbles and hockey in the late '60s, but I was wrong and game board wasn't listed for long as it sold for it's asking price not too long after it was listed. That prompted me to dig a little deeper to find out about the game pieces and I wasn't disappointed at all.  Long story short, this is a 30 piece set of some the most collectible names in hockey during the '60s. They don't show up on the market too often, but when they do they are pretty quick sellers.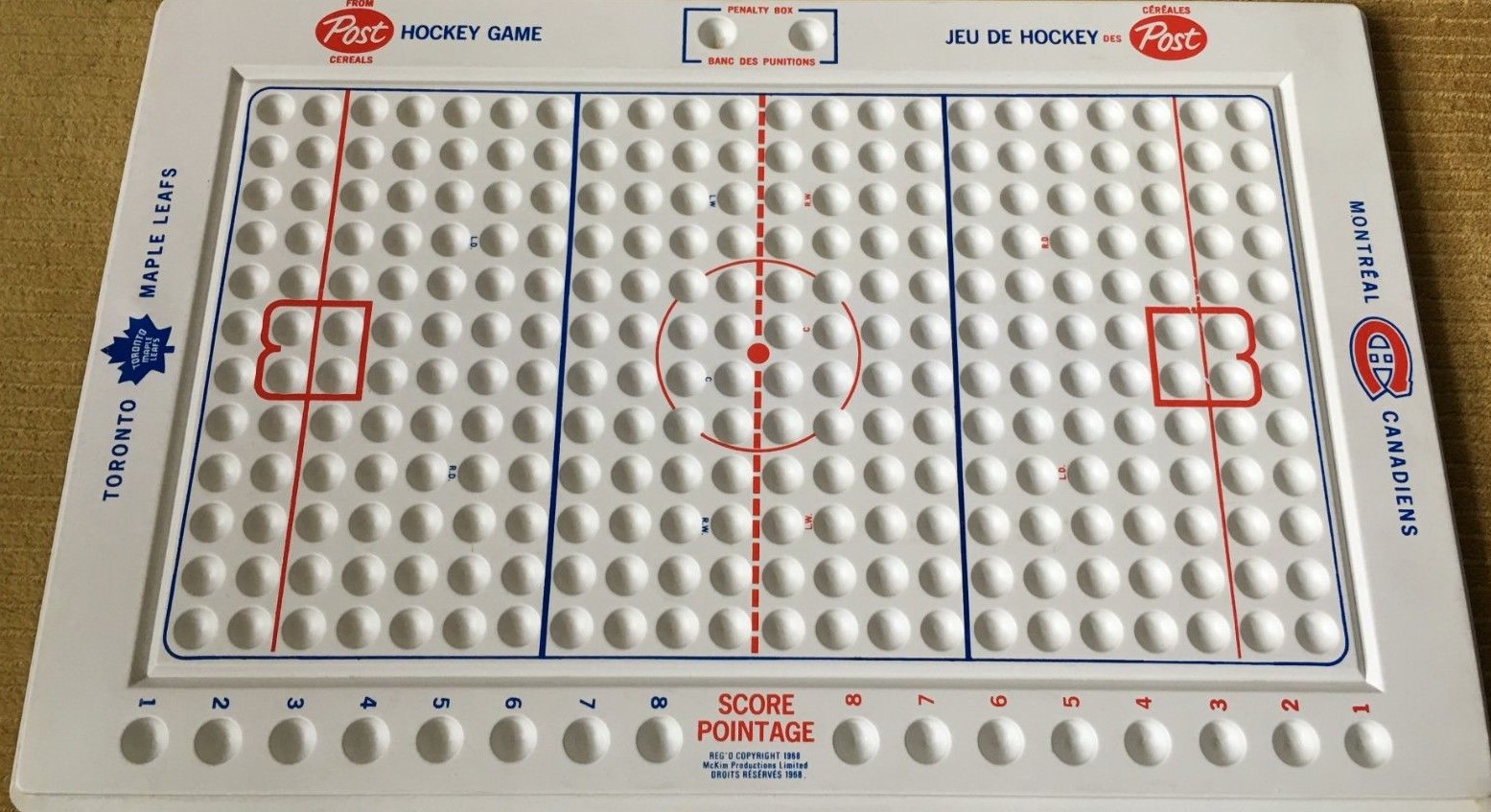 For the more seasoned collectors, this plastic marble set found at the bottom of cereal boxes in Canada is nothing new, but for the those of you who are new to the Hobby, or maybe just new to vintage collecting, this set is a must-have. The checklist is comprised of 15 Maple Leafs and 15 Habs, all of which have their own place in hockey lore. Names like Bower, Beliveau, Horton, Keon, Savard, and Vachon can all be found in this set. As you might assume, finding these in mint condition is almost impossible. A plastic game board and marbles are most likely not going to be in mint condition 50 years after being found in a cereal box, which is why even lesser examples of this set could make for a great cornerstone of your vintage oddball collection.
For those of you who would like to give it a shot, here is the checklist, and good luck:
1. Ralph Backstrom MC
2. Jean Beliveau MC
3. Johnny Bower TML
4. Wayne Carleton TML
5. Yvan Cournoyer MC
6. Ron Ellis TML
7. John Ferguson MC
8. Bruce Gamble TML
9. Terry Harper MC
10. Ted Harris MC
11. Paul Henderson TML
12. Tim Horton TML
13. Dave Keon TML
14. Jacques Laperriere MC
15. Jacques Lemaire MC
16. Murray Oliver TML
17. Mike Pelyk TML
18. Pierre Pilote TML
19. Marcel Pronovost TML
20. Bob Pulford TML
21. Henri Richard MC
22. Bobby Rousseau MC
23. Serge Savard MC
24. Floyd Smith TML
25. Gilles Tremblay MC
26. J.C. Tremblay MC
27. Norm Ullman TML
28. Rogatien Vachon MC
29. Mike Walton TML
30. Gump Worsley MC
xx. Game Board