$623K for Ball Signed by Ruth, Cobb, Wagner and 8 Other Original Hall Of Famers
A baseball signed by 11 of the first Cooperstown inductees sold for $623,368.80 in SCP Auctions' Summer Premier Auction 2018. The ball has 11 signatures from those present at the Hall of Fame's 1939 dedication: Babe Ruth, Ty Cobb, Cy Young, Honus Wagner, Nap Lajoie, Tris Speaker, Connie Mack, Walter Johnson, George Sisler, Eddie Collins, and Pete Alexander.
Adding to the ball's prestige, the Ruth, Cobb and Wagner signatures are all on the same panel.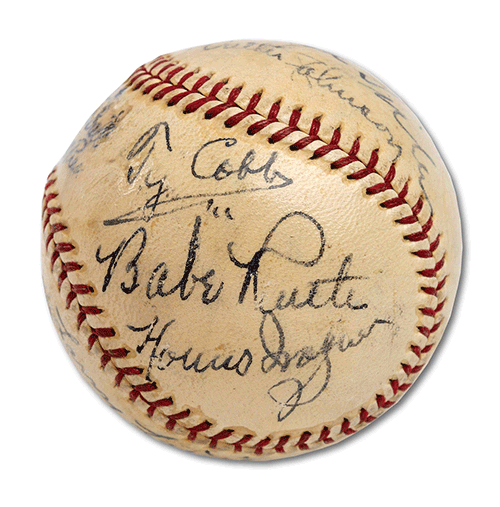 The ball originated with Marv Owen. He was a member of the Chicago White Sox in 1939 and was in Cooperstown for a special exhibition game between American League and National League all-stars that was part of the festivities.
The autographs are on an official Reach American League Ball. How Owen came to get the signatures is documented in his biography, "Adventures of  a Quiet Soul" that was written by V. Owen, Marv's sister. Hank Greenberg brought two balls to the inauguration in hopes of getting them signed. But Greenberg was too shy to ask so Owen stepped in and did it for him. Afterwards, Greenberg gave him one of the signed balls.
According to the auction description, Owen immediately put the ball in a fur-lined safety deposit box, which helped ensure the bold signatures after all these years. Owen passed away in 1991 but the ball remained with his family.
Owen's invitation from William Harridge, which came in the form of a two-page letter, along with the envelope were also included in the sale with the ball.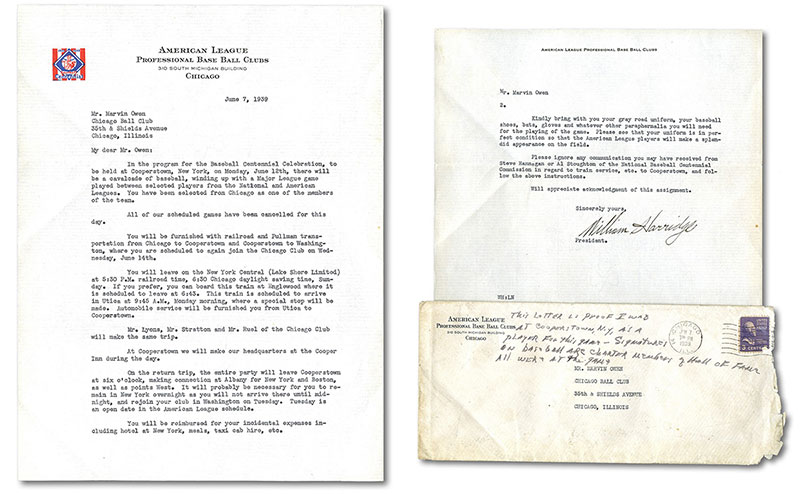 The ball has a Letter of Authentication from PSA/DNA as well.