6 Reveals from Panini America at the Industry Summit
Over the course of a couple of sport-specific panels at the 2018 Industry Summit, Panini America went over some of their highlights from the past year. They also touched on some upcoming plans.
While there were no major announcements like new licenses or exclusives, there were some reveals and confirmations about new, upcoming and disappearing products.
Shohei Ohtani Autographs Throughout 2018 Sets
2018 Donruss Baseball isn't the only Panini product to include Shohei Ohtani autographs. The company plans to have them throughout their 2018 baseball sets.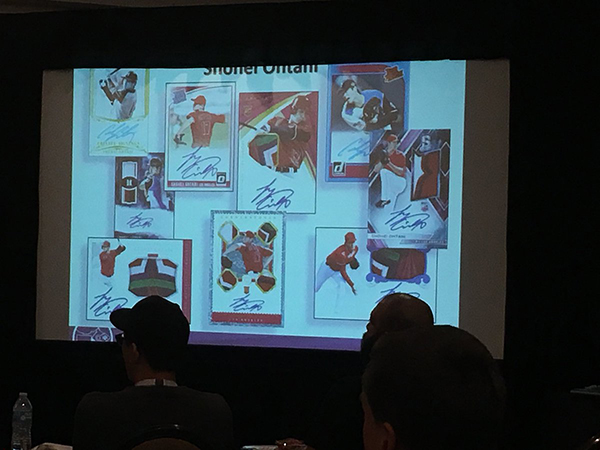 Not only that, but Ohtani is working to get them signed before the season starts so that he can focus on playing.
This will help ensure there are fewer (or even no) redemptions in late-season products, similar to Aaron Judge in 2017.
2018 National Treasures Soccer Is On the Way
2018 is a World Cup year. That mean that interest in soccer cards and the like, in North America and all corners of the globe, is going to rise. And it's not just the sticker album. Panini has high expectations for 2018 Prizm World Cup Soccer. It's debut release was huge back in 2014.
In the four years since, Panini has expanded the number of soccer cards they put out each year. And while there have been some super-premium products like Immaculate and Flawless, National Treasures Soccer is yet to be one of them. Until now.
2018 Panini National Treasures Soccer is expected to release in June.
2018 Panini Prizm Football Will Make Rookies Regular Base Cards Again
To help set base Rookie Cards apart in Prizm Football, they've been given the Silver Prizms finish for the past couple of years. For 2018 Panini Prizm Football, they're going back to the regular finish like the veterans.
Silver Prizms will still be made, but they'll be parallels.
In basketball, these cards have soared in recent months and the hope is that some of that traction will carry over to football.
More Consistency in Chronicles
Panini is planning to bring back Chronicles Baseball in 2018. Like 2017, it will feature a mix of brands that didn't get full standalone releases. One thing they're aiming for is more consistency in what each box delivers.
For example, they found that with 2017 Panini Chronicles, some boxes had multiple Prizm cards while others had none. They want to fix that and make it more equal across the board.
It was also hinted that adding Select to the product's mix was a possibility.
Totally Certified Basketball Out, Certified In
It looks like Totally Certified is taking a break from the 2018-19 basketball scheduled. However, the Certified name is probably going to stick around with 2018-19 Certified Basketball.
The last time there was a standalone Certified Basketball product was 2009-10.
Pantheon Football Isn't Returning, But Metal Cards Are
Another brand that's not returning in 2018 is Pantheon Football. But part of it is.
2017 Pantheon Football used metal card stock for its base set. That concept will be used for a debuting line called Elements.
Comments? Questions? Contact Ryan Cracknell on Twitter @tradercracks or by email.