When you think of Donruss and the 1980s, baseball probably comes to mind. And rightfully so. That was when the brand was establishing its legacy with Diamond Kings, puzzles and Rookie Cards from the likes of Cal Ripken Jr., Don Mattingly and even Gregg Jefferies.
But Donruss ventured into the entertainment realm on a few occasions, bringing some classic '80s TV shows to trading cards. And it wasn't necessarily your traditional kids fare, either. Even with plenty of young fans, these shows had broad appeal with adults as well.
While Topps had some more prominent licenses at the time, the 1980s Donruss non-sport sets have aged well. This goes for both the shows and the cards themselves. They're not exactly rare, but most of these Donruss sets are noticeably tougher to find than a lot of Topps releases. And that can translate into some solid prices as well as collectors look to retrace the decade as well as fill in some gaps that may have eluded them.
Her's a look at six popular '80s shows given the trading card treatment by Donruss.
CHiPs
Released: 1979
Set Size: 60 cards, 6 stickers
Checklist, Database and Price Guide Access
Buy on:
Okay, so technically this isn't an '80s set. But CHiPs was still patrolling the highways of Los Angeles until 1983. And then there were re-runs to keep latchkey kids at the time busy after school.
1979 Donruss CHiPs trading cards carry fairly strong values today. It's not nearly as plentiful as many other non-sport sets from the time. And while there is plenty of cool between stars Erik Estrada and Larry Wilcox, CHiPs isn't on the same level as many other shows. The recent reboot movie didn't help matters much either.
The main checklist has 60 sticker cards. Six separate die-cut stickers round things out. Images are a mix of show and posed promo shots. Understandably, the vast majority focus on the show's two lead stars. Sometime's they're solo but usually Ponch and Jon are shown together. In addition to riding their signature motorcycles, other cards have them dancing, riding horses and even giving early skateboarding a try.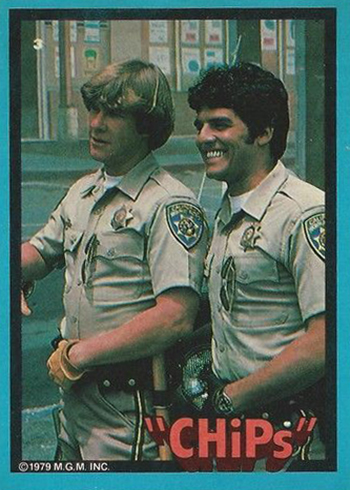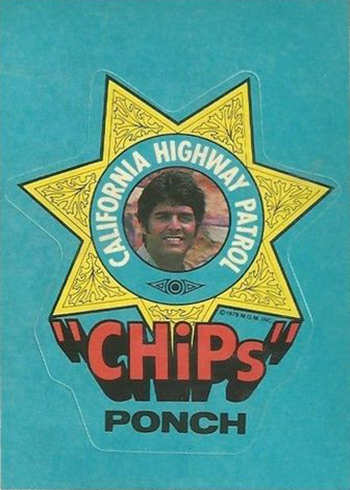 The deep blue borders make condition a little tough. Centering is also a common problem with a lot of cards.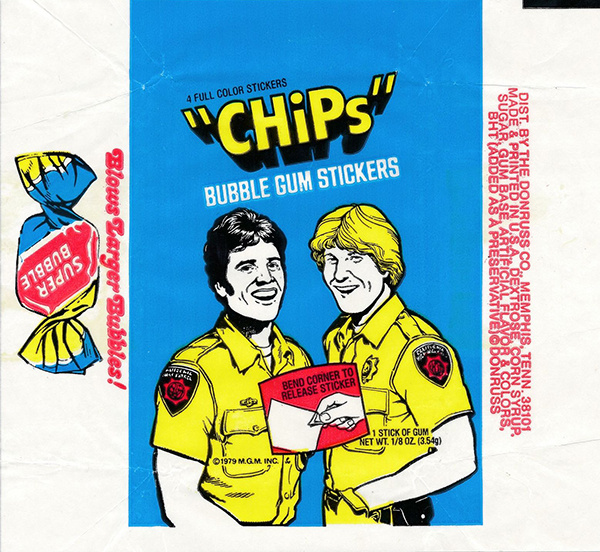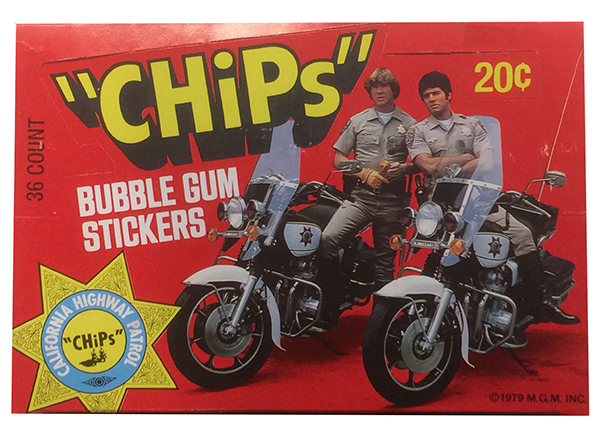 ---
Dallas
Released: 1981
Set Size: 56
Checklist, Database and Price Guide Access
Buy on:
Apparently someone thought that a primetime soap opera based on a Texas oil family would make for an exciting set of trading cards. It doesn't.
Today, there's the nostalgia. That's fun. Back then, getting a card of Patrick Duffy opening a bill or Larry Hagman drinking some coffee–probably not the most exciting thing to a young collectors, presumably the target audience. A couple of cards do feature the famous scene of J.R. getting shot but most of it is close-up of stars' faces or them doing mundane tasks.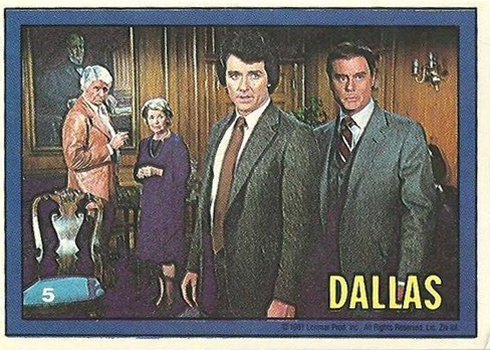 Whether it had a heavy print run or it was so unpopular that it's still easy to find in all forms decades later, these aren't hard to find. 1981 Donruss Dallas trading cards are still pretty cheap as well.
While the checklist has 56 cards, each can be found with two different puzzle backs. This makes a full master set 112 cards.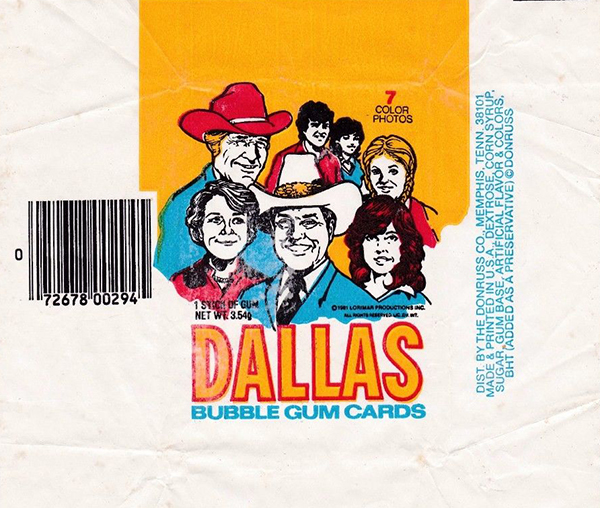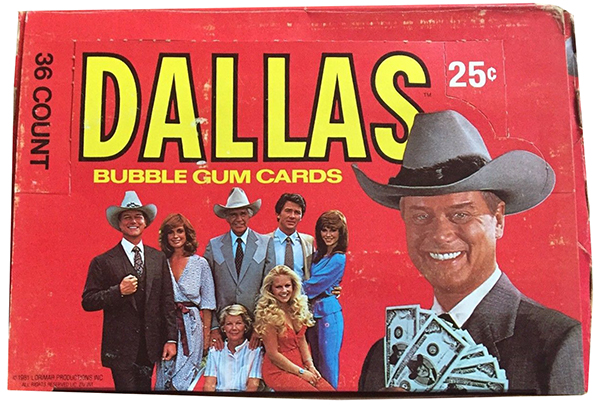 ---
The Dukes of Hazzard
Released: 1980, 1981, 1983
Set Size: 1980 – 66, 1981 – 66, 1983 – 44
Checklist, Database and Price Guide Access
Buy on:
The good ole' boys were responsible for one of Donruss' longest TV runs in the 1980s. While other shows got one set, Bo, Luke, Daisy and the gang appeared in three separate releases between 1980 and 1983.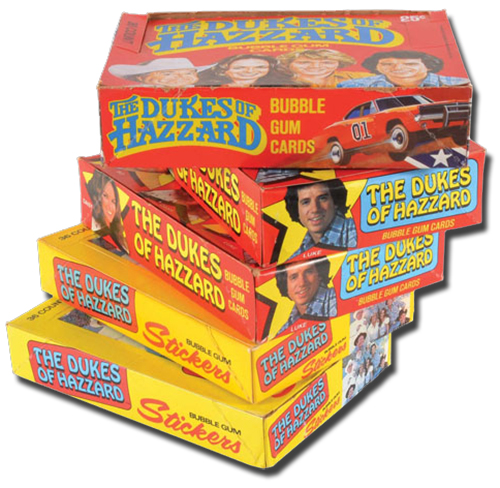 The first is the biggest, totalling 66 cards. These have blue borders and highlight a mix of action from the show as well as posed promotional photos.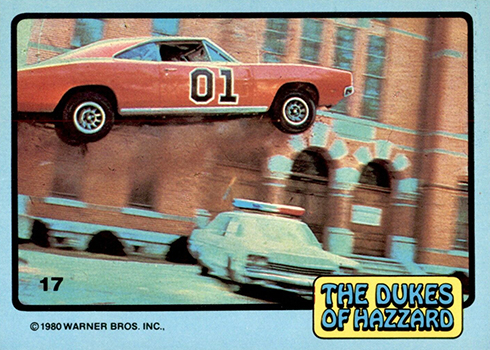 The follow-up in 1981 shifted things to stickers. The main set has 60 stickers, although the checklist goes to #61 (there is no #60). In addition to these are six die-cut stickers. The base set has a similar design as the earlier Dukes of Hazzard trading cards. The big difference, besides the fact they're stickers, are the white borders.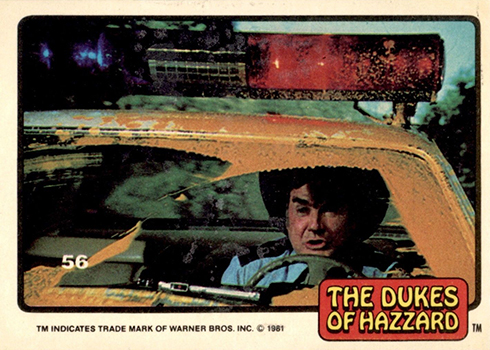 After a bit of a break, Donruss brought back The Dukes of Hazzard one last time in 1983. This time the checklist is slightly smaller, consisting of 44 cards. Like the 1981 stickers, these are white around the outside.
The first two sets are the most common. While not scarce, you may have a harder time finding much of the 1983 release.
---
Knight Rider
Released: 1983
Set Size: 55 cards
Checklist, Database and Price Guide Access
Buy on:
If you grew up in the '80s, just the mention of Knight Rider probably gets the theme song running through your head. You probably take a certain level of pride in knowing David Hasselhoff from before he got really big a few years later in Baywatch (which has some trading cards of its own).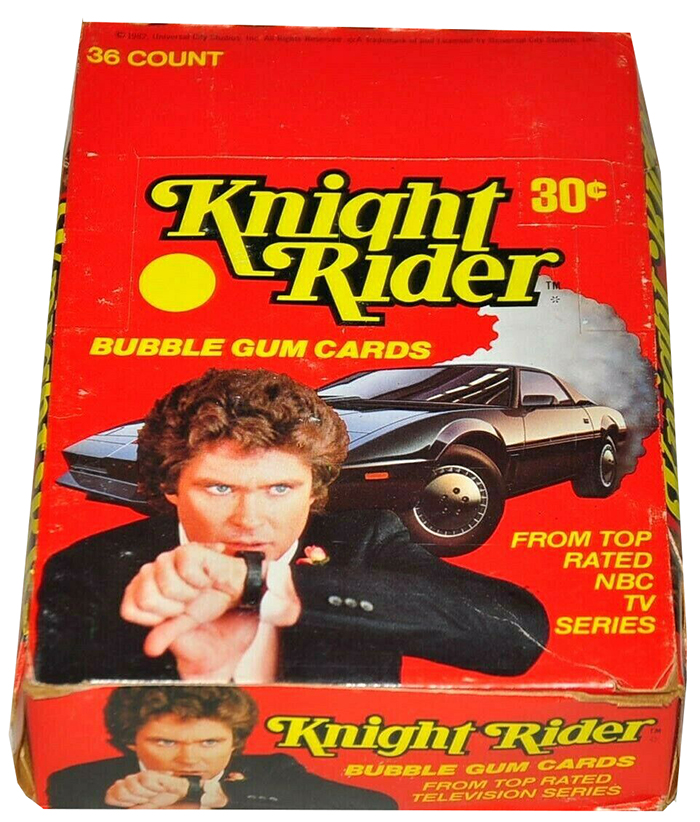 With a checklist of just 55 cards, it's a pretty random mix of images from early in the show's run. K.I.T.T. is featured in a lot of stunt shots, many of which don't translate that well into the format. Hasselhoff's Michael Knight adds some charm and personality to many of the other cards. Sometimes, there are lassos as well.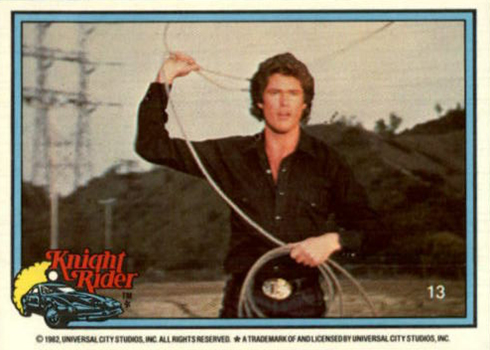 There isn't a carry through here to connect the various parts of the set beyond the images. This is typical of Donruss' TV sets from the era.
Moderately easy to find, particularly in set form, you shouldn't have to spend too much to get one.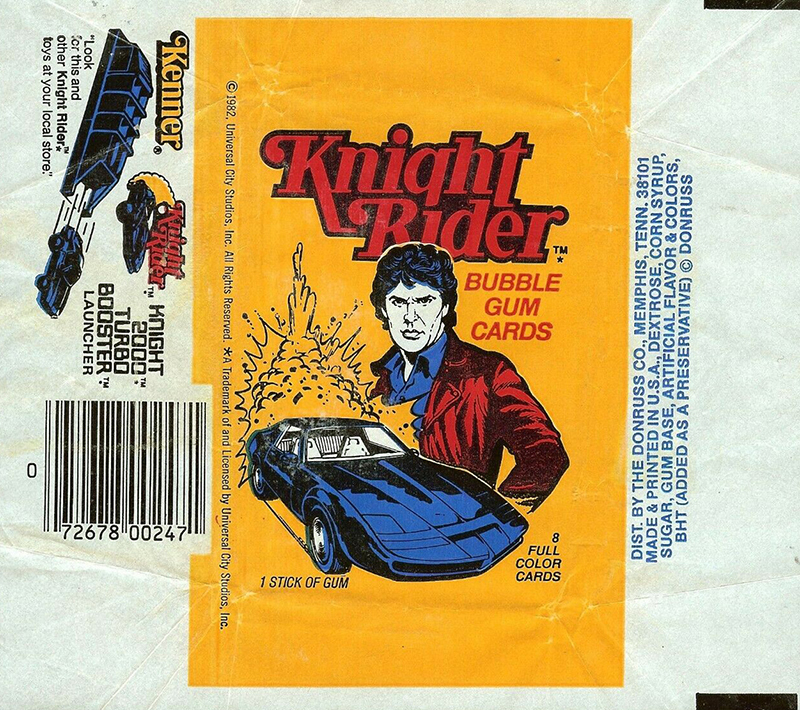 ---
MASH
Released: 1982
Set Size: 66 cards
Checklist, Database and Price Guide Access
Buy on:
MASH is one of the undisputed kings of television all the way until the end when the 1983 finale topped 105 million viewers. Despite the massive ratings, it's not the kind of show that usually gets the trading card treatment.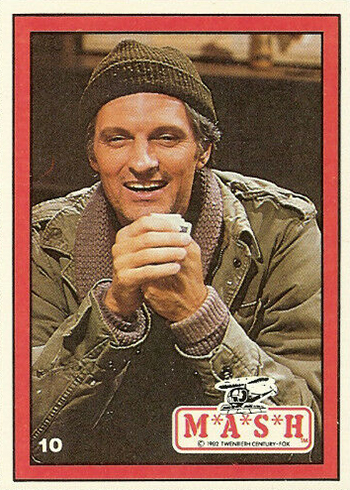 Like other Donruss non-sport sets, this is another one that has show photos on the front and puzzle pieces on the back. It's more about reconnecting with your favorite character or random scene than it is telling a story.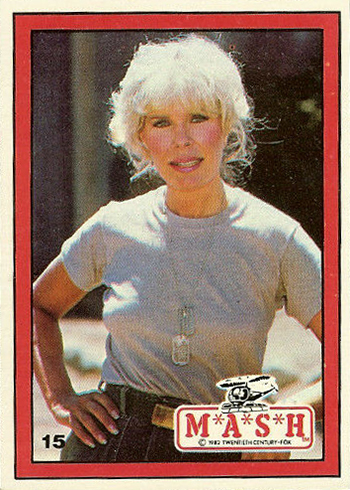 A basic set has 66 cards. But here's where things get a lot more complicated. Thanks to a ton of variation backs with different image and puzzle combinations, a 1982 Donruss MASH master set has 242 cards.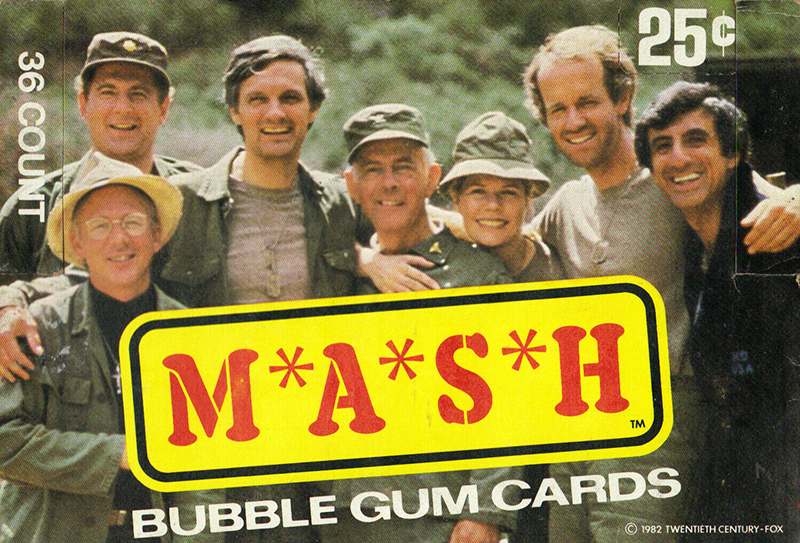 ---
Magum P.I.
Released: 1983
Set Size: 66
Checklist, Database and Price Guide Access
Buy on:
1983 Donruss Magnum P.I. has all the Hawaiian scenery, hot cards, grumpy Higgins-es and floral prints you'd expect. And plenty of shots of Magnum smiling and flashing his iconic mustache.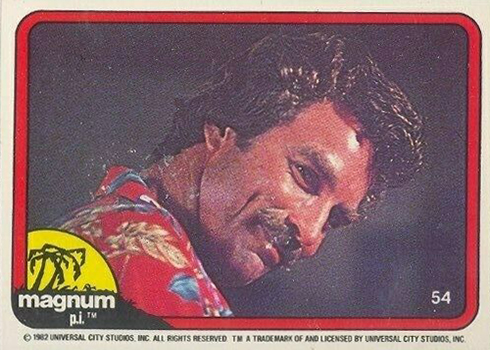 And it has card backs. While much of the 66 card set uses puzzles on the back, there is an attempt at offering a little more text this time around. Select cards have short write-ups and a red graphic that's almost like you'd expect to find on a Mad intro.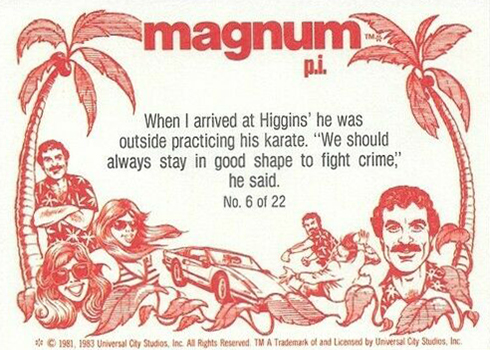 This remains a fairly easy release to find with sets, packs and even boxes available online at any given time. And like other early '80s Donruss entertainment sets, it's simple fun that packs lots of nostalgia today.