5 simple things sports card collectors can be thankful for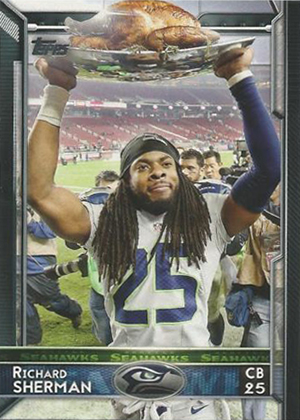 By Ryan Cracknell | Hobby Editor | Commentary
On Thanksgiving, it's easy to think about the spread on the table, the ringing of the doorbell, the nightmarish giant balloon characters floating through the streets of New York and lots and lots of football.
At some point in the day, though, it's good to reflect on the good things we have in life. And for card collectors, there are several. Here are five simple things we can be thankful for and give us a little perspective.
Friends
At its best, card collecting is a social activity. Whether it's in-person at the card shop or local show, or online in forums, Facebook groups, Twitter and breaker chat rooms, it's easy to interact. For many, even big trips to the National can be more about the friendships than the massive floor.
Many of these bonds can last years, if not lifetimes. Friends make collecting more fun. They can also help fill those want lists up.
Family
Many of us got into collecting thanks to a family member. Maybe you're trying to convince a son, daughter, niece, nephew, spouse or another member of your family tree to give it a try. Ripping packs and sorting make for a great way to hang out and spend some time together.
And even if you're the lone wolf in your family when it comes to collecting sports cards, we can still be grateful for family. They listen when we get giddy about a great pull they probably could care less about. Some space in spare rooms and garages are sacrificed for our monster boxes. Detours are made to the card shop when they just want to get home. So before a significant other has a chance to roll their eyes when you say you're making a detour to the card aisle, give them a simple "thank you."
Variety
Today's hobby has so much choice. It wasn't always that way. Before you throw back the exclusive, there should still be stuff out there for every type of collector. From high-end autographs to traditional lines with big base sets and everywhere in between, there are options galore. Yes, the hobby has changed and it's far from perfect, but we have options. That's a good thing. And even if there isn't something for you in the new products, there's over a hundred years worth of cards to catch up on.
Gets Us Closer to the Game
Before the Internet, sports cards helped us track players and their stats. They still can, but it's hard to compete with the immediacy that heading to your favorite site can bring. However, cards still connect us to the sports we follow and love. Photos can bring back memories of a specific moment. Autographs and memorabilia cards are about as direct a connection you can get. Just the act of sifting through your collection brings back the love.
It's a Hobby
In all seriousness, cards aren't a need in life. They're a luxury. Whether you're buying the cheapest packs or the most expensive, it's a hobby that we can enjoy and have some fun with. If you own a shop or rely on cards to make a living, it's different. But even then, you're probably thankful to have customers willing to spend their extra money in the hobby.
What are some parts of the hobby and collecting that you're thankful for?