The NBA off-season has turned into a huge frenzy each year with multiple players being signed by new teams or players being on the move in a trade. Trade rumors have already begun in earnest for one major star in Kawhi Leonard when it was reported last week by multiple sources that he wants out of San Antonio. NBA free agency officially begins July 1st and there have been many rumors and reports about where LeBron James might wind up. "The Decision Part III" as it's been called, will send shockwaves throughout the league. Let's take a look at some of the possible landing places for NBA superstars and how changing teams could affect their card values.
LeBron James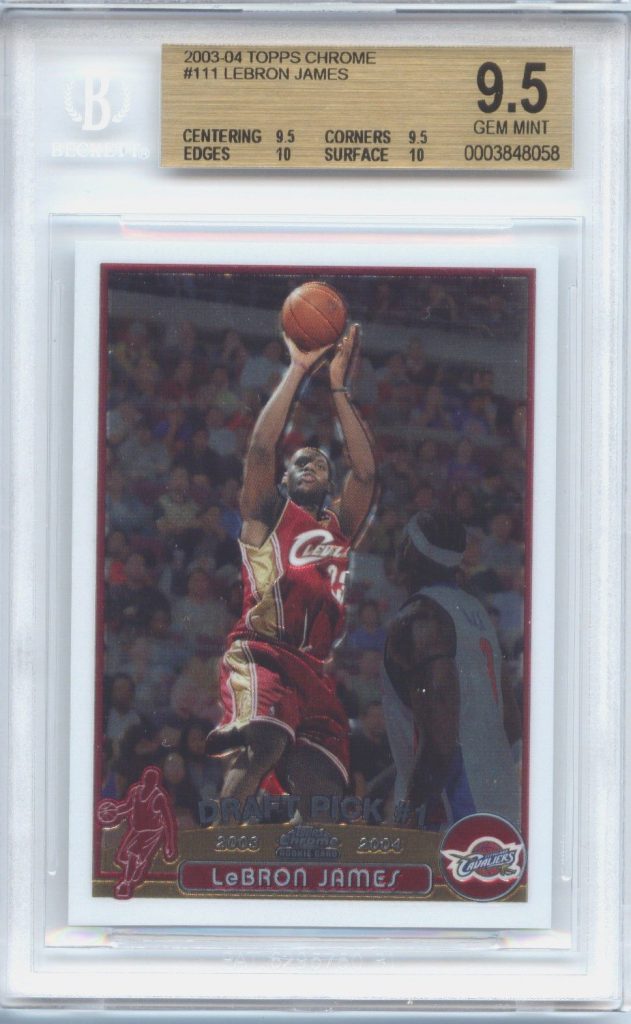 There have been numerous teams linked with LeBron, but I think ultimately only three teams have the best chance: the Los Angeles Lakers, Philadelphia 76ers or Houston Rockets. You could easily make a case that any of these teams would make a great fit for LeBron. LA has the greatest chance because it would immediately become his team and other top free agents would likely join him. The Lakers also have the most cap space and they can afford to pay two max players without having to move many any other pieces on their roster. You could make the case for the Rockets as well because they were very close to beating the Warriors last year in the Western Conference Finals and adding LeBron could put them over the top, plus they could retain Chris Paul. The 76ers have two young stars in Ben Simmons and Joel Embiid, plus other great catch-and-shoot type players on their roster, adding LeBron would make them almost unbeatable in the East. LeBron's presence alone in the NBA Finals and getting there 8 straight seasons caused his cards to receive a bump in value. I would expect his 2003-04 Topps Chrome Rookie BGS 9.5 to reach over $1,200-1500 in value once he signs in free agency.
Kawhi Leonard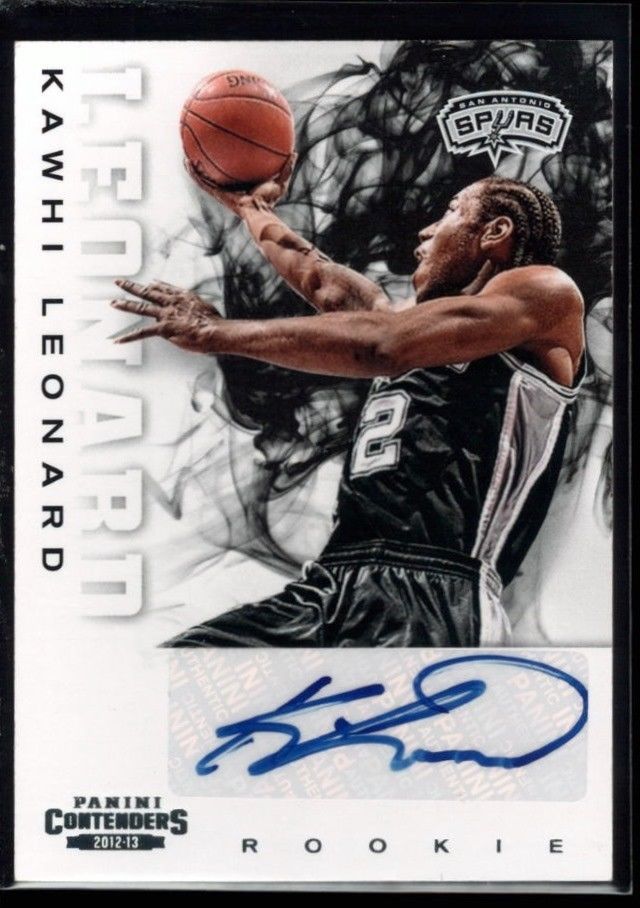 A Leonard trade could create a domino effect, meaning if he gets traded to the Lakers, that will only add more incentive for LeBron James to join him and sign with them. He is arguably the biggest star this off-season on the trade block and could be one of the major pieces in forming a new super team. The Clippers have also been linked as a possible destination where Leonard winds up but both LA teams have concerns about Leonard's quadriceps injury, according to multiple reports. Leonard's cards have already seen a big bump in value as a possible trade develops. His 2012-13 Playoff Contenders Auto has recently sold for $180 at eBay auction last week, which is a $40 bump in value from a month ago. I would expect this card to reach $200-250 if he does wind up with the Lakers. He is a great investment and is bound to increase once he is traded.
Paul George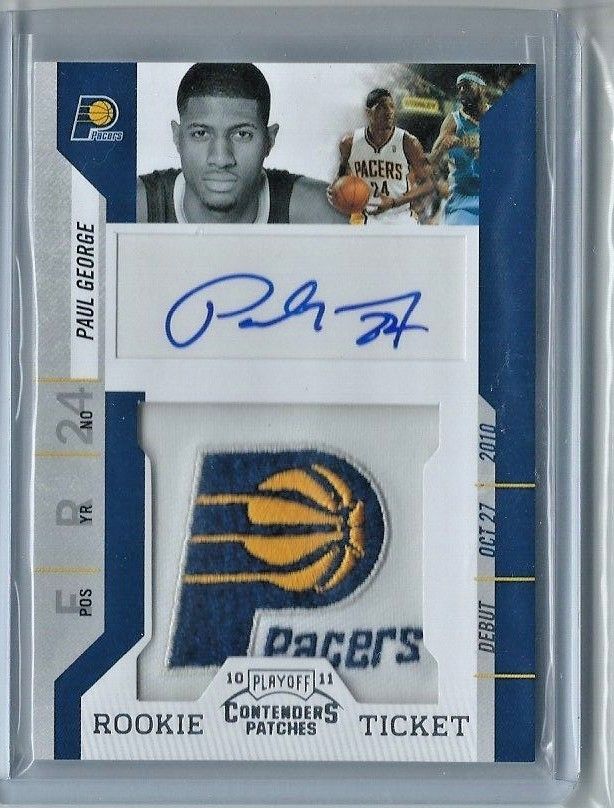 George has also been linked to sign with the Lakers since the start of last off-season. Could a new Big Three be in the works with LeBron, Kawhi and PG? That is not out of the question and could happen. Other notable teams are the 76ers or Houston if PG doesn't sign with the odds-on favorite Lakers. His cards have seen a huge increase in value as he is one of the biggest names on the board in free agency, within the last week his 2010-11 Playoff Contenders Auto Rookie has doubled in value. The card was about $40 just a week ago and now is selling for as high as $100 at eBay auction. I would expect this card to reach $125-150 once he is signed.
Chris Paul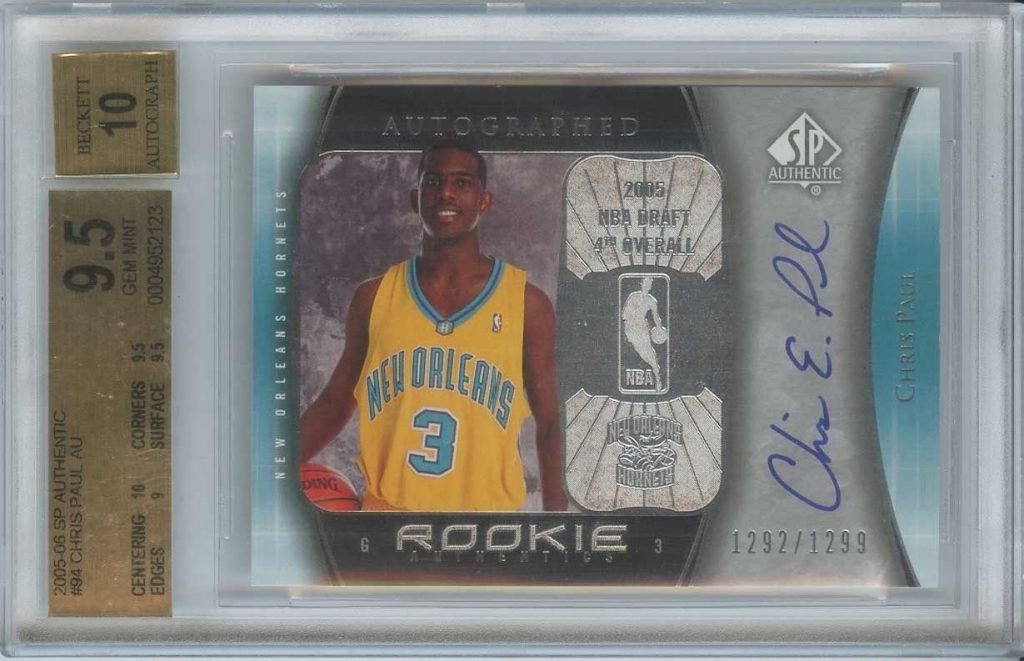 Paul had a great season with the Rockets last year and had he played Game 7 in the Western Conference Finals, he could have made a huge difference in the outcome. He has also been rumored to pair up with LeBron in LA as a possibility, or could re-sign with the Rockets and try to make a run at the Warriors. His 2005-06 Sp Authentic Rookie Auto in a BGS 9.5/10 recently sold $140 at eBay auction. If you're able to find a similar card in this grade that is a great value with great upside. CP3 is a future Hall of Famer!
DeMarcus Cousins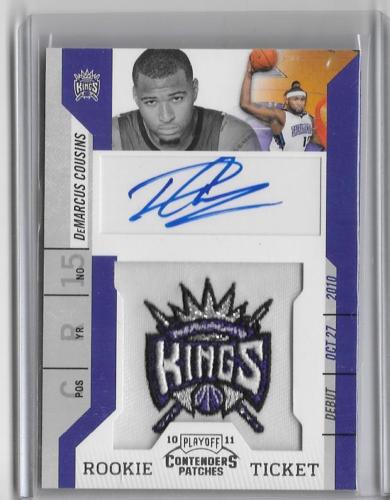 Cousins is one of the top big men in the NBA when healthy. He is coming off an Achilles injury and could sign a cheaper deal because of his injury. He could be the Lakers fall-back option if LeBron falls through. The Washington Wizards have been rumored as a landing place. He would be re-uniting with his former college Kentucky teammate John Wall in DC. His 2010-11 Playoff Contenders Auto could be a great buy-low before he does sign as a free agent with a new team. The last one sold at eBay auction for just $20, which is a great low investment.
This NBA off-season should be very interesting to follow to see if in-fact a new super team is formed with the Lakers. The Lakers appear to be causing the biggest buzz in the off-season so far. The NBA Draft could also impact the NBA Off-Season which is set to begin this Thursday June 21.