Love at Second Sight: 5 MLB Stars Who Could Reclaim a Hobby Hot Spot This Postseason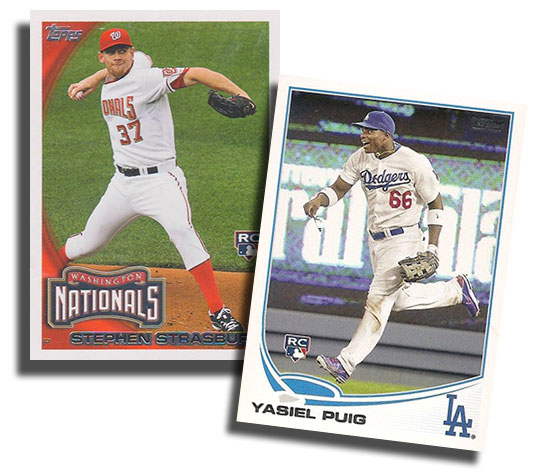 For most players, their cards take something of a roller coaster approach. Highs and lows come with the territory. However, unlike amusement park rides, the rise to the top of the hobby is often a fast one. Drops can come quick, too, but it's often more gradual.
Once a player's down for a prolonged period of time, gaining momentum again can be tough. But there is one way to kickstart things — big performances that lead to a championship (bonus points for those locking up multiple championships).
As the 2017 MLB postseason picks up momentum and the number of teams thin out, new stars could be made. Some could gain a new coat of shine as well in the eyes of collectors. Here are five players who have been in a bit (or a lot) of a downward spiral in the hobby but could see things pick up again in the weeks ahead.
Yasiel Puig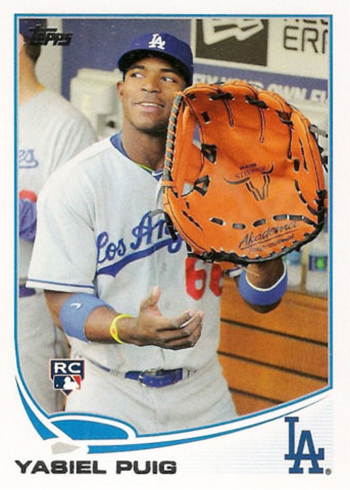 Although not quite on the same level as Strasburg, much of the hobby talk for the first half of 2013 was centered around Yasiel Puig. The Los Angeles outfielder burst onto the scene after coming to America from Cuba.
Not only did he put up big numbers, but Puig did it with a lot of flair and personality. His bat flips and other antics are a turnoff to some, but they make fans out of others.
So far this postseason, Puig has been all about the personality, particularly when it comes to his tongue. Whether he's sticking it out after slides into third base or apparently licking bats, Puig is going full Puig mode as the Dodgers try for their first World Series since 1988.
Should they do it, don't be surprised if Puig is in the middle of a iconic moment and makes it his own.
Yasiel Puig Baseball Cards Checklist
Stephen Strasburg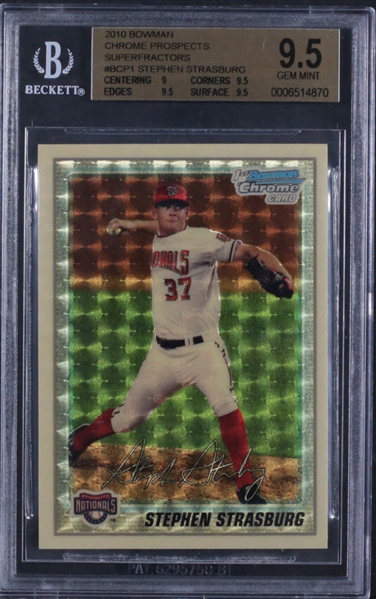 Remember 2010? That was the year that Strasburg-mania swept through the hobby. From $20,000 Superfractors to high-demand Rookie Cards, anything with Stephen Strasburg's name on it was cardboard gold.
The way the hype was going, anything less than a first-ballot Hall of Fame career would have been a letdown.
Within a year, things slowed dramatically. The injuries started to add up for Strasburg, enough to scare off a lot of collectors.
2017 was probably Strasburg's most dominant season in the majors. In 28 starts, he kept his ERA to 2.52. He also matched a career-high for wins with 15 and crossed the 200-strikeout mark for the second time. All-in-all, it was a great year for the pitcher. But even those numbers don't live up to the early collector expectations set years ago.
Stephen Strasburg cards will never return to those levels. But that doesn't mean that his cards can't rebound with some postseason dramatics.
Stephen Strasburg Baseball Cards Checklist
Yu Darvish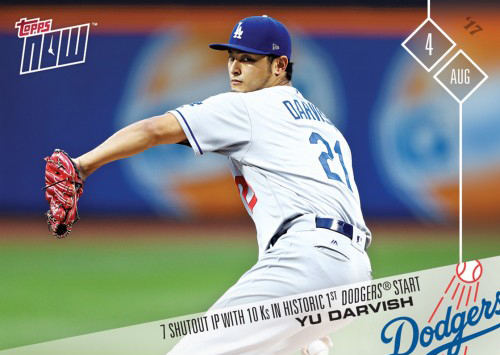 Going back to Hideo Nomo in 1995, several pitchers have come over from Japan to lots of excitement and ensuing hobby hype. Although Yu Darvish has been one of the best, his career so far hasn't lived up to the, perhaps unreasonable, expectations going by the prices of his early cards.
A trade deadline deal now has Darvish with the Dodgers. With it comes a good chance of his first World Series championship.
From a hobby perspective, it's an opportunity for his cards to get some more widespread attention once again. Should this happen, his Rookie Cards will be one of the obvious places to see a bump. It may also be smart to keep an eye on autographs. While they've never fallen out of favor, the vast majority came out in 2012 and 2013. New signed cards continued to arrive through 2016 products, but most of those were produced in small numbers.
Following the season, no matter who's hosting the World Series parade, Darvish becomes a free agent, which could mean another fresh start come spring.
Yu Darvish Baseball Cards Checklist
Masahiro Tanaka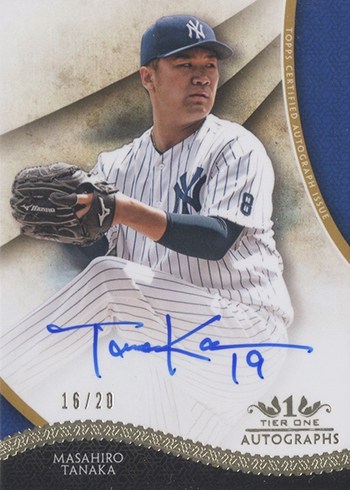 Tanaka's story in the hobby is somewhat similar to Darvish. He signed with the Yankees in 2014 from Japan and was one of the year's key Rookie Cards. However, the hype was muted a little due to the pitcher's reluctance to sign autographs for any of the card companies.
That finally changed in late 2016 with Topps landing a deal with the Yankees pitcher. However, by then, Tanaka's cards had cooled significantly.
Overall, he's been a strong pitcher for New York — at least in his first three seasons. The 2017 regular season was a struggle for Tanaka. But he may be turning in on for the Yankees' post-season run. His seven-inning, three-hit performance in Game 3 of the ALDS was nothing short of stellar.
Masahiro Tanaka Baseball Cards Checklist
Justin Verlander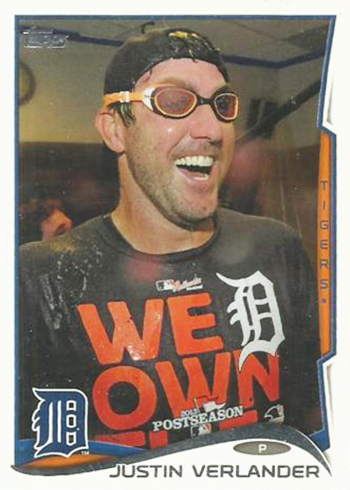 It's safe to say that Justin Verlander will one day find himself making an induction speech in Cooperstown. While he's had off-years by his standards, that's on the Verlander scale. But if you look at the front end of his career, it was, overall, more dominant than he's been in recent years. That included much of 2017.
But a last-second trade to Houston has brought the dominant Verlander back. He was a perfect 5-0 with the Astros in five regular-season starts with the Astros. He also had a 1.06 ERA and 43 strikeouts over that same span. Verlander has looked good in the postseason so far, as well, getting a pair of wins, one of which was in relief.
As far as pitchers go, Verlander has been one of the most popular in the hobby since his debut. But some postseason heroics could speed up the conversations of his place as an all-time great.
Justin Verlander Baseball Cards Checklist
Comments? Questions? Contact Ryan Cracknell on Twitter @tradercracks or by email.