5 Knockout Khabib Nurmagomedov Cards
There aren't a lot of Khabib Nurmagomedov cards out there, but the ones that are have risen through the UFC card ranks just like the fighter depicted on them.
Nurmagomedov made his UFC debut in January, 2012, submitting Kamal Shalorus. Over the next seven years, the Russian put together a perfect record of 29-0 including high-profile main event wins over Conor McGregor (UFC 229), Dustin Poirer (UFC 242) and Justin Gaethje (UFC 254). His fight with McGregor set a MMA pay-per-view record with 2.4 buys.
Nurmagomedov holds several UFC records including the longest Lightweight Championship reign (931 days). His three consecutive title defences ties a lightweight record, putting him alongside B.J. Penn, Frankie Edgar and Benson Henderson.
At the time of his retirement, there were less than 400 different Khabib Nurmagomedov cards. That might sound like a lot, but a large number of those are parallels with small print runs. The lightweight has a relatively small number of autographs as well — just 43 different including parallels. Of those, only a dozen have either no serial number or print runs of 50 or more.
If you're looking for Khabib Nurmagomedov cards, you can look for them on the Beckett Marketplace and eBay.
5 Key Khabib Nurmagomedov Cards
2012 Topps UFC Bloodlines Khabib Nurmagomedov #12
If you're  going to start somewhere, it might as well be at the beginning. The 2012 Topps UFC Bloodlines Khabib Nurmagomedov marks the fighter's first appearance on a card. The set uses international influence as its theme, which comes though in the Flag parallel that adds the Russian colors to the background.
Even base versions of this card are fairly hard to find today. If you've got a stash of UFC cards tucked away, it'll be worth checking for this one. It arrived in relative obscurity but has soared in the years since as Nurmagomedov established his MMA dominance.
Parallels: Flag (/188), Black (/88), Red (/8), Platinum (1/1), Printing Plates Black (1/1), Printing Plates Cyan (1/1), Printing Plates Magenta (1/1), Printing Plates Yellow (1/1)
Buy on: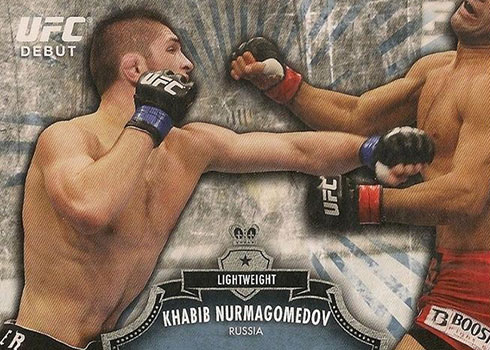 ---
2013 Finest UFC Khabib Nurmagomedov #22
This is far from the most valuable Khabib Nurmagomedov card. But with his high-end stuff going for so much now, here's a more affordable second-year release. It's also The Eagle's first appearance on a chromium card.
While it does have several Refractors, 2013 Finest UFC took a different approach to the parallels. Instead of going with basic reflective backgrounds and colors, Refractors, Blue Refractors and Gold Refractors get a speckled treatment as well, adding even more pop than usual in the process.
Parallels: Refractors, Blue Refractors (/188), Gold Refractors (/88), Octafractors (/8), Printing Plates Black (1/1), Printing Plates Cyan (1/1), Printing Plates Magenta (1/1), Printing Plates Yellow (1/1), Superfractors (1/1)
Buy on: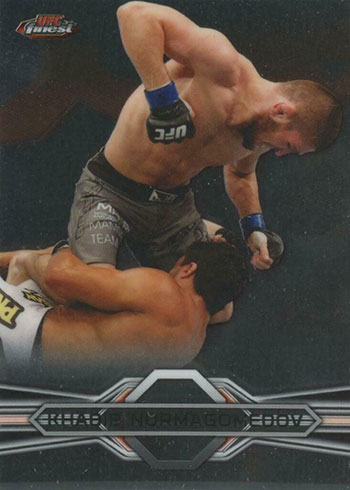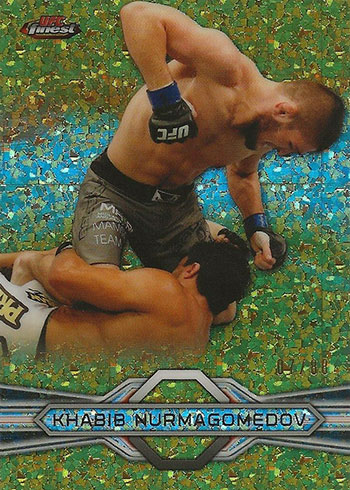 ---
2014 Topps UFC Knockout Autographs Khabib Nurmagomedov #KA-KN /149
Rookie Cards are nice and all, but for UFC collectors, a fighter's first autograph is also extremely important. For Nurmagomedov, it's found in 2014 Topps UFC Knockout. Numbered to 149 for the base version, it also has an on-card signature. Something that Topps did for several years was include a "1st Autograph" stamp in UFC sets, simplifying things for collectors.
It's worth noting that the Red Ink parallel for this card, which has just 15 copies, is signed with his nickname. Nurmagomedov has a couple of other elusive autographs out there with this addition as well but not many.
Parallels: Red Ink (/15), Red (/8), Mat (1/1)
Buy on: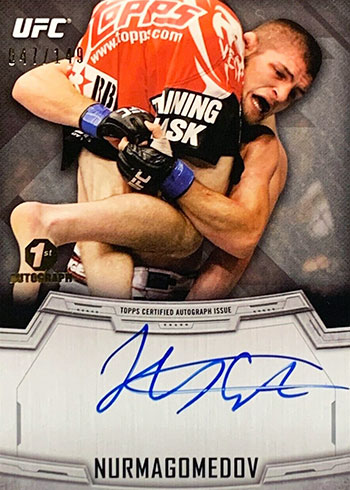 ---
2014 Topps UFC Knockout Fistographs Khabib Nurmagomedov #F-KN /10
2014 Topps UFC Knockout is a great set for high-end Khabib Nurmagomedov cards. And this one might be the coolest. Including randomly in boxes as a bonus topper, there's not only an autograph but a print of the fighter's fist as well. Gimmicky? Sure. But the lightweight has no other cards like it. And with just ten in existence, they're not going to pop up with any regularity.
Buy on: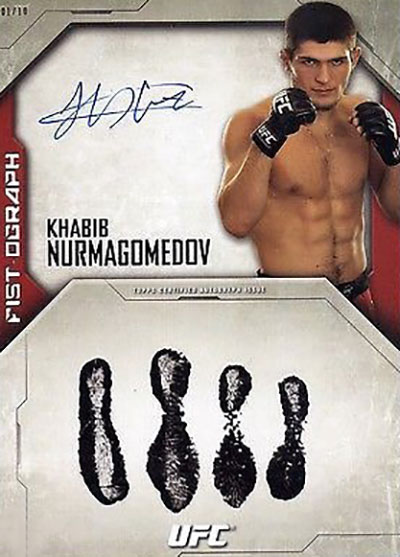 ---
2014 Topps UFC Knockout Sick Sigs Autograph Books Khabib Nurmagomedov, Conor McGregor, Stephen Thompson, Brandon Thatch, Jessica Eye, Yoel Romero #SS-NEMTTD /5
Not every autograph on this three-panel book is a main event star. But its bulk nature and rarity would be enough to make it a standout among Khabib Nurmagomedov cards. However, he's joined by Conor McGregor who is not only one of UFC's biggest names of all-time but a cornerstone rival of the Russian.
Buy on: