5 Iconic 1980s and '90s Baseball Cards That Left Us Disappointed
Ken Griffey Jr's journey along the Yellow Brick Road to Cooperstown has never been in doubt. When his election was announced, a flood of memories came back for a lot of us. Many of those include the 1989 Upper Deck Ken Griffey Jr. rookie card. Sure, he has others, but that's the one that we remember most and was, ultimately one of the most important baseball cards of all-time.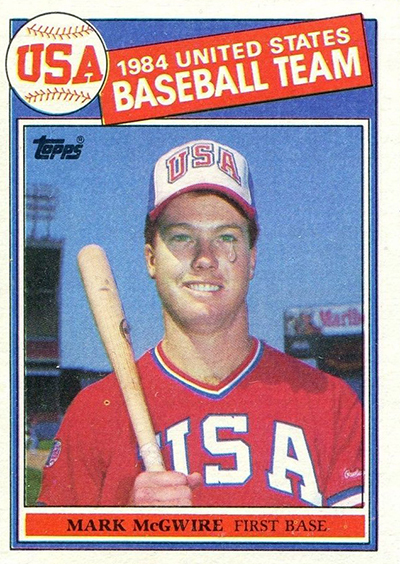 Amid that discussion was an interesting take from Ivan Lovegren (@watchthebreaks on Twitter), creator of the hobby-centered web series The Breaks.
If I wrote a baseball card blog, today's post would be "Is this the most disappointing iconic card of all time?" pic.twitter.com/9HY8tv4d9o

— The Breaks (@WatchTheBreaks) January 7, 2016
While that might be considered baseball blasphemy in my corner of the word (full disclosure: bobbleheads of Griffey, Randy Johnson and Dan Wilson are staring at me as I type this), he makes a point.
Because I feel Ken Griffey Jr. never fully lived up to our hopes & we all feel a little disappointment looking at his career @ThoseBackPages — The Breaks (@WatchTheBreaks) January 7, 2016
In retrospect, most of us look at the electrifying first half of Griffey's career. That's where most of the highlights come from. When he left Seattle, there were flashes of greatness for sure, but if wasn't the same. And it's still not.
The card itself is iconic, but it doesn't have nearly the same value as it did at its peak. Those dreams of paying tuition with Griffey rookies are gone as you can pick them up for a fraction of what they used to. But to use the term "disappointing," price fluctuations are only part of the equation.
And while I may not agree with the assessment of the 1989 Upper Deck Ken Griffey Jr. being disappointing, it did get me thinking. What iconic baseball cards from the same era of the 1980s and early '90s would I label as disappointing?
The 1990 Upper Deck Kevin Maas, Todd Van Poppel's 1991 body of work, the 1983 Topps Traded Ron Kittle and Brien Taylor's 1992 Topps Traded Autograph all come to mind. But I'd also argue that none of these ever reached iconic status. They were all hot at some point, but I don't think they were ever big enough that they transcended the hobby.
I remember seeing big price tags on 1991 Upper Deck Todd Van Poppel rookies when I went to the card store. But I never thought of it as a great card beyond the promise of the player. It just happened to come out at a time when the hobby was peaking and the microscope was bigger so it's remembered more than a failed prospect today.
Making a list of cards that are both iconic and disappointing is tough for me. There's emotional attachments that come into play. And most of these cards I still love, even if they let me down.
5 Most Disappointing Iconic Baseball Cards of the 1980s and Early '90s
5. 1986 Topps Traded Bo Jackson XRC #50T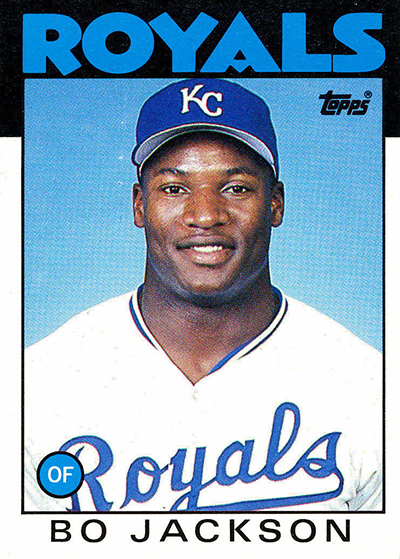 As a kid, 1986 Topps Traded Baseball was my favorite set. In the early 1990s, the checklist was nuts. Jose Canseco, Barry Bonds, Will Clark, Andres Galarraga, Bobby Bonilla — it was a who's who of players I watched when I first got into baseball. And then there was Bo Jackson. His two-sport status made him unique. His "Bo Knows" Nike campaign put him in the mainstream. And his Saturday morning cartoon with Michael Jordan and Wayne Gretzky made him larger-than-life. Need I mention Tecmo Bowl?
Jackson had just a couple of MLB cards in 1986 and this one was easily my favorite. It still is.
But there was a time when many thought Bo Jackson would be the greatest pro athlete of all-time. You still could make that argument, but he doesn't have the career numbers in pro baseball or football to back it up. Like a lot of other stars, things were cut short in one fateful moment in a 1991 playoff game. At the end of a tremendous run against the Cincinnati Bengals, an awkward tackle led to Jackson needing hip-replacement surgery. While he returned to baseball, things weren't the same.
Don't get me wrong. I love this card. A lot. Actually, I like it even more now than I did 20 years ago. That's because I respect Jackson's full body of work and place in history more now than when he was playing.
4. 1988 Donruss Gregg Jefferies RC #657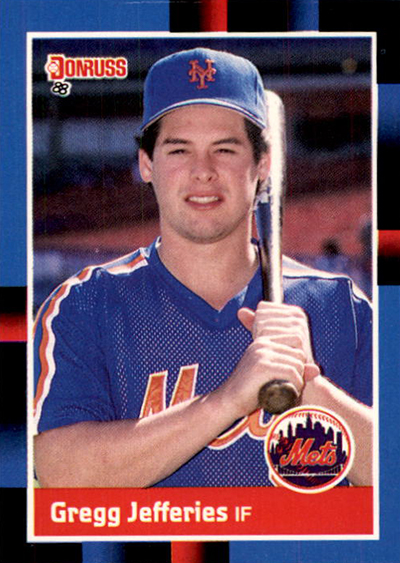 One could argue that the 1988 Donruss Gregg Jefferies rookie card could fall under the same umbrella as Maas and Van Poppel. But to me Jefferies is the ultimate hobby bust of the era. Kittle might be one of the originals, but Jefferies came along when baseball cards were mainstream. Here he was, a Met, who was going to rule baseball. In turn, he was going to make a lot of people a lot of money when values miraculously rose.
Maybe we should thank Jefferies for teaching us that there's no such thing as a sure thing. He's not the biggest bust we've ever seen but with all the expectations, fair or not, surrounding him, he was disappointing. And I'm not even speaking as a Mets fan.
3. 1990 Leaf Sammy Sosa RC #220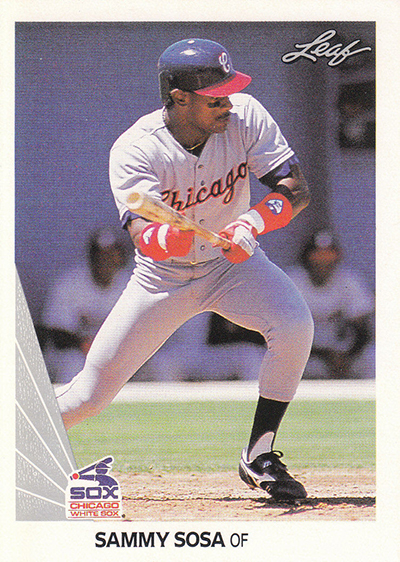 1990 Leaf Baseball is a standard for the decade. Following in the footsteps of 1989 Upper Deck, it pushed for higher quality. But rather than it coming from Donruss' flagship release, it came from a separate release. It didn't take long to catch on with the Frank Thomas rookie card spending several years as its top card. But then there was the home run chase of 1998 and Sammy Sosa happened.
The slugger didn't totally come out of nowhere. But before 1998 he was merely a decent player with some potential for pop.
1998 was magical. Today, it's tainted. First, Barry Bonds hit 73 home runs three years later to knock Sosa down to third for the single-season record. And then there's the implications of performance enhancing drugs.
Needless to say, Sammy Sosa is no longer a hero for the masses. This might still be his most popular rookie card but that's not saying much.
2. 1985 Topps Mark McGwire RC #401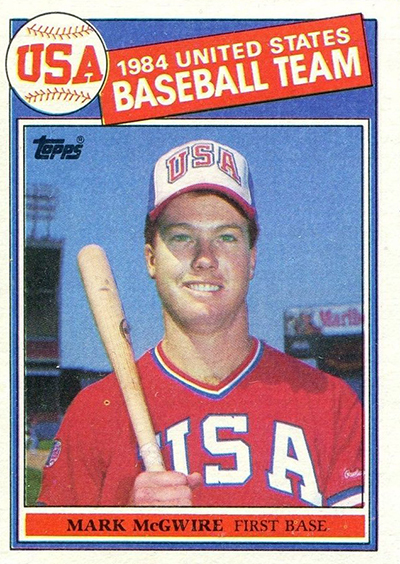 In all my years of collecting, I don't think a card has had as much of a roller coaster ride as the 1985 Topps Mark McGwire rookie card. Countless cards have skyrocketed only to fall. Others have started at pennies and risen to prominence. But here's a card that has seen both ends of the spectrum on a couple of occasions. During the early part of his career, it was one of the biggest in the hobby. The fact that McGwire was in his USA Baseball uniform made it even more intriguing as it stood out. But then there was a lull and McGwire was no longer the flavor of the collecting world.
Then there was 1998. See Sosa above but here's the guy who came out on top. It was an all-American story with the cap to match.
But when the allegations and admissions of PEDs came to light — after flat-out denying them — much of the love went away.
At its peak, the 1985 Topps Mark McGwire rookie sold for hundreds of dollars. Multiple hundreds. And this was at a time when the Internet was starting to show us that the supply of baseball cards was big. Today, you can find them for $10. I still love this card even if it's not worth much. I didn't pay much for mine to begin with.
This is the Milli Vanilli of baseball cards. "Girl You Know It's True" is the same album that went to the top of the charts back in 1989 and 1990. But the fact that it's surrounded in deception taints things and you can't listen to it again. I get the same feeling now whenever I pull out my Mark McGwire rookie.
1. 1986 Donruss Jose Canseco RC #39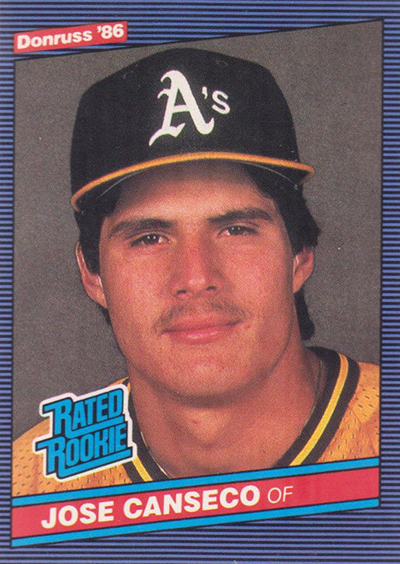 If the 1989 Upper Deck Ken Griffey Jr. never happened, the 1986 Donruss Jose Canseco Rated Rookie would get my vote for the most emblematic card of the decade. For a long time, this card was part of the $100 Club, something 1980s cards just didn't do. Canseco was king. But there was a perfect storm of sorts that makes this card disappointing today.
First, there was performance. While Canseco had a few tremendous years following his 40/40 season in 1988, he wasn't as electrifying. Getting traded to Texas didn't help matters. Within a few years, he was more of a hired gun, going from team to team every year or two.
Today, Canseco's 462 home runs don't mean much. He made himself the face of baseball's Steroid Era. Without getting into the politics of it of whether he's done more bad or good for the game by speaking up (loudly), his career is tainted. With that, this card has tumbled in a big, big way. People still recognize its importance and look at it fondly. But we look at it in a different light. It's also a long way from the $100 Club.
Some of that has nothing to do with Canseco. Rather it's the fact that we've realized just how much 1980s baseball cards are out there. As loved as virtually every card is from that era, very few carry much monetary value anymore. Even the Griffey. The fact that Canseco fell so hard out of the public's favor is the difference here.
That said, Canseco still plays a role in the hobby today. There are probably a couple of reasons why, but the biggest is because he still has a lot of fans who would rather remember his dominance than a ball bouncing off his head or steroids.
Jose, we love you, but it's just not the same.
What baseball cards from the era have disappointed you? Drop a comment below or via Twitter.