5 Big Changes to the 2016 Topps HUDDLE App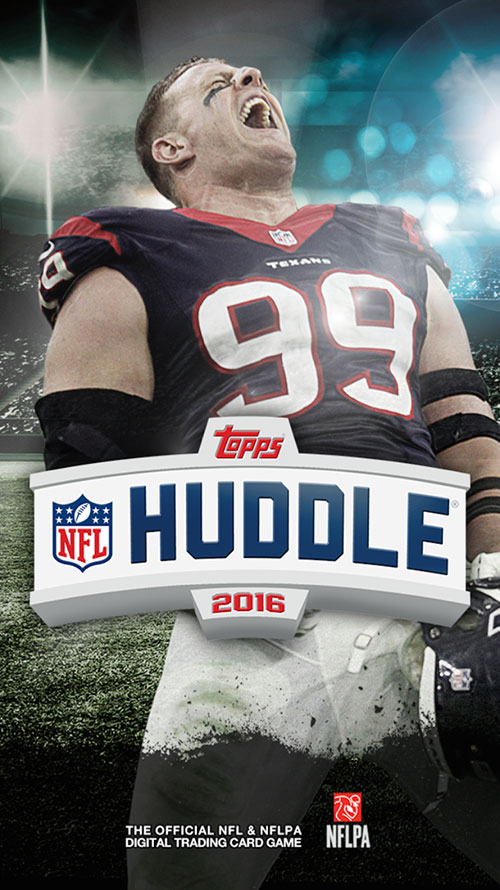 By Ryan Cracknell | Hobby Editor
At its heart, the new version of the Topps HUDDLE app shouldn't feel foreign to those who have used it before. However, there are some major changes both in how it looks and how people participate in the app's fantasy elements.
For those who aren't familiar with HUDDLE, it's a smartphone app that makes card collecting digital. It works on both Apple iOS and Android platforms. HUDDLE is one of four trading card apps in the Topps Digital portfolio, which also includes BUNT for baseball, KICK for soccer and Star Wars Card Trader. Users buy digital packs and, just like traditional sports cards, can build sets and chase inserts.
On top of that, there is a fantasy part to it where you can use your cards to rack up points in competitions with other collectors.
"This is an exciting time for Topps Digital. We are thrilled about the start of football season and the relaunch of Topps NFL HUDDLE 2016," said Chris R. Vaccaro, Topps Digital Editor-in-Chief/Director of App Production. "We know our fans are already having a blast chasing the early card releases and we plan on having a robust release strategy as we dive deeper into the NFL season."
For some, it might be easy to scoff at the idea of digital cards. But HUDDLE and other similar apps are positioned as an alternative to traditional trading cards. They might be a future, but not necessarily the future of the hobby.
Now entering its second year, 2016 Topps HUDDLE has a few major changes that aim to make the app better and, hopefully, more appealing.
5 Key Changes in 2016 Topps HUDDLE
1. NFL Licensing
Last year, HUDDLE had an NFLPA license but not one for the NFL. That meant player portraits with little in the way of branding. It also meant a lot of cards that looked like mugshots. Topps did what the could given the limitations, and some things worked better than others with the inserts. But the full branding makes a huge difference both in how the cards look and the possibilities throughout the season.
2. Design
Just like a regular trading card set, a new year brings with it a new design. Although not exactly the same, the base cards share a lot of similarities with the 2015 Topps Football look. A lot of cards also look to share photographs. In a nutshell, they compliment each other.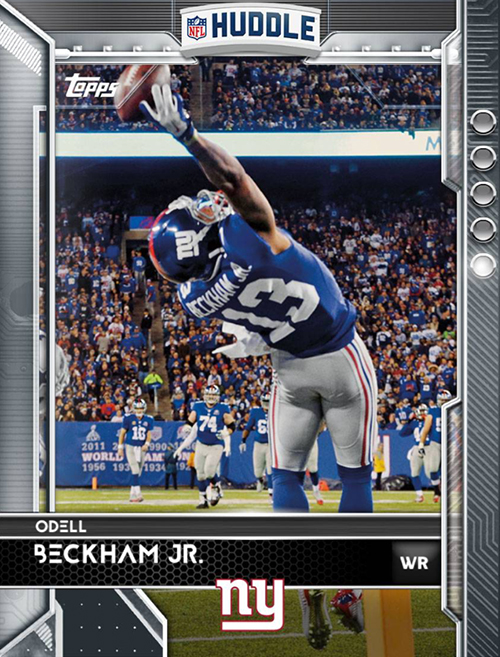 2016 Topps HUDDLE base cards have several colored parallels that vary in both rarity and the number of points they score in the gaming elements.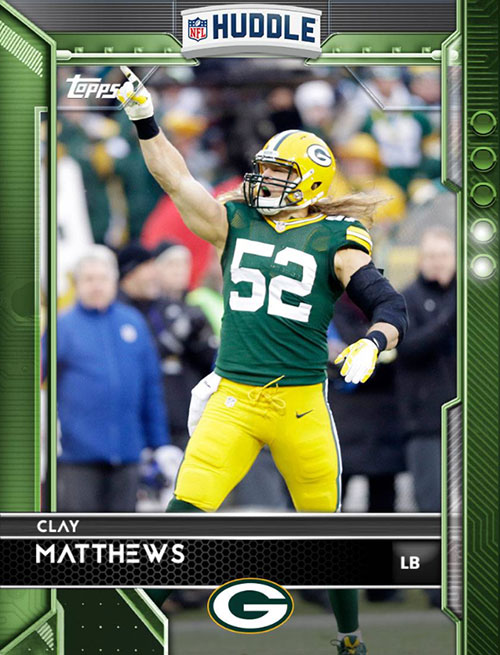 Inserts will be released regularly as well. The first of the year is called 1965. Based on the design of the iconic release from 50 years ago, a different inserts card will be made available each day for 65 days.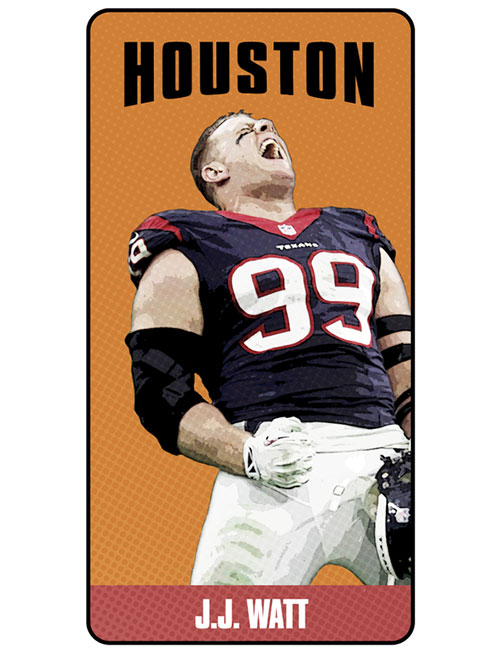 3. Fantasy
This year, the fantasy element of the app has been renamed as Contests. There's a button at the bottom of the screen that shows open contests.
You simply choose the one you want to enter and set your lineup based on the cards you have. Like traditional fantasy, players score points based on their performance. Scoring is done in real-time so you can be constantly switching your lineup to maximize points potential.
Contests vary. Some might last a single game while others can spread across an entire week.
The big change here is that there are more tangible stakes involved with the gameplay this year over last. Top finishers in each contest win coins that can be used to buy more cards.
4. Coins
Every day that you log in to HUDDLE, you some free coins that can be used to buy packs. Last year, it was 1,000 and then 10,000 coins on the seventh consecutive day. At launch time, the daily bonus is all the way up to 10,000 coins. The weekly bonus is now 20,000 coins. With most packs costing at least 5,000 packs, it means casual users can get some every day rather saving up for much of the week.
HUDDLE is a freemium app. That means that you don't have to spend money to use it. However, there are plenty of opportunities to buy coins to make your collection bigger.
5. Sharing
A big part of the collecting experience is sharing your cards. You could do it before in HUDDLE, but it involved taking screen shots and posting them to Twitter, Facebook, email or wherever. Now there's a sharing button built into the app that makes it much easier. Plus you don't have to waste space on your phone's hard drive.