$5.2 Million 2003-04 Exquisite LeBron James Matches Sports Card World Record
When it comes to highest prices, King James is king of basketball cards. For now, he shares the throne for all sports cards as well. A pair of 2003-04 Upper Deck Exquisite LeBron James cards have broken some lofty records in separate sales within a couple days of each other. One of them, a $5.2 million sale, not only sets the record for the most ever paid for a basketball card but matches the highest ever for all sports cards.
On April 26, PWCC announced they'd brokered a private sale for a 2003-04 Upper Deck Exquisite Collection Rookie Parallel LeBron James for $5.2 million. It's not only the highest ever for a basketball card, but it ties the world record for all sports cards.
The parallel has a print run of 23 copies, matching James' jersey number. This particular card is 07/23. It's also graded a BGS 9 with subgrades of 10 for centering and surface, 9.5 for edges and 8.5 for corners.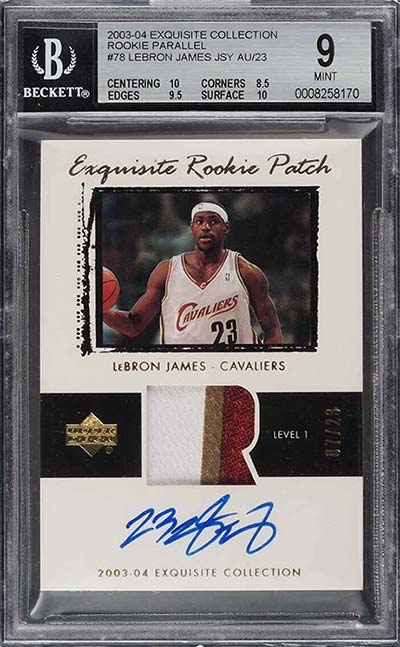 The $5.2 million matches the price paid for a PSA 9 1952 Topps Mickey Mantle in January. That was also a private sale through PWCC.
The previous high for a basketball card was $4.6 million for the one-of-one 2018-19 Panini National Treasures Rookie Patch Autograph Logoman Luka Doncic. That record was set less than two months ago in a private sale.
In July, 2020, a BGS 9.5 copy of the James Exquisite parallel went for $1.8 million.
On April 24, a 2003-04 Upper Deck Exquisite LeBron James Rookie Card sold for $1,722,000 through Goldin Auctions. This is a record price for this particular card, easily James' most prestigious Rookie Card.
Graded BGS 9, it's the base version with the RC tag that's numbered to 09/99. Subgrades include 9.5 for centering and edges, 9 for surface and 8.5 for corners. The autograph has a grade of 10.