42 & Famous: Chadwick Boseman talks about life-altering role, autographs & collecting
When you click on links to various merchants on this site, like eBay, and make a purchase, this can result in this site earning a commission.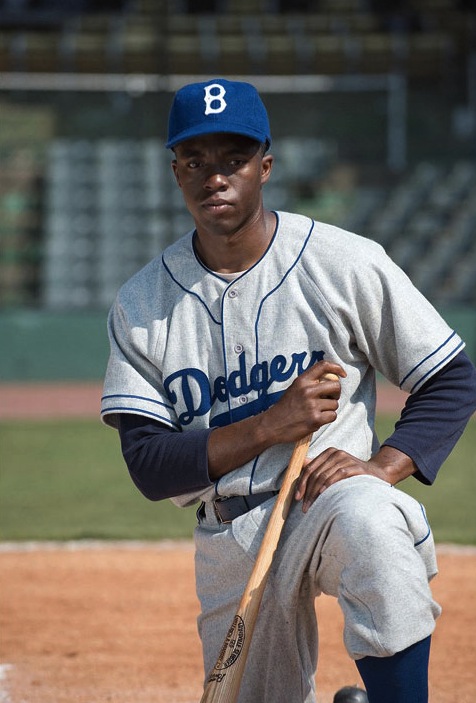 By Chris Olds | Beckett Baseball Editor
DALLAS | It was a Tuesday for everyone, but for Chadwick Boseman an evening screening of 42 was the third leg of a long jaunt around the country, one that began in Washington, D.C., and included a stop hours earlier at Wrigley Field.
After a VIP-only early viewing of the film telling the life's story of Major League Baseball's social pioneer, Jackie Robinson, the 30-year-old unassumingly walked into Theater 5 of the Angelika Film Center wearing a red, white and blue plaid shirt and weathered blue jeans as the house lights slowly raised and the film's credits rolled behind him.
He received a standing ovation. And then he did a 20-minute question-and-answer session with the assembled film devotees before a brief one-on-one exclusive with Beckett Media about the film and, of course, collecting.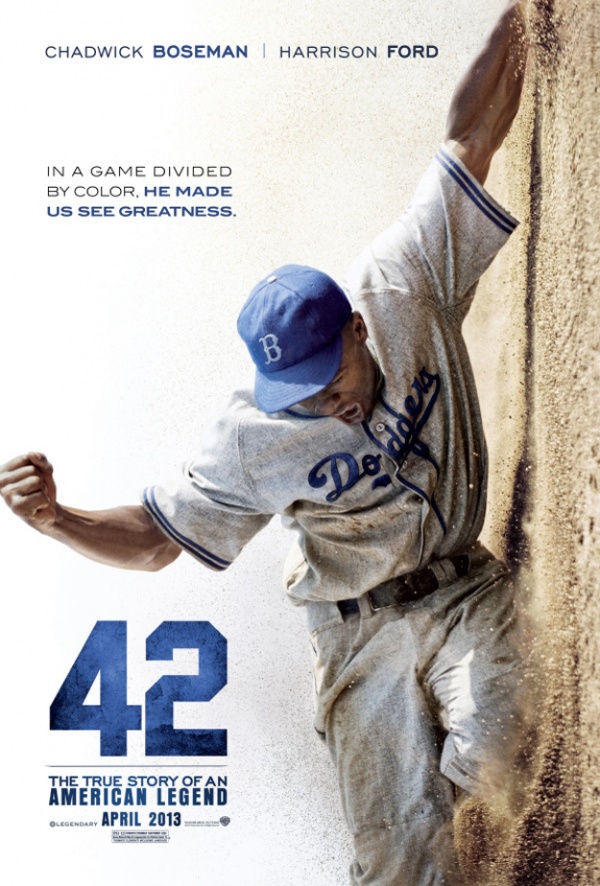 Naturally, the first question … has it started to sink in yet how life-changing this role is?
"No, I mean it's just now hitting I guess," he said. "You've done the movie, you've sat on it editing it, you've seen it, they've set the release date and you're fine-tuning it. But we've been doing this for a while and you're releasing a baby for everybody else. It's a weird feeling."
So does he think he could have endured what Robinson went through?
"I don't know," he said, pausing to reflect. "I would say no. I would need God to tell me. I would need some sort of sign. Maybe Jackie had that. Maybe that is what helped him get through. Me, how I am right now, I'm not sure if I could do it. I'd be fighting back. I'd be in jail. I'd be dead."
Boseman admitted in the Q&A session that he played more basketball than anything in high school, never testing his baseball skills past Little League. He said years ago his dad told him he should have tried being a baseball player — and his dad's fandom is what helped fuel his.
"I followed teams, but didn't necessarily really have any favorite players. I liked the Braves, I liked the Dodgers," Boseman said. "My dad is an avid Braves fan who tapes games now. So when I go home I will end up watching whole games to spend time with him. I'm more of a watch the sixth-to-ninth innings and watch the highlights guy."
Talking Movies
So, does he have any favorite sports movies?
"It's funny when you say sports movies, people a lot of times don't include boxing, but I would," he said. "I love Rocky. The first Rocky is an Oscar-winning film. Obviously, I loved Remember the Titans. I love Major League — it's funny. I love Bull Durham — telling him to hit the mascot — I love that whole thing. Sports movies are definitely some of my favorites."
Now he's going to be one of the guys seen on those Hollywood highlight reels, one of those moment-makers. So, has that sunk in yet?
"Wow. No. You're the first person to say that to me," he said, pausing to absorb the thought. "Thanks a lot, man."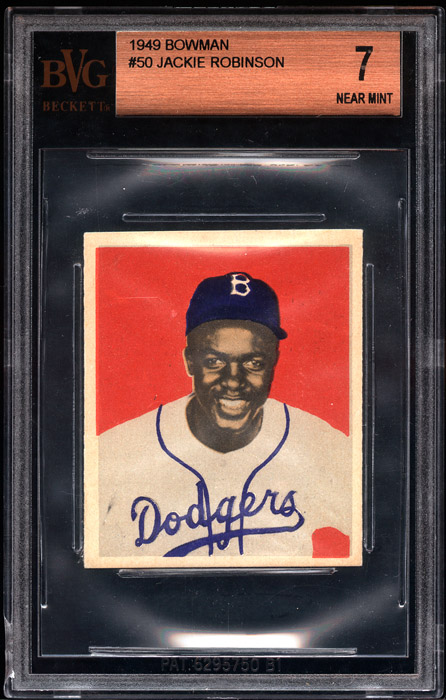 Collecting Cards
So, did he ever collect baseball cards as a kid?
"No, not at all," he said. "I had friends that definitely collected and I would keep up with them that way, but I was never really into it like that."
How about starting a Robinson card collection now?
"I probably would — you know what, I have one," he said, interrupting himself. "I do have one. It was a gift."
Then, I offered some stats about Robinson that he clearly hadn't heard about. His reaction to Robinson's Rookie Card only being $2,000?
"I should buy it," he said, laughing.
How about all of his cards for about $59,000?
"That seems low. Is it going to go up because of this movie?" he asked. "So the card I have could go up?"
He seemed quietly proud of that possibility, inwardly emotive — just like his performance on the screen.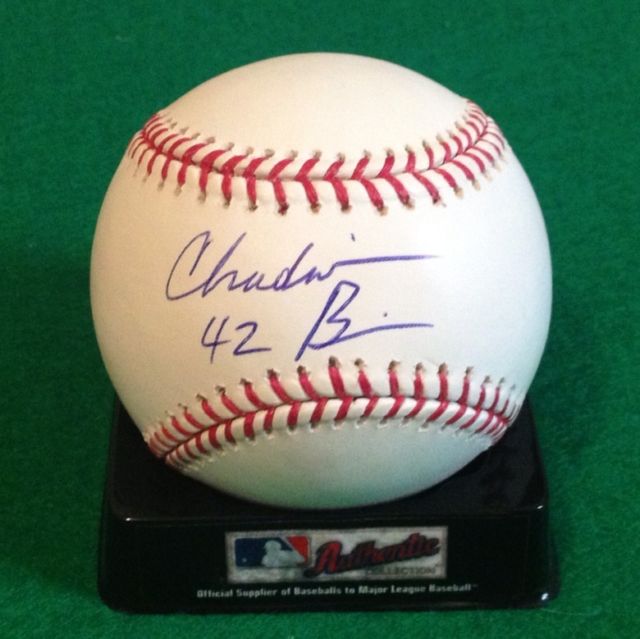 Amazed by Autographs
Now, with an award-worthy leading performance in a major film, naturally that means he'll be signing more autographs and getting more attention.
"I may be a little uncomfortable with that feeling," he admitted, perhaps even squirming a bit.
Then, he was told his autographs have an asking price of around $200 a pop on eBay for baseballs and photos.
"My autograph?" he said, pausing for a few moments and looking across the room. "My autograph is on there now? Oh wow."
Then, he perked up a bit and stopped to ask a question of his own, playing the role of a rookie to the whole autograph experience.
"Let me ask you a question. The more autographs I sign, does it diminish the value?"
After a quick lesson about supply-and-demand and, of course, timing, Boseman also brought up how he knows props can be a hot commodity, too.
"Somebody asked me for my uniform from the movie," Boseman said. "Obviously, I don't have that anyway, Warner Bros. has it, but people have called me and asked about that."
According to Warner Bros., there won't be any prop auctions from 42, but one of his jerseys used in the film will be donated to the Negro League Hall of Fame and Museum on April 11.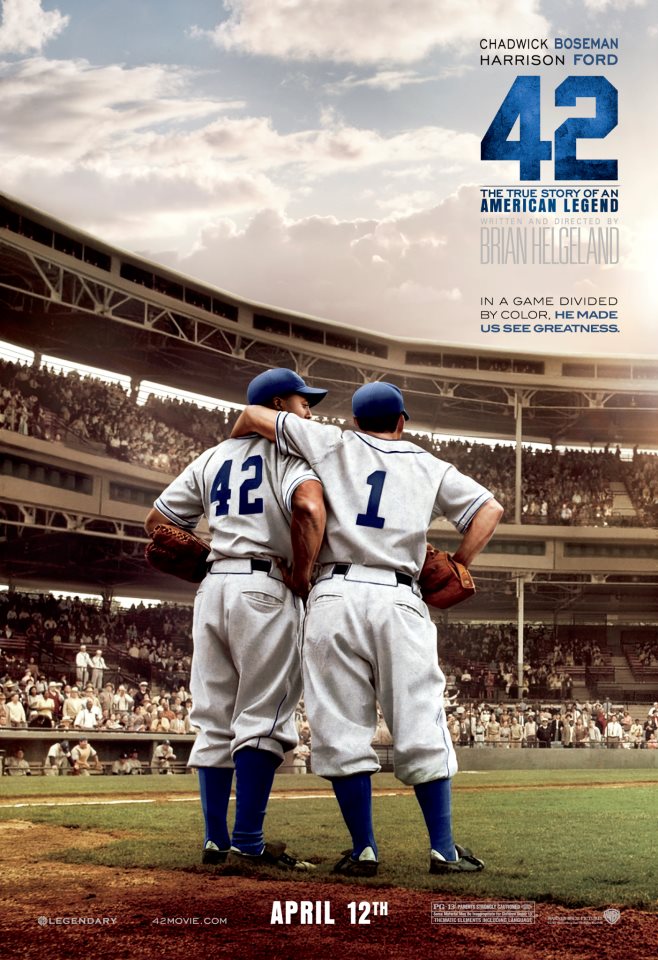 With the release of the film about a month away, Boseman also was interested to hear that some posters for the film were in high demand on the auction block. A 4×6-foot "moments" bus shelter poster showing Robinson and teammate Pee Wee Reese sold for $100 on eBay earlier this week. Surprising?
"You are surprising me as we speak, man," he said. "That's crazy."
Autograph Hunting
So, if there was one autograph of a baseball player Boseman would want, who would it be?
"For baseball players, I would love to get Josh Hamilton's autograph — that would be cool. I would love to meet him," he said. "I'm pretty sure I'm going to meet some of the Dodgers, so Matt Kemp would be a real cool autograph. And Ken Griffey Jr. of course."
Then he jumped right into another thought, almost as if he were kicking himself thinking back about his experiences while making the film.
"You know, what I can't believe is I didn't get Hank Aaron's autograph," he said. "I met him a couple of times. I have to remember to get him — what am I thinking? The next time I see him, I'll get him to sign my 42 hat."
Those hats, by the way, have been selling for about $50 a pop on eBay — without the Aaron signature.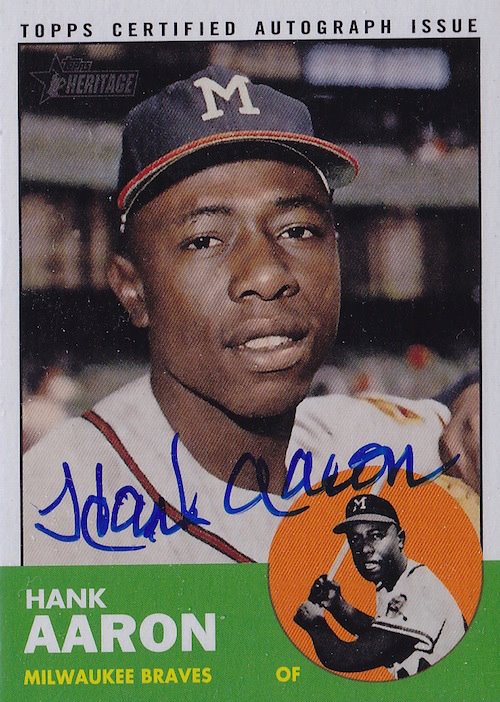 Considering Cardboard & Collecting …
So, if he could appear on a baseball card with someone else who would it be? A Boseman-as-Jackie card along with …
"Wow, that's a tough one," he said, stopping to think. "Honestly, I would go with Hank Aaron. That would be amazing to be on there. I loved when he came to set as he was a consultant. He just has a good heart. I think it would be cool to be on a card — the guy who played Jackie Robinson with the real Hank Aaron."
After finishing up the questions, a few lingering VIPs and a couple of kids were armed with promotional mini posters hoping to get an autograph outside the Angelika's office door. Boseman obliged, signing and personalizing at least three and one for a small boy much like the Ed Charles character seen in the film.
As Boseman signed the last two posters with a black Sharpie, the stack of a few remaining posters fell to the floor from atop a photocopying machine that had made for an impromptu writing surface. As someone bent down to pick one up and the group moved toward the door, where a couple more fans had posters handy as well, Boseman offered another thought. It was one that perhaps shows that he's more of a collector than he let on after all — or at least that he might be collecting a bit sometime soon — once he's not doing three cities in a single day, of course.
"I don't even have one of those," he said. "I need one."
Chris Olds is the editor of Beckett Baseball magazine. Have a comment, question or idea? Send an email to him at colds@beckett.com. Follow him on Twitter by clicking here.
–
Look for more on 42 and other sports-related entertainment collectibles in the upcoming Sports Movies Issue of Beckett Sports Card Monthly, which begins shipping to hobby shops on April 3.