4 Key NFL Draft Hobby Implications
By David Lee | Beckett Football Editor
The first three rounds of the NFL Draft are in the books. There certainly have been moves that collectors should be paying attention to. Here are hour key headlines from round one.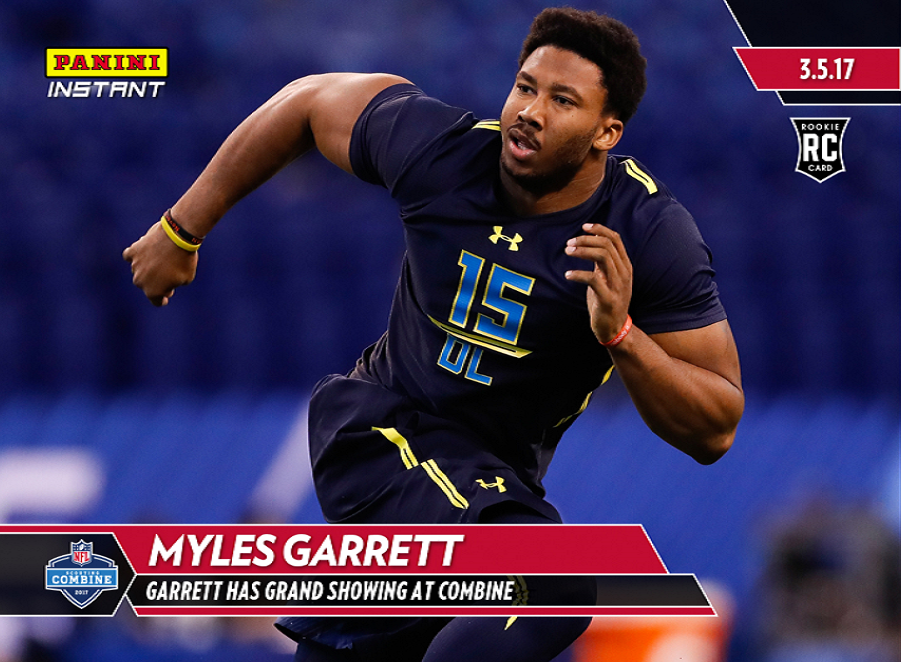 Myles Garrett goes No. 1… but where are his cards?
As expected, Texas A&M defensive end superstar Myles Garrett was taken off the draft board first by the Cleveland Browns. Cleveland's draft history the past several years has been horrific, but Garrett was a consensus top pick. This is the second time in three years a defensive end has been taken No. 1 overall (Jadeveon Clowney was the last in 2014.)
However, as the first 2017 card products are now releasing, collectors are noticing his absence in a big way. Garrett as no autographed cards. He wasn't in any SAGE or Leaf products, and he appeared on just a handful of cards and parallels in Elite Draft Picks and Score. He does have two Panini Instant cards that were created just before and during last night's draft. Oh, and don't forget about the 2016 Select NFL Draft redemption card for DP1, which is now linked to Garrett. A couple recent online sales for this card have ended at around $35.

Teams trade up to grab three QBs in top 12
We've seen several teams reach for quarterbacks in recent drafts, and that continued this year with three going in the top 12 picks. In all three cases, teams made moves to grab their guy. The Bears gave up four picks to move up just one spot to grab Mitch Trubisky, who went 8-5 as a starter for North Carolina. The good news for collectors who believe in him is that Trubisky should get playing time this season with Chicago's QB job wide open.
Just about every Texas Tech quarterback puts up massive stats every season, but Patrick Mahomes was the first-ever Red Raiders QB drafted in the first round. Taken at No. 10 by Kansas City, the Chief obviously see something different about him. They are obviously looking to the future, trading with the Bills to get him. This pick might draw a lot of attention from collectors who might have been overlooking Mahomes. However, don't expect him to play much this season unless Alex Smith gets hurt.
The third quarterback was the most successful in college. Deshaun Watson won a national championship, led his team to another, and was a two-time Heisman finalist. He seems to play his best when it matters most. Watson is a winner, and collectors love winners. His cards are currently some of the most valuable of any rookie in this class.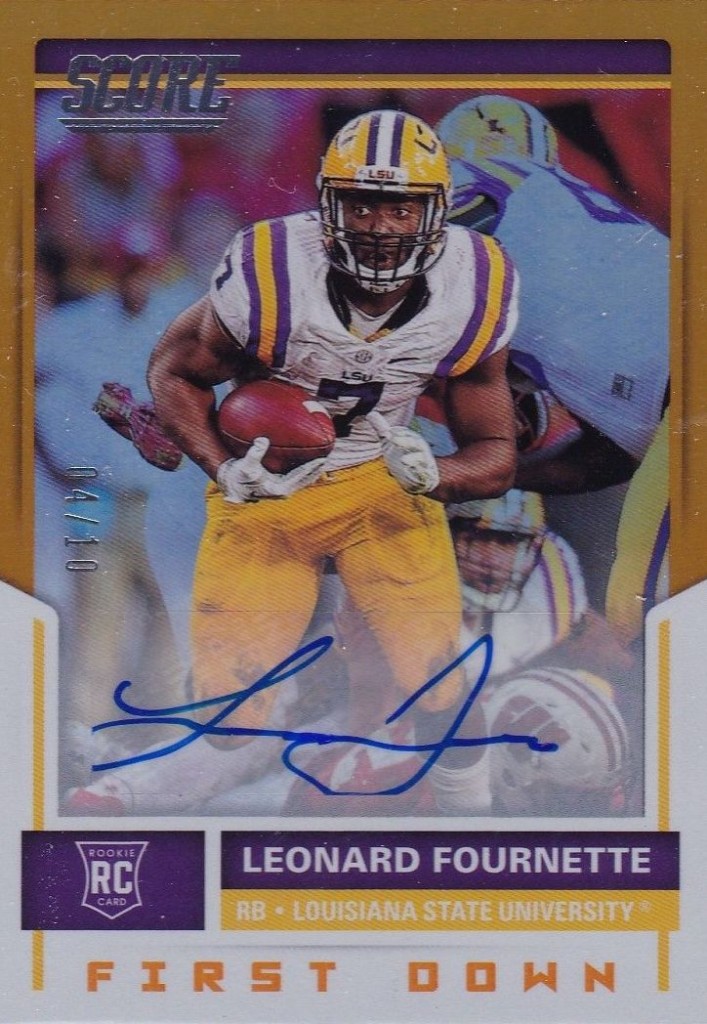 Is Leonard Fournette this year's Ezekiel Elliott?
The NFL is known as a copycat league. If teams are having success, you can bet there will be other teams trying to copy what the successful teams are doing. So, for the second year in a row, we see a top running back going with the fourth pick. Some people see Leonard Fournette as the most NFL-ready back since Adrian Peterson entered the league in 2007. He's a game-breaker with speed and size.
Landing in Jacksonville isn't too exciting for non-Jaguar collectors, but with a backfield combo of T.J. Yeldon and Chris Ivory last year, Fournette is a definite upgrade who should start right away. That's good news for collectors hoping to see him perform, which is extremely similar to expectations collectors had for Ezekiel Elliott last season. Don't overlook the drafting of Alabama tackle Cam Robinson to help boost the blocking for Fournette and QB Blake Bortles. Also keep in mind that Panini has an exclusive autograph deal with Fournette.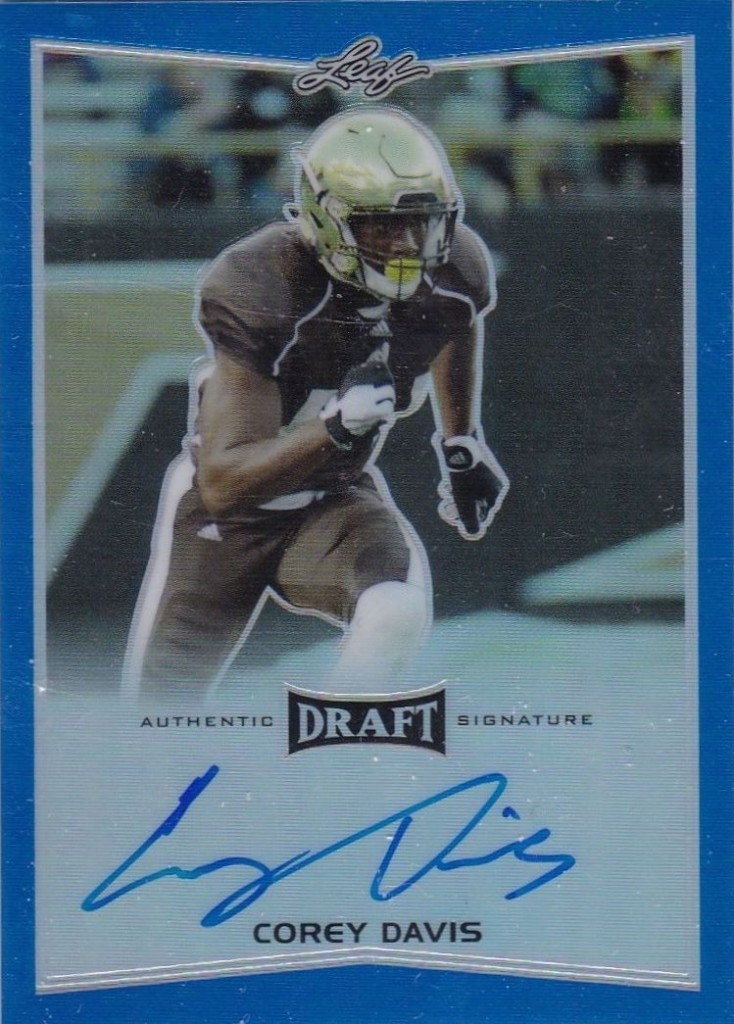 Run on Receivers
This draft was deep in defensive linemen and defensive backs, but there certainly were a few receivers that collectors should pay attention to. We saw three go off the board from picks five through nine, which was pretty surprising. All-time college career receiving leader Corey Davis went first with the Titans taking him at No. 5. A lot of experts have compared him to Amari Cooper, but his downside is playing at Western Michigan. The Titans definitely need help at receiver, so collectors should expect Davis to get plenty of looks. He has plenty of autographed cards out from SAGE, Leaf and Panini.
Clemson star Mike Williams went a couple picks later to the Chargers. He should be the most NFL-ready receiver in this class. He's a big receiver who will win a one-on-one battles. Philip Rivers is nearing the end of his career, but Williams is a huge benefit for him. It should also help running back Melvin Gordon.
NFL Combine record-setter John Ross went to the Bengals at No. 9. His 4.22 time in the 40-yard dash certainly pushed his draft stock into the top 10. He's more of a risk player than Davis or Williams, with just one season as a starter for Washington. At less than 6 feet tall, his playing style is more like Odell Beckham.