4 Awesome Vintage Football Card Deals
It's not just current players that fly under the radar. Here are four classic football cards that can seen as great deals compared to some of the hobby's other heavyweights.
1956 Topps #60 Lenny Moore RC
You'll have a hard time finding a better value for a 1950s Rookie Card of one of the most productive Hall of Famers ever. Lenny Moore was a five-time All-Pro and a two-time NFL champ as Johnny Unitas' all-purpose running back. He led the NFL in yards per touch each of his first six seasons. He had more receiving yards than rushing yards eight of his 12 seasons. Raw versions of his 1956 Rookie Card can easily be found for less than $100. EX-MT 6 grades are around $150 with NM 7 grades at more than $400.
Buy on: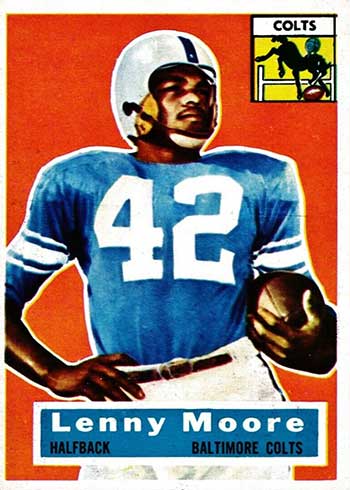 1966 Philadelphia #58 Bob Hayes RC
The 1960s delivered several players who changed football forever. "Bullet" Bob Hayes is certainly one of those. His Olympic speed evolved the passing game and receiver route running, forcing defenses to play zone cover-age since he was nearly impossible to cover one-on-one. His 20 yards-per-catch aver-age still ranks sixth all-time and would still be among the best even today. Hayes's 1966 Philadelphia RC is a terrific deal for less than $75. EX-MT 6 grades are less than $300, and NM 7 grades are around $450.
Buy on: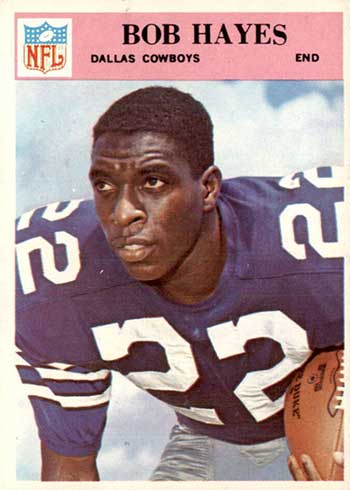 1975 Topps #367 Dan Fouts RC
Dan Fouts played in just seven postseason games in his 15-year career and lost nearly as many games as he won. Still, he's a Hall of Famer and was one of the most prolific passers ever with 43,040 career passing yards. He led the NFL in passing from 1979 to 1982. You can snag his 1975 Rookie Card for no more than $40. Even NM 7 grades typically don't go above $100. A NM-MT 8 grade goes for less than $200.
Buy on: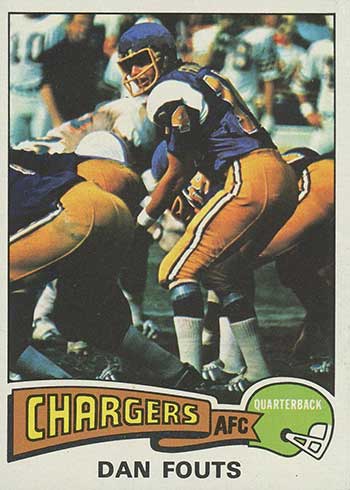 1958 Topps #22 Johnny Unitas
As many key vintage Rookie Cards have more than doubled in value over the last two years, such as the 1957 Topps Johnny Unitas, second-year cards have also drawn significant attention. Johnny U's 1958 Topps is still an awesome deal for around $40 to $60 in roughly EX-MT condition. Grades of EX-MT 6 sell for about $150, while NM 7 can reach $500. Across most grades, it sells for roughly one-tenth of the value of his 1957 Rookie Card.
Buy on: