Cristiano Ronaldo Cards: 31 of the Best and Most Valuable
When you click on links to various merchants on this site, like eBay, and make a purchase, this can result in this site earning a commission.
Cristiano Ronaldo cards not only chart the career of an all-time great, but they also show how much soccer cards have evolved since the start of the 21st century.
From straightforward cards and stickers to autographs and serial numbers to high-end rarities, Cristiano Ronaldo cards cover them all. When he first turned pro, the soccer side of the hobby was fairly straightforward. Sets focused on base cards and affordability. But even they took a backseat to the even simpler stickers.
But as Ronaldo's accolades and awards started to pile up, the popularity of soccer cards exploded. Connected? Between him and Lionel Messi, that was definitely part of it. But the soccer side of the hobby was also catching up with other mainstream sports like baseball and basketball. By the mid-2010s, upscale cards took hold and the number of options for collection cornerstones took off with different combinations of autographs, swatches and player combinations.
So what are the best Cristiano Ronaldo cards? Opinions will differ but here are several that have left their mark and should hold significance into the future.
31 of the Greatest Cristiano Ronaldo Cards Ever Made
The following list showcases some of the most significant Cristiano Ronaldo cards. While many of them are extremely valuable, some are important for other reasons.
A comprehensive list of Cristiano Ronaldo cards is available in the Beckett database.
2002-03 Panini Futebol Portugal Mega Craques Cristiano Ronaldo #137
When it comes to soccer cards, tracking down a player's first can be tricky. It's a global game and different sets are released in all corners of the world. Whether you want to assign this as a Cristiano Ronaldo Rookie Card or not, it is his first. As far 2000s sports cards go, it's an incredibly important issue on par with the 2003-04 Exquisite LeBron James and 2011 Topps Update Mike Trout. Released while Ronaldo was still a teenager, expect to pay thousands. In fact, at their peak, graded gem mint copies sold for hundreds of thousands.
Buy on: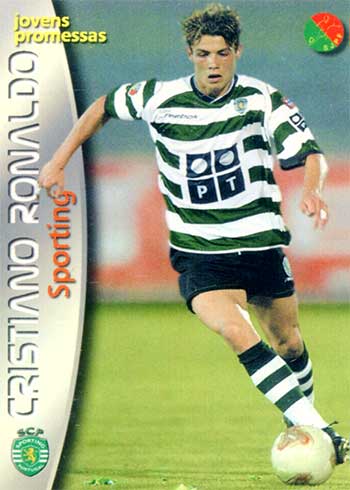 2002-03 Panini Futebol Portugal Stickers Cristiano Ronaldo #306
For other sports, stickers are often seen as oddballs when it comes to collecting — respected but often overlooked at the same time. However, with the global reach of both stickers and soccer, it really shouldn't be surprising the sticky collectibles have a strong tradition and appreciation in the sport.
Buy on: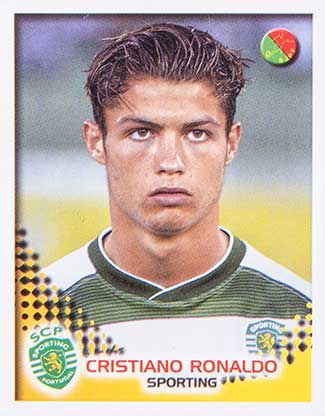 2003 Upper Deck Manchester United Cristiano Ronaldo #13, 14, 15
Mega Craques might be Ronaldo's first card but his three base cards in 2003 Upper Deck Manchester United transition the superstar from the international scene to the pros. All three are available in equal quantities and none command a notable premium over the other. The cards also have two parallels, Black (/99) and Gold (/7).
Buy on: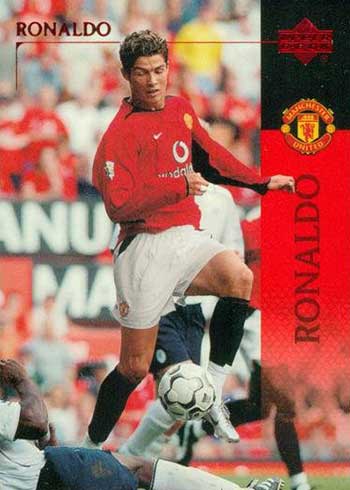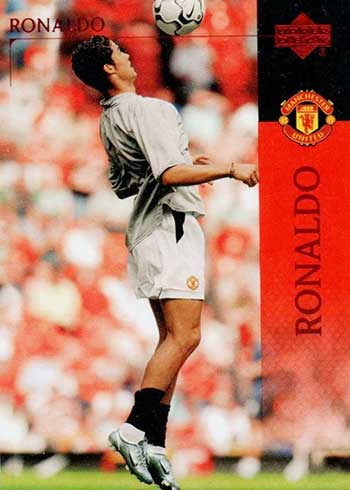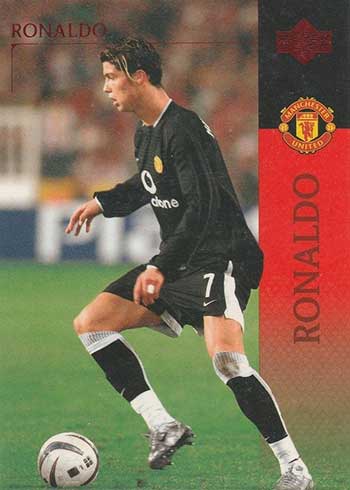 2003 Upper Deck Manchester United ManUscripts Red Cristiano Ronaldo #R /39
If you're looking for the first certified Cristiano Ronaldo autograph card, this is it. Important in its own right, values are further pushed thanks to the minuscule print run of just 39 copies. Ronaldo is also in the ManUscripts Black autograph set. Not a straight parallel, this one has a different photo. It's even tougher as well with a print run of 25.
Buy on: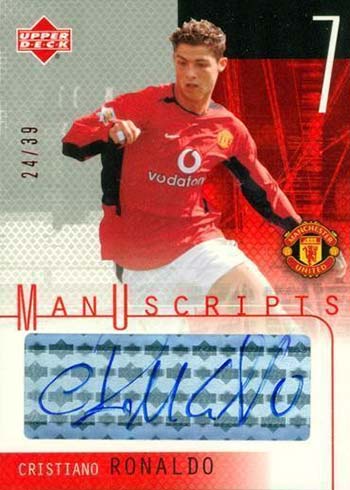 2003 Upper Deck Manchester United UD Match Worn Shirt Cristiano Ronaldo #MWS-R
Cristiano Ronaldo's star power is big enough that any memorabilia card, even one with a plain swatch, carries clout. If you're looking for the first you need to look to 2003 Upper Deck Manchester United. A lot of soccer sets used swatches that are player-worn and haven't seen any game time. But this one is up front in the set's name. It's a gamer. The legal text on the back doesn't go as far as saying the specific game it's from but it does clarify that it's from an official Manchester United game.
Buy on: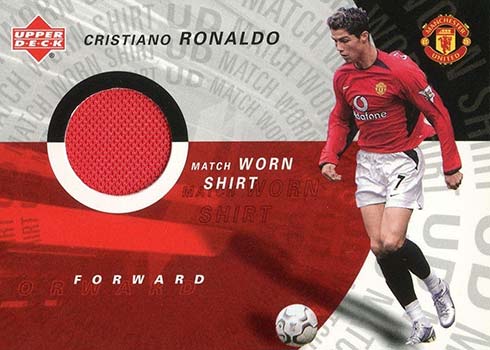 2004 SP Authentic Manchester United Cristiano Ronaldo #7, 37, 67
2004 SP Authentic Manchester United saw Upper Deck bring a premium line to its soccer lineup. Ronaldo has three base cards in the product, all with a similar design. Like 2003 Upper Deck Man U, all are popular early releases but none stand out above the others in the value department. Red (/325) and Gold (/99) add a couple of levels of parallels.
Buy on: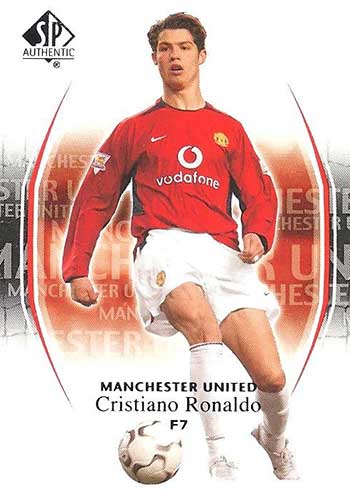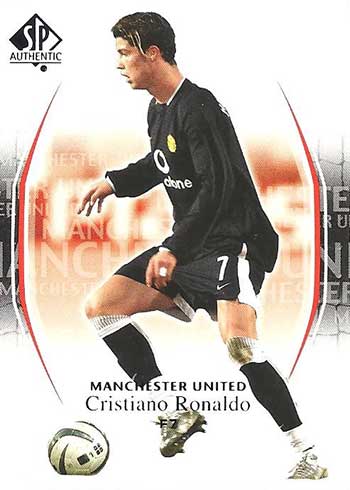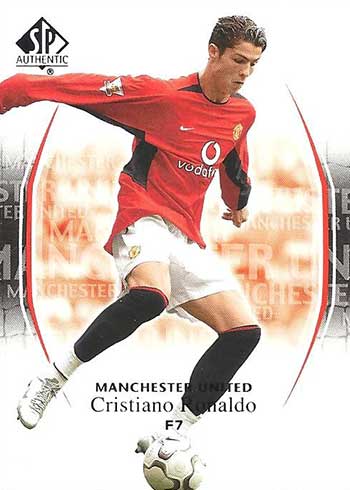 2004 SP Authentic Manchester United Sign of the Times Cristiano Ronaldo #AR /173
It's not the first Cristiano Ronaldo autograph card but with 173 copies (plus another seven for the Gold parallel), this might be a more realistic target for many simply because there's some quantity behind it. It's not a lot by any means, but it's significantly higher than the 39 in 2003 Upper Deck.
Buy on: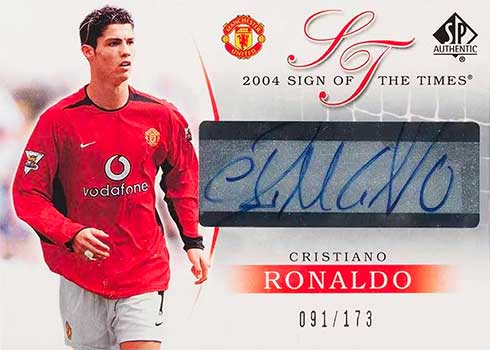 2004 SP Authentic Manchester United Sign of the Times Dual Cristiano Ronaldo / Kieran Richardson #DA-RR /109
Sign of the Times has long been a staple in SP Authentic, no matter the sport. But it's not only single-signed cards. There's a history of multi-player autographs connected to the theme as well. Cristiano Ronaldo and Kieran Richardson were paired together. Again, 109 copies is rare but it's still more plentiful than many of the forward's other autograph cards, early or recent.
Buy on: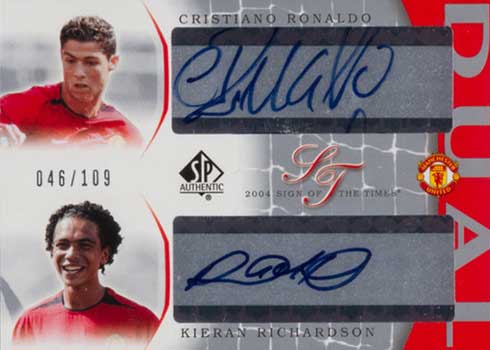 2004 SP Authentic Manchester United Star Status Cristiano Ronald #SS-7 /400
In case you haven't realized, 2004 SP Authentic Manchester United has several Cristiano Ronaldo cards. Among them are his first serial numbered inserts that aren't parallels or hits like autographs and memorabilia cards. His Star Status card has just 400 copies. There's also SP Flashback, which is slightly more plentiful with a print run of 500.
Buy on: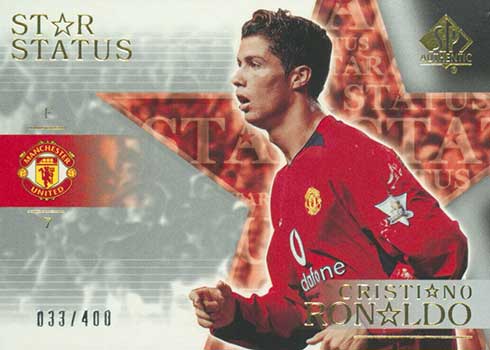 2014 Panini Prizm World Cup Cristiano Ronaldo #161
On the one hand, this is a readily available base card that came out more than a decade after Ronaldo's Rookie Cards. It's still from a landmark release that changed the perception of soccer cards in the mainstream hobby. When it comes to the most valuable Cristiano Ronaldo cards, there are lots that carry more clout than this one. But for something that's not overly difficult to find, 2014 Panini Prizm World Cup holds its own.
While chromium sets are the norm in soccer now, this was the sport's first. That means a rainbow of parallels: Prizms, Blue and Red Wave Prizms, Blue Wave National Convention Prizms, Yellow and Red Prizms, Blue Prizms (/199), Red Prizms (/149), Purple Prizms (/99), Green Crystals Prizms (/25), Gold Prizms (/10), Father's Day Limited Edition (/7), Gold Power Prizms (/5), Black Prizms (1/1) and Yellow and Green El Samba Prizms (1/1).
Buy on: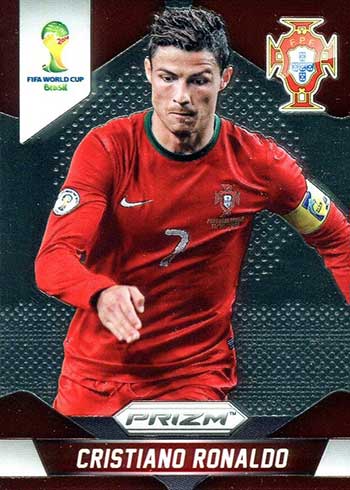 2014 Panini Prizm World Cup Matchups Cristiano Ronaldo / Lionel Messi #19
Ronaldo has a handful of inserts in 2014 Panini Prizm World Cup. However, this Matchups card where he's paired up with Lionel Messi represents the two best of their generation. They also rank high on the all-time superstar list as well. Factor in the popularity of the product and it's easy to understand why values for this card are as strong as they are. Ronaldo has a second appearance on the 28-card insert checklist, this time with Germany's Mesut Özil. There are also 11 levels of parallels, seven of which are serial numbered.
Buy on: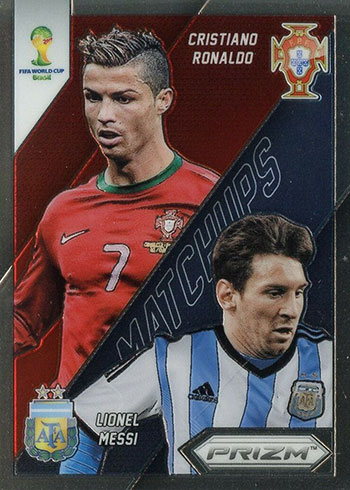 2014 Panini Prizm World Cup Signatures Cristiano Ronaldo #SCR
Autographs aren't a guaranteed box hit in 2014 Panini Prizm World Cup. They weren't impossible pulls but the weren't flying out of packs in the same quantity that they do today in soccer. With even his regular cards and common inserts commanding strong sales, it shouldn't come as a surprise that Ronaldo's autograph on the Signatures checklist is another big one. The only parallels for these are Prizms (/25), Black Prizms (1/1) and Yellow and Green El Samba Prizms (1/1).
Buy on: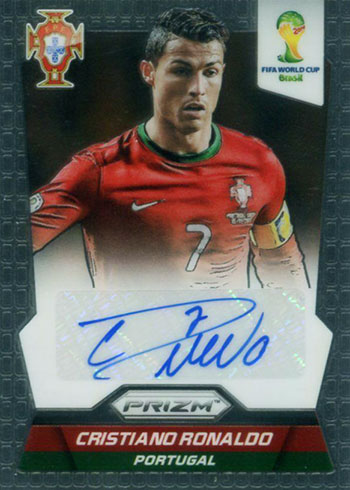 2014 Panini Prizm World Cup Combo Signatures Cristiano Ronaldo / Pelé #CS-PC
Take everything about the landmark 2014 Prizm World Cup release and then give it a dual autograph with two of the biggest names to ever play the sport. While a print run isn't known, population reports suggest it's extremely scarce.
Buy on: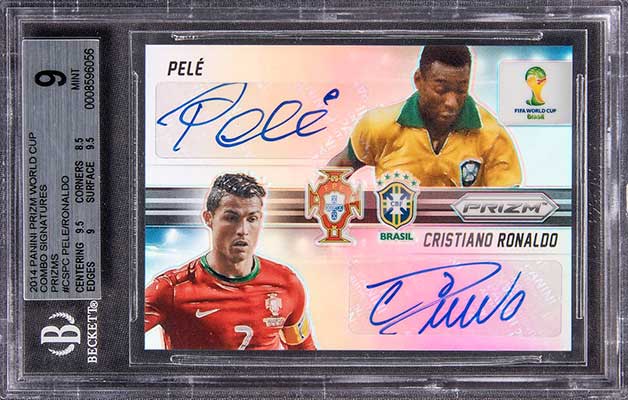 2014-15 Immaculate Collection Basketball Sports Variations Autographs Cristiano Ronaldo #SVA-CR /25
In the wake of Prizm World Cup, it wasn't long before mainstream soccer sets started showing up with more regularity. However, they still weren't that common and those that were coming out still weren't on the super premium level. So if you want to find something in that vein for Cristiano Ronaldo, in 2015 you could look to…basketball cards? He's the most valuable of the nine players on the multi-sport insert checklist that also includes Joe Montana, Barry Bonds, Terry Bradshaw and several other Hall of Famers.
Buy on: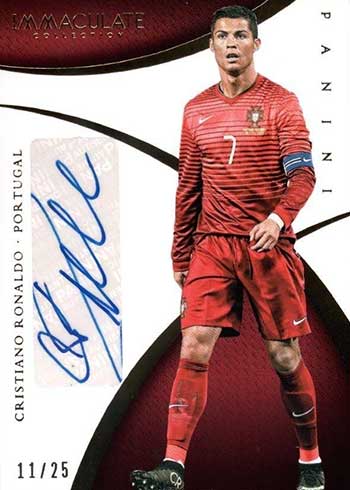 2015-16 Select Jersey Autographs Cristiano Ronaldo #JACR /39
Before 2015-16 Select Soccer there were Cristiano Ronaldo autographs and there were Cristiano Ronaldo memorabilia cards. This one has both. The standard version's print run of 39 copies is small. However, there are several parallels that, when taken collectively, add to the overall numbers. In total , there is still just 100 copies when all colors are combined. These include: Orange (/20), Blue (/15), Prime Red (/10), Prime Purple (/7), Prime Gold (/5), Prime Green (/3) and Prime Black (1/1).
Buy on: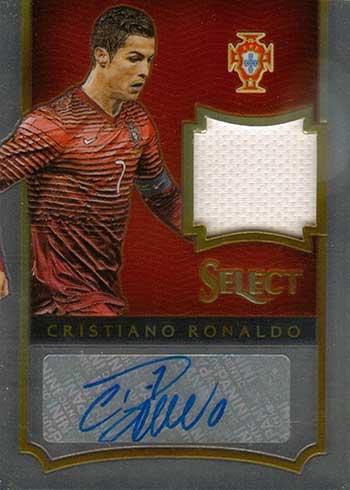 2016 Leaf Pelé Immortal Collection Multi Signatures Blue Spectrum Pelé, Cristiano Ronaldo / Neymar Jr. / Lionel Messi #MS-06 /3
2016 Leaf Pelé Immortal Collection might be dedicated to the Brazilian icon but the checklist has some additional players on it. That includes this rarity the has signatures from Pelé and Ronaldo along with a couple of other modern greats, Lionel Messi and Neymar Jr. As far as soccer cards go, there are few autographs that can rival this quartet.
Buy on: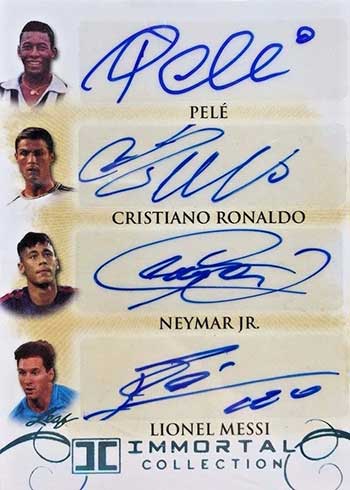 2016 Panini Flawless Cristiano Ronaldo #28, #83 /20
The concept of premium soccer cards has evolved over the years. Print runs started shrinking, card stock got slicker and thicker and things like autographs were added. As a brand, Panini Flawless is considered near to top of these. Ronaldo has two base cards in the 2016 Flawless Soccer set, both numbered to just 20 copies. They don't have autographs but they do come with gems embedded in them.
Buy on: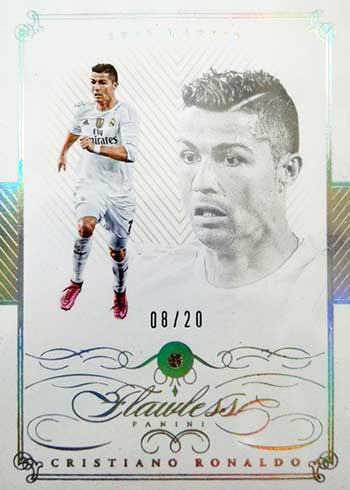 2016 Panini Flawless Patch Autographs Cristiano Ronaldo #PA-CR7 /20
2016 Panini Flawless has some major autographs and memorabilia cards as well. Here, both combine. The autograph is on-card, something that's rare for Ronaldo. Not only is the swatch larger than a lot of sets, but it's from a match-used uniform, not just one worn at a photo shoot or special event.
Buy on: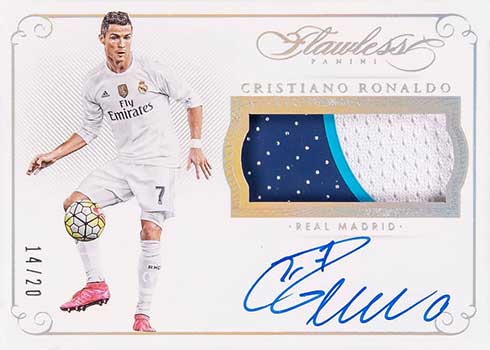 2016 Panini Flawless Sole of the Game Signatures Cristiano Ronaldo #SS-CR7 /25
Like his 2016 Panini Flawless Patch Autograph, the gear in this one is match-worn. However, instead of the usual kit or patch, the swatch is a piece from one of Ronaldo's cleats. An argument can be made for the prestige of any of his autographed memorabilia cards, but this one brings a something different.
Buy on: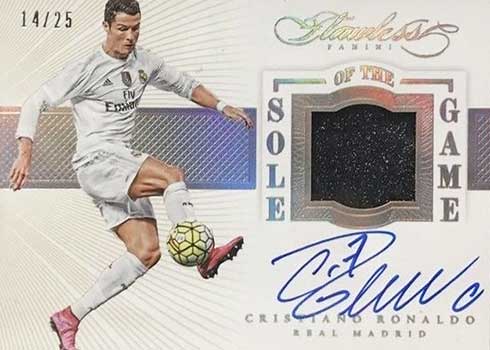 2017 Leaf Q Rivals Signatures Cristiano Ronaldo / Lionel Messi #R-03 /7
Any dual autograph card with Ronaldo and Messi together belongs on this list. While there have been several in the years since as high-end soccer cards have evolved, 2017 Leaf Q has one of the earliest. Including its four parallels, the total print run of this card is still under 20 copies.
Buy on: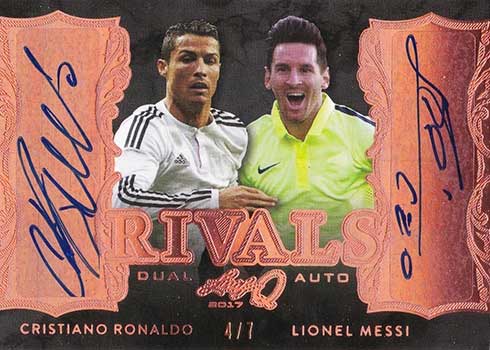 2017 Topps Allen & Ginter Baseball Dual Autograph Booklet Cristiano Ronaldo / Pelé #DARP /10
Another multi-signed rarity, this time Ronaldo is paired with not only one of the greatest to ever play the game but, arguably, the face of soccer. It's not their only autograph together but all are extremely desirable. Oddly, this one comes from a baseball card set. But Allen & Ginter is known for its non-baseball inclusions. For sports, this is one of the biggest ever for the brand.
Buy on:

2017-18 Select Kaboom! Cristiano Ronaldo #1
There's no doubt that Cristiano Ronaldo is a larger-than-life soccer star. Panini's Kaboom! inserts bring a comic book flair, no matter the sport. So it's a perfect fit. Besides the flair, this is a short print insert that's tough to find, adding to both its intrigue and value.
Buy on: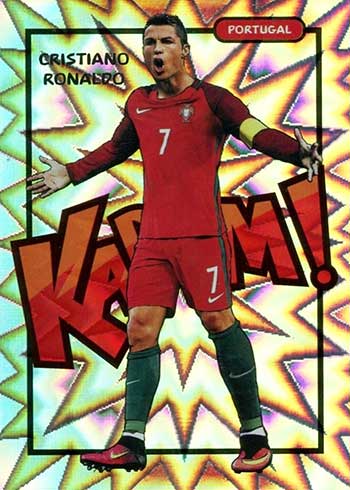 2018 Panini Eminence Octet Autograph Booklet Cristiano Ronaldo /10
Sometimes bulk is a good thing for autographs. Sometimes it can make for less desirable card of a top-tier player. When it comes to eight-signature booklets in 2018 Panini Eminence, it's tough to top Ronaldo. The legend appears on four different cards alongside such names as Pelé, Roberto Baggio, Wayne Rooney and Gareth Bale.
Buy on: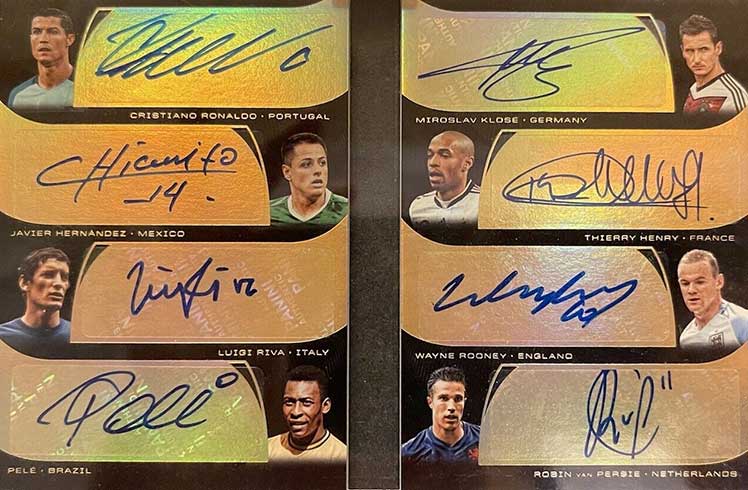 2018 Panini Eminence Peerless Patch Autographs Cristiano Ronaldo #PE-CR7 /10
Panini's Eminece line is intended to be kept for rare occasions. To that end, it's not even an annual release, making it that much more special when it does surface. Even for super-premium releases, it's in a league unto itself. The set's Peerless Patch Autographs bring some of the biggest pieces ever for a signed Ronaldo memorabilia card.
Ronaldo has several other autographs and memorabilia cards in 2018 Panini Eminence Soccer, all of which could be included here.
Buy on: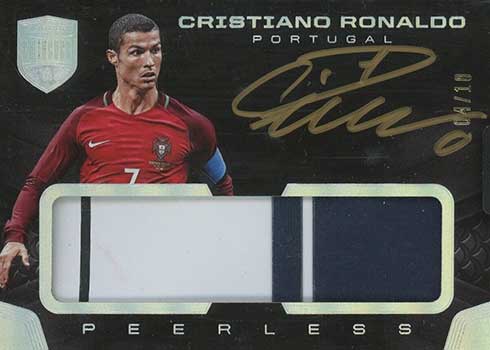 2021-22 Panini Prizm Premier League Color Blast Cristiano Ronaldo #10
Even if you don't know about Color Blast's prestige, just the appearance stands out. But the big reason why these rank as some of the most valuable cards in recent years—despite no signatures or serial numbers—is how tough they are to pull. Panini never released exact odds but 2021-22 Panini Prizm Premier League Color Blast cards are extremely scarce. Even if you're lucky to pull one, there's a 25-card checklist. Even several months after release, when cards are typically they're easiest to find, only a handful Color Blast Ronaldo cards surfaced on the secondary market.
Buy on: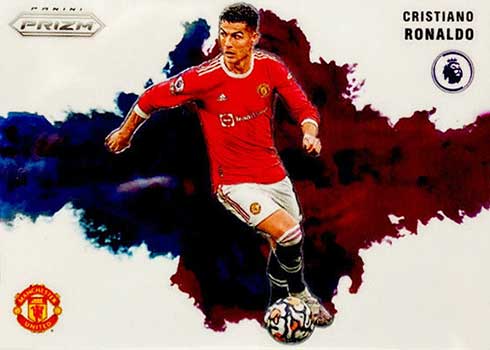 2022-23 Topps Chrome UEFA Club Competitions Triple Autographs Lionel Messi / Cristiano Ronaldo / Erling Haaland #TA-MRH
When it comes to modern soccer and the era that brought about premium soccer cards, you don't get much bigger than Ronaldo, Messi and Erling Haaland. This one-of-one autographed Superfractor from 2022-23 Topps Chrome UEFA Club Competitions easily reached six figures, selling through Goldin for $134,400 in August, 2023.
Buy on: