30 Teams | 30 Weeks Basketball: #29 Charlotte Hornets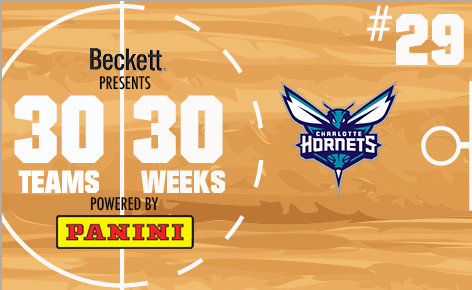 The second team featured in the Panini 30 Teams | 30 Weeks countdown to the most collectible basketball team of all-time is the Charlotte Hornets.
The team features players from the original Charlotte Hornets of the 1990s, the Charlotte Bobcats of the 2000s and the modern-day Charlotte Hornets. Stars from the 90s include Larry Johnson and Muggsy Bogues, but we'll let you guess which player on the current Hornets makes the list. His name rhymes with "Memba Balker."
The Hornets, along with team No. 30 the Memphis Grizzlies, are featured at 30Teams30WeeksNBA.com while the rest of the NBA will follow suit each week until we reach No. 1.