3 Undervalued Christian Yelich Cards – Beckett Pricing Insider
Christian Yelich has made quite an impression in his first season with the Brewers. Having just appeared in his first All-Star game, he is currently in the hunt for the National League batting title. Currently, he's the reigning NL Player of the Week after hitting .517 with 3 home runs and 10 RBI.
Not surprisingly, Yelich's cards have been picking up a little steam on the secondary market.
He currently has just over 2,000 cards in the Online Price Guide dating back to 2010. Among them are 1,606 serial numbered card, 477 certified autographs, 460 memorabilia cards and just six Rookie Cards.
His hottest card amongst collectors in recent weeks has been his 2010 Bowman Chrome Draft Prospect Autographs, which was just raised to $50.
Want to add a Christian Yelich card to your collection, but don't want to spend $50? Look no further than these three undervalued gems.
Overlooked Christian Yelich Cards
2013 Topps Update Christian Yelich RC # US290
Topps Update Rookie Cards are fast becoming the most desirable Rookie Cards in the hobby. We've already seen the explosive of Update RCs from the likes of Trout, Harper, Kershaw and Scherzer, among others. Based on the recent track record of Topps Update RCs, at $2.50, Yelich's is an absolute steal.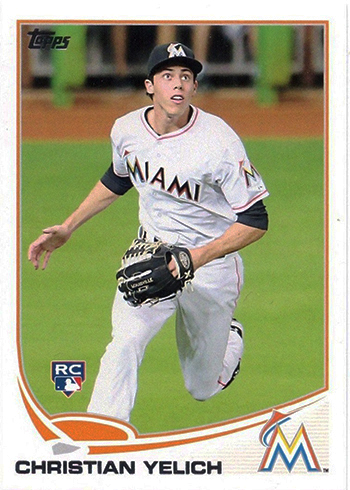 2010 Donruss Elite Extra Edition Christian Yelich Autograph #147 /815
Limited to just 815 copies, this was one of the first Yelich certified autograph cards released. At just a fraction of the cost of the Bowman Chrome Autograph and with, presumably, a noticeably lower print run, it might be wise to stock up on a few of these just in case they take off.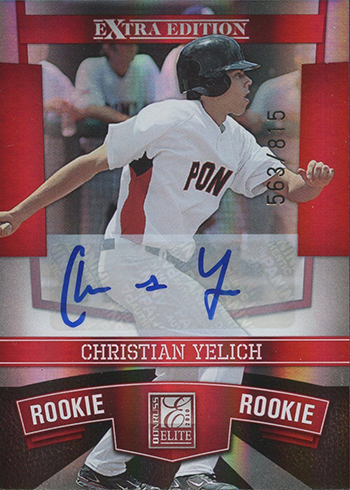 2010 Bowman Sterling Prospect Autographs Christian Yelich #CY
Similarly, Yelich's 2010 Bowman Sterling Prospect Autograph is valued at just $15. Though not as popular a brand as Bowman Chrome, Sterling is a quality product delivering solid autograph content year in and year out. At $15 (or less), it's hard to go wrong with this one.