3 Old and 3 New Hits from Topps Opening Day – Beckett Pricing Insider
This edition of the Beckett Pricing Insider is sponsored by MVP Sports Collectibles.
The continues until Opening Day. The Mariners and Athletics kick the season off early Wednesday morning (early in North America, at least) from the Tokyo Dome in Japan. But for the other 28 teams, the games that count start a week from Thursday.
While we are still waiting for Opening Day, the wait is over for 2019 Topps Opening Day, which was released last Wednesday. One of the least expensive products of the year, Opening Day is an entry-level product filled with vibrant photography and inserts that go outside the norm of most sets.
With the low-price point, if you're chasing an autograph or memorabilia card, this probably isn't the product for you. If you want a set geared on fun, then it might be more to your liking. Using their various insert sets, Opening Day celebrates the fun of baseball and why we all love the game.
Promising one insert per pack, you're sure to have a variety after you open a few packs. While most of the inserts don't hold a lot of value of the secondary market, but there are some that will surprise. One thing they all have in common is they are all fun.
And while pricey cards are historically scarce in Opening Day, they do exist to varying levels. Here are three recent sales for cards from prior years and and a trio of early sales for 2019.
Old
While there aren't a lot of big hits, there not a lot of products where you can pull an autograph of a mascot. Who better to showcase than Mr. Met, one of the most iconic mascots in baseball? Along with the Mascots insert set, the Mascots Autographs are both inserts that we seem to see every year now.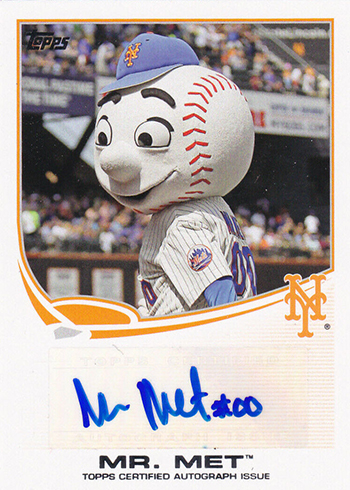 This one surprised me when I first saw it. But then again, it's Mike Trout so nothing should be that surprising. Photo Variations are now a yearly inclusion in Opening Day. At much tougher odds, short prints, like this one showing Trout in the on-deck circle, were inserted in 1 out of every 307 hobby packs.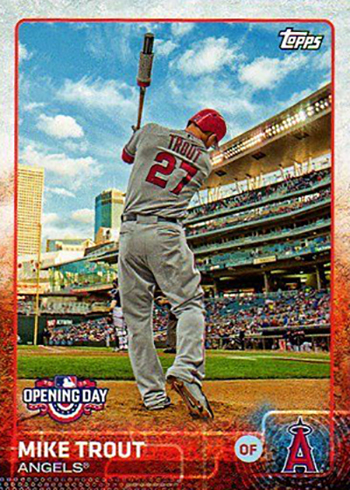 Another Photo Variation, this time of the Japanese superstar who might be playing his last games this week. This one shows off the legendary outfielder at a different position, as a pitcher in 2015 when he threw one inning for the Marlins. These were inserted in 1 out of every 393 hobby packs.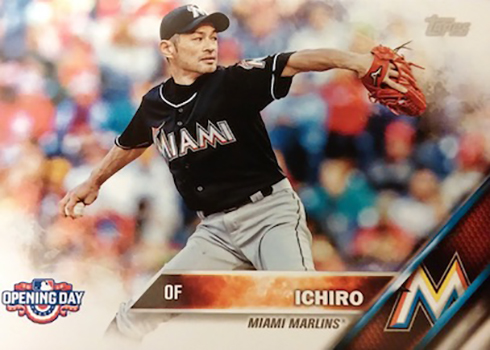 New
Again this year, photo variations are a part of Opening Day. At just 1 in every 669 packs, they're a bit tougher to pull this year. The picture on this one of the reigning NL Rookie of the Year Award Winner Ronald Acuna Jr. making a leaping catch at the wall is my favorite this year.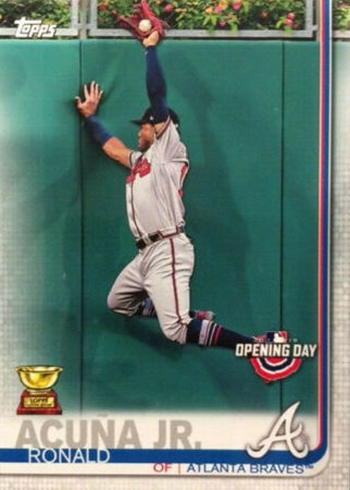 One of the new inserts this year, Rally Time, shows off how players act before, during, and after their team needs some runs. These are fairly rare at just 1 in every 403 hobby packs. I thought this one was funny, especially because playing for the Mets last year, Cespedes probably didn't get a lot of chances to rally.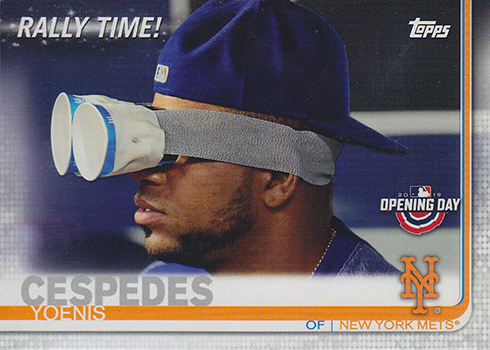 It's one of the few relics sets in Opening Day, but it still has its uniqueness. Instead of a game-used relic like a jersey or a bat, this one uses ballpark dirt from a player's home field. So, this one for Ohtani is a piece from Angel Stadium. That also happens to be where Mike Trout plays.