3 Notable James Harden Card Sales – Beckett Pricing Insider
The historic hot streak of James Harden carries on. Over the course of 14 games in January, Harden averaged 43.6 points, the highest scoring average for a month since Wilt Chamberlain posted 45.8 points per game in March, 1963.
As Harden continues to excel on the court, his cards are seeing increased interest from collectors. Here are three notable James Harden card sales from the month of January:
1. 2009-10 Playoff National Treasures James Harden RC Auto Patch #203 /99 BGS 9.5 – $11,000
The "Big Three" characteristics of serial-numbered, large patch, and on-card autograph make this the king of all James Harden Rookie Cards. Outside of the Stephen Curry Rookie, this has become the key card from the inaugural National Treasures set.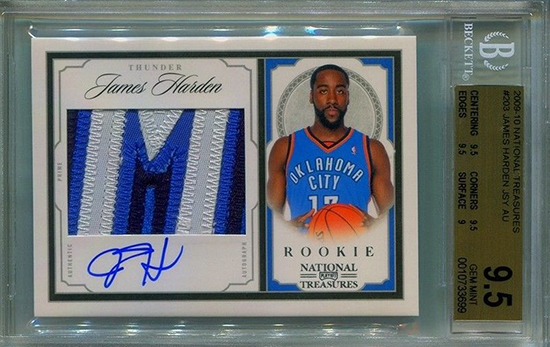 2. 2009-10 Topps James Harden RC #319 BGS 9 – $93
About a month ago, the Topps Harden was featured in this column as a card to keep an eye on. At that time, BGS Gem Mints were selling in the $100 range. Now, 9 Mints are nearing that mark. This sale was surely bolstered by two 9.5 subgrades, but there is no denying that collectors have pinpointed this particular issue as a top Harden RC to own.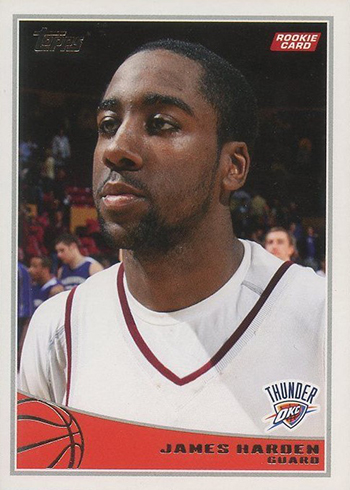 3. 2010-11 Panini Season Update Signatures – $69
The noteworthy aspect of this particular sale is that the card features and upside down autograph. Apparently, the jumbled, nondescript nature of Harden's signature led to some sticker autos being mistakenly affixed. These mislabeled cards do pop up from time to time and it's something to be aware of for those looking to purchase James Harden autograph cards.