3 Notable Game of Thrones Cards and Collectibles Sales – Beckett Pricing Insider
Winter is here.
For the better part of the past decade, Game of Thrones has enchanted television viewers with its exotic backdrops, elaborate costumes, epic battles and intriguing characters. Its cultural impact cannot be denied, especially when it comes to the collectibles and memorabilia industries.
With the eighth and final season upon us, the collectibles world is feeling the frenzy. From trading cards to Funkos, collectors have plenty to choose from. From base cards, inserts, autographs, sketches, action figures, and Funkos, the variety is vast and, for the most part, prices are reasonable. But there are some major exceptions.
Here are some of the most recent key sales for Game of Thrones collectibles and memorabilia:
2013 Rittenhouse Game of Thrones Season Two Full Bleed Autographs Emilia Clarke BGS 9.5  – $1,600
Clarke's Daenerys Targaryen is easily the most recognizable and one of the most popular characters in the show's history. For this very reason, her autograph is the most desired among collectors. There's also the fact that she only signed for the first two sets. Rittenhouse states this card is "Very Limited," which means between 200 and 300 copies were printed.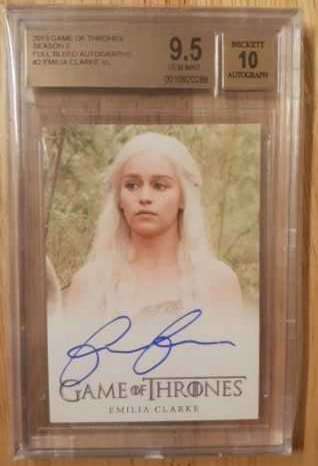 2011-19 Funko Pop Vinyl Game of Thrones #74 Night King w/Iron Throne Metallic – $500
In the same vein as Darth Vader and Lord Voldemort, the Night King is one of the most terrifying villains and dangerous adversaries ever written. Funko created this figure to commemorate the new season and it was only available exclusively on HBO Shop. Needless to say, it is no longer available and collectors are going through great lengths to get one.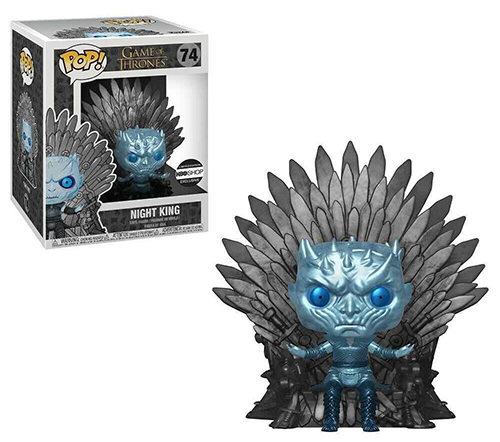 2017 Rittenhouse Game of Thrones Valyrian Steel Sketches Roy Cover Sketch – $100
Casterly Rock is known as the castle of House Lannister, which, according to legend, has belonged to the Lannisters for 6,000 years. Roy Cover captures its majesty in this abstract that is almost a combination of Impressionist and Pointillist paintings. In February, a Season 5 Night King sketch card by Cover sold for $200.