3 Notable 2019 Panini Diamond Kings Baseball Sales – Beckett Pricing Insider
This edition of the Beckett Pricing Insider is sponsored by MVP Sports Collectibles.
Diamond Kings is a name that has become synonymous with the hobby. From its beginnings in 1982 Donruss, to the massive 2005 Diamond Kings release, Diamond Kings has become one of the most popular inserts and brands in baseball cards.
2019 Panini Diamond Kings Baseball released on April 10th and already we've seen a lot of high-dollar sales on the secondary market. Let's take a look at three of the highlights.
2019 Diamond Kings Diamond Cuts Purple #21 Jacob Ruppert /2 – $600
Ruppert owned the Yankees from 1915 until he died in 1939, overseeing baseball's earliest dynasties. New York won seven World Series Championships under his command. He has only 42 cards in the Online Price Guide, first appearing in the 1948 Swell Babe Ruth Story set. Ruppert has eight different cut signature cards with a combined print run of just 24 copies. He's got three cut signature cards in the 2019 Diamond Kings product with a combined print run of 6.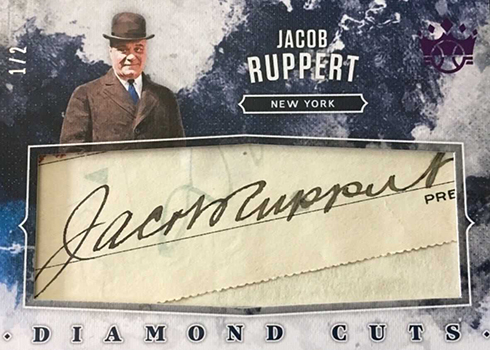 2019 Diamond Kings DK Materials Holo Blue #74 Babe Ruth /5 – $292
Panini does a fantastic job of including memorabilia cards from many pre-war stars, and no star is bigger than Babe Ruth. He's got 39 different cards in the 2019 Diamond Kings product, five of which have memorabilia. The base version of the DK Materials Ruth card is serial numbered to 25 copies, which makes it attainable for collectors looking to add a swatch from The Sultan of Swat to their collection.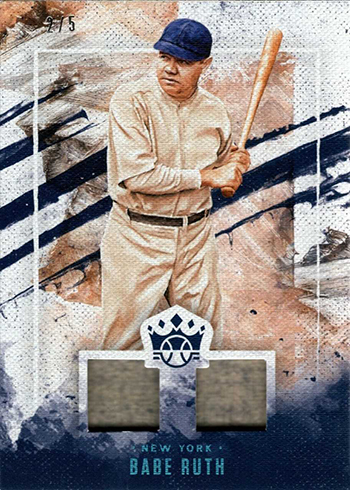 2019 Diamond Kings DK Signatures Purple #50 Vladimir Guerrero Jr. /10 – $200
Even an injury couldn't slow down the secondary market for baseball's top prospect. Guerrero, who has since returned from an early-March oblique injury, remains the hottest minor leaguer in the hobby. Vladdy Jr. appears on 38 cards in 2019 Diamond Kings, 14 of which are autographs. The unnumbered, base version of this card has been selling in the $60-$150 range based on early trading.