3 LeBron James Rookies Cards on the Move – Graded Edition
In anticipation of the upcoming Beckett Graded Card Price Guide 15th Edition, here are three LeBron James Rookie Cards whose graded versions are heating up:
1. 
2003-04 Black Diamond LeBron James RC #184
Though not serial numbered, the Black Diamond card is one of the harder LeBron Rookies to come by, as the Rookie Gems were pulled at a rate of about one in every two boxes. Condition problems result from an etched foil background prone to scuffs and scratches, while any front corner chipping is highly visible. The Beckett population report currently shows 100 BGS 9.5s and one non-black label BGS 10. This is a card collectors should definitely consider grading, as prices for versions NM-MT 8 and up have doubled over the past year.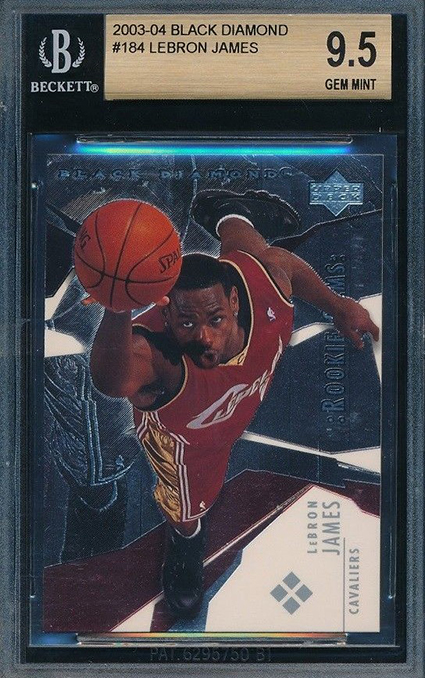 2. 
2003-04 E-X #102 LeBron James RC
This is another higher-end James Rookie that has doubled in price in grades 8 and above. The acetate design remains popular with collectors, but this card format tends to have a problem with pin dots. Also, the uneven front surface can peel up and/or wrinkle. Due to these condition issues, less than 50 percent of BGS submissions have received a Gem Mint or Pristine grade.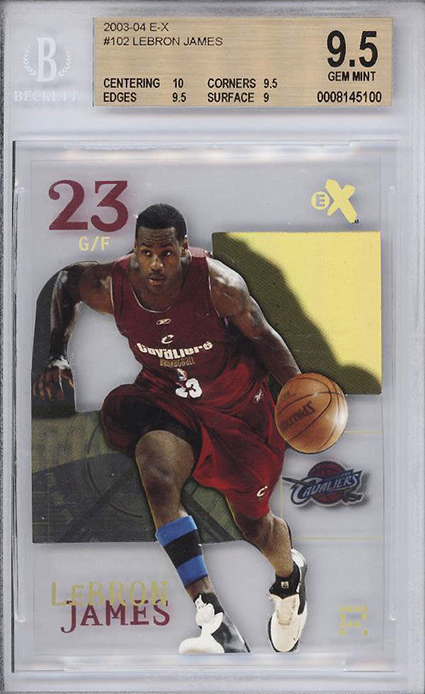 3. 
2003-04 Finest #133 LeBron James RC
Serial numbered to 999, the Topps Finest card remains one of the most popular and valuable LeBron James Rookie Cards. Out of 234 submissions, only 16 have been awarded 9.5 status, while 113 have been graded BGS 9. Because Gem Mint and above versions are tough to come by, the values for mint 9 copies are being pushed towards the $1,000 mark. Surface scratches can be a problem, but the main condition issues stem from the all-red card back that easily reveals any corner and edge chipping.