3 Key Sales: 2019 Topps Inception Baseball – Beckett Pricing Insider
This edition of the Beckett Pricing Insider is sponsored by MVP Sports Collectibles.
Topps Inception was introduced to the hobby two years ago, and the brand quickly became synonyms with great card art, on-card autographs and cool, oversized patches. The 2019 edition of the product landed on hobby shelves last week and already, we've seen some great looking – and high-dollar – cards pulled from the product.
Let's take a look at three of the coolest.
2019 Topps Inception Rookie and Emerging Stars Autographs Inception Ramon Laureano 1/1 – $480
The A's young outfielder had a solid spring, hitting .250 with three home runs and six RBI in just 14 games. But I'll admit that nearly $500 for a one-of-one autograph – even if it is a beautiful card – seems a bit high. For comparisons sake, his 2019 Topps 1984 Topps Silver Pack Chrome Autographs Superfractors card reportedly sold in early February for $350.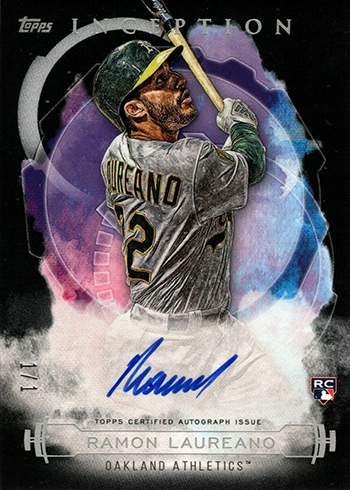 2019 Topps Inception Rookie and Emerging Stars Autographs Mike Trout /30 – $375
Baseball's $400 million man remains the hottest veteran player in the hobby and his certified autographs always command top dollar. He's already got 70 different autograph cards in the Beckett Online Price Guide for 2019, but this one has to be one of the nicest.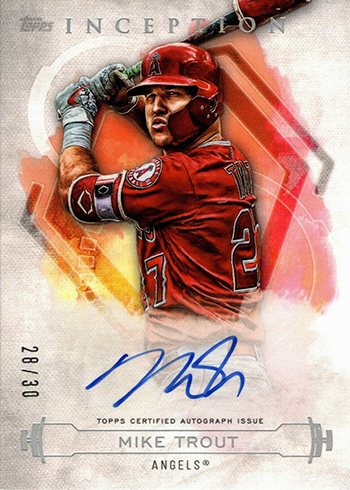 2019 Topps Inception Silver Signings Gold Ink Ronald Acuna Jr. /25 – $312
The Silver Signings cards from Inception always do well on the secondary market. Despite the somewhat confusing name of "Silver Signings," this card is actually signed in gold. The ink jumps off the black background and really pops.