3 Key Jordan Binnington Rookie Cards – Beckett Pricing Insider
This edition of the Beckett Pricing Insider is sponsored by Grizzly Sports Cards.

Despite the 6-3 win, the Jets pulled off last night, St. Louis is still 2-1 in the first round match-up. One could point to stars like Vladimir Tarasenko, Alexander Steen, and team captain Alex Pietrangelo for the Blue push to playoffs and their current lead, and that would be sound reasoning. However, the strong play of their young netminder Jordan Binnington cannot be ignored.
The hobby has also taken notice of as well and over the past few months Jordan Binnigton Rookie Cards have really taken off on the secondary market. As always, there are some high-end options that may be out of your price range, but there are also some less expensive cards as well. Either way, your bankroll looks, here are three key Jordan Binnington rookies to add to your collection.
2014-15 The Cup #138 Jordan Binnington JSY AU RC /249
As I mentioned above, there are indeed some high-end options out there to be had and it doesn't get more high-end in hockey collecting than The Cup. Until recently this card could have been picked up for little more than $15 or $20, but that just isn't the case anymore. Recent sales have been in the $100-$200 range. Parallels are consistently topping out at $500.  If you can find one in your price range, adding this card to your collection might not be a bad idea.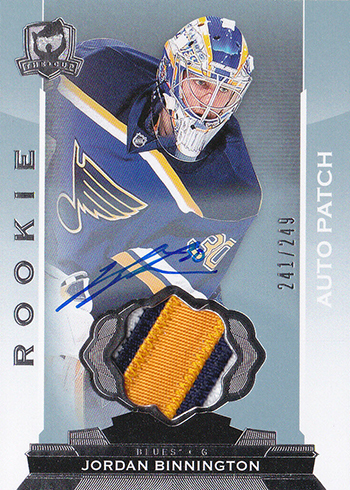 2014-15 Fleer Showcase #162 Jordan Binnington JSY AU RC /375
I was a big fan of the Fleer Showcase brand. If I'm being completely honest, I probably bought too much of it. I thought the cards were designed well and the rookie autographs were some of the best pulls you could hope for considering the price. The parallels are tough, numbered out to 27 (Red Glow) and 3 (White Hot). But they also add some value.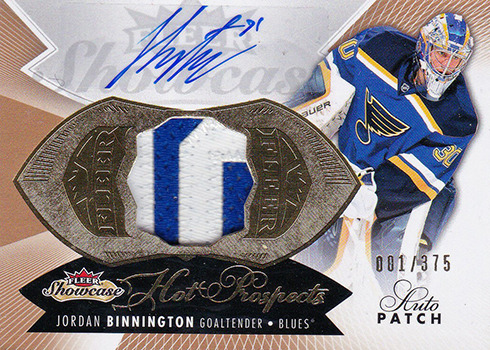 2014-15 Upper Deck #469 Jordan Binnington YG RC
You have to love the Young Gun Rookie Card. It's the cornerstone to every modern player collection in hockey. Much like the Fleer Showcase RC, this card may be in a stack of cards you have put away. Go back and check it out because it's in high demand right now. Should you find a forgotten Exclusive or a High Gloss parallel, you will be very happy that you took a second look.